With Firearms ID Deal Reached, Bill Aims To Toughen Mass. Gun Laws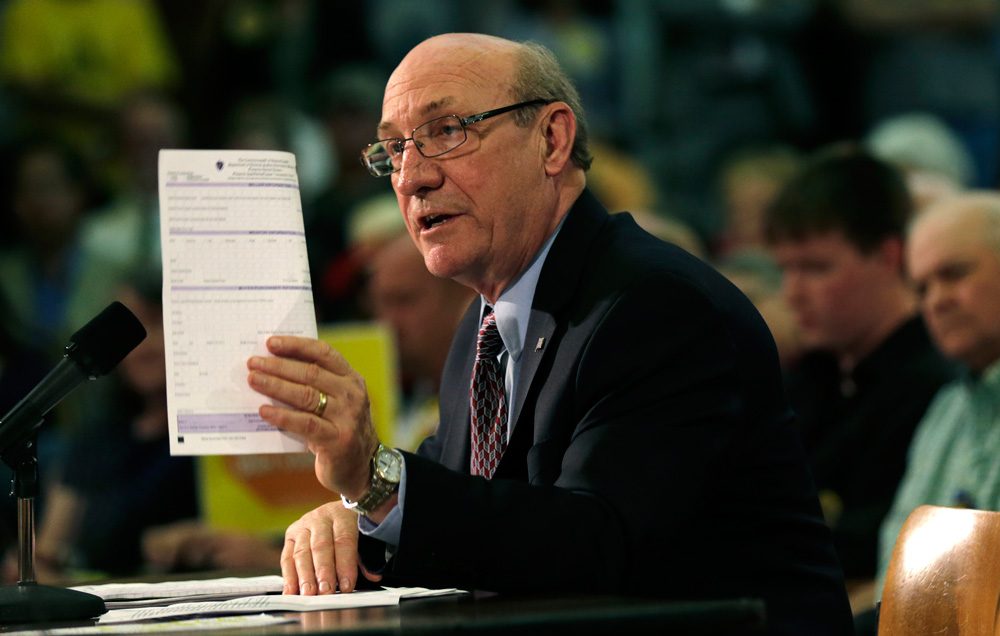 This article is more than 6 years old.
Massachusetts police chiefs would have the right to go to court to try to deny firearms identification cards needed to buy rifles or shotguns to individuals they feel are unsuitable under a compromise bill released by lawmakers.
The bill, which is expected to come up for a final vote Thursday, is a compromise between House and Senate versions of a sweeping overhaul of the state's gun laws.
The House version initially gave police chiefs discretion on issuing the ID cards, much like the discretion they currently have over issuing licenses to carry concealed weapons.
Under the compromise, police chiefs would have 90 days to go to court to deny a firearms ID card if they feel the recipient is unsuitable.
The Senate stripped out that provision.
Under the compromise, police chiefs would have 90 days to go to court to deny a firearms ID card if they feel the recipient is unsuitable.
The bill makes other changes to state gun laws including creating a Web-based portal within the state Executive Office of Public Safety to allow real-time background checks in private gun sales, stiffening penalties for some gun-based crimes and calling for the creation of a firearms trafficking unit within the State Police.
The bill also mandates that Massachusetts join the National Instant Background Check System, which requires the state to transmit information about substance abuse or mental health commitments to a federal database for use by police in reviewing firearms applications.
The legislation also requires schools have access to two-way communication devices with police and fire departments and mandates school districts provide two hours of suicide awareness and prevention training to school personnel every three years .
"I think it's a good bill," said House Majority Leader Ronald Mariano, D-Quincy, a member of a six-member House and Senate conference committee charged with hammering out a compromise bill.
The final bill would also require police chiefs to give written reasons for any applications they choose to deny. Their decisions would have to be based on public safety and could be appealed in court.
Gun rights activists, including the National Rifle Association and the Massachusetts Gun Owners Action League, had praised the Senate version of the bill, arguing that the House version gave police chiefs too much authority.
After the Senate stripped out the House provision on firearms ID cards, police chiefs and gun safety activists trekked to the State House to press lawmakers to give the chiefs discretion over issuing the cards in the final compromise bill.
Former Boston Police Commissioner Ed Davis spoke at the State House rally and recalled how a man he had issued an ID card to an 80-year-old who then held police hostage using a shotgun.
Davis said he only learned later that the man had mental health problems. He said the House version of the bill could have helped him prevent the man from obtaining the gun.
Attorney General Martha Coakley said Wednesday that she supports giving police chiefs more discretion on issuing the identification cards.
Work on the bill began last year after the 2012 mass school shooting that left 20 children and six adults dead at Sandy Hook Elementary School in Newtown, Connecticut.
The Legislature's formal session ends Thursday.