Boston Fuzzstival Rides A Local Wave Of Garage, Psych And Surf Rock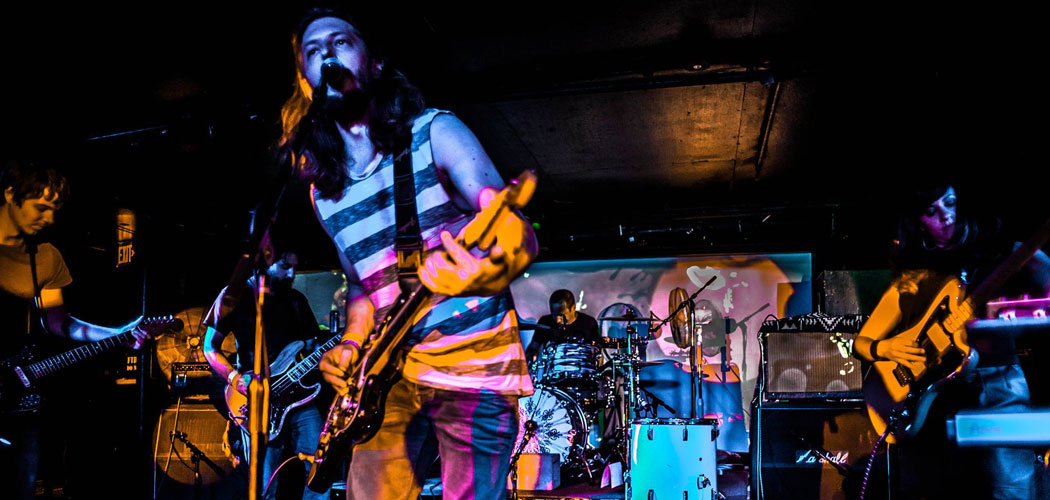 This article is more than 7 years old.
Fuzz: it's not just fun to say, it's fun to make. Guitar players have been distorting their instruments by way of a fuzzbox since at least as far back as the '60s surf rock band The Ventures, and using busted amplifiers to achieve similar effects before that.
At the Middle East in Cambridge on Aug. 2, 15 bands of mostly-local provenance will take turns channeling some form of distortion-infused nostalgia, be it '60s psychedelic or '90s grunge, for the second annual Boston Fuzzstival.
Boston Fuzzstival draws its name more from an ethos than any specific genre. Sure, fuzz and its relatives—distortion, feedback, reverb, overdrive—are a common denominator among the bands, but that doesn't tell you everything. Some of the groups harken back to the garage rock origins of fuzz. The Fagettes, from Boston, bring a jittery gloom to the genre, while their fellow Bostonians Beware the Dangers of a Ghost Scorpion! play instrumental "Wipeout"-esque numbers with jaunty flair. On the other hand are local sludgy punk-rockers Dinoczar and swaggering psych outfit Creaturos. Perhaps it's a ne'er-do-well attitude, more than any particular sound that come out of their guitars, that unites them.
Jason Trefts, who organizes the festival under the banner of his concert series Illegally Blind, puts it this way: "At the end of the day, certain music feels good. It speaks to you. And you feel—like imagine if you're walking around with headphones, and a style of music is playing, there's certain types that play in headphones where you puff your chest out and you're like, 'Hey I'm doin' my thing, down the street,' you know what I mean? And Fuzzstival to me is, 'What type of music makes me want to puff my chest out when I'm walking down the street?' "
The Boston Fuzzstival is a bit of a pet project for Trefts, who works full-time booking shows for Church of Boston in addition to running Illegally Blind. He began his music career as a political hip-hop artist, making beats and writing rhymes as Elemental Zazen, and was for a long time employed as a social worker. A tall, mild-mannered man with invisible-blonde eyebrows and large rectangular glasses, he tends to position himself to one side when speaking, so he can better see his companion. He is missing large chunks of his vision from a surgery to remove a brain tumor. Illegally Blind is titled in honor—defiance?—of that experience.
The Facebook page for Illegally Blind describes it thus: "live music series, with a focus on community vibes more than genre." For Trefts, community is a central theme among his endeavors, whether it be social work or a concert series that rarely earns him any profit. He describes his approach to Illegally Blind as an "advocacy position or something," in which he hopes to give good local acts exposure by pairing them with appropriate headliners, and tries to act as a mentor to bands new to the music business.
"It's overwhelming to me to care so much about the world and be open to it all. I'll still read the news, but I can't live my life with those worries," he says. "So I find that when I think more local and I think about the person that lives on the corner of my street, to know things and share things with them, I feel like I can make a difference in that way."
Even though Boston Fuzzstival is based around his personal tastes, Trefts nevertheless tries to prioritize a sense of community when curating it.
"When I put together the bill I had my own tastes in mind but I also thought a lot about what do people want to see, what's a good representation, and try to pull some people in there so it's not all the same," he explains. "'Cause a lot of bands that are considered like 'scene' bands all know each other, and I don't want it to all be that, I want some outsiders in there."
There is no doubt that Fuzzsitval benefits from a healthy trend of Allston-basement-born, do-it-yourself bands; the lineup is practically a snapshot of the "scene" as it exists today. But Trefts points out that a community does not rise spontaneously into existence. It is, rather, the result of coordinated efforts among passionate individuals.
"I want to show people that we can create a strong feeling by working on it together," he says. "There's going to be a strong feeling because we are all in agreement we're going to work on it."
(Pictured at top Ghost Box Orchestra as photographed by Tom Gilmore.)
Amelia Mason is a writer, musician and bartender living in Somerville. She is a regular contributor to The ARTery. You can follow her on Twitter @shmabelia and Tumblr.