Study: Municipal Policies Reflect Residents' Views — And Mass. Has Some Liberal Cities
Boston is the fifth most-liberal big city in the country. And it's not even the most liberal municipality in the area. That distinction, perhaps unsurprisingly, goes to Cambridge.
Those are two of the data points in a new study on representation in city governments.
But the researchers, Chris Warshaw of MIT and Chris Tausanovitch of the University of California Los Angeles, did not set out to simply measure municipalities on a left-right scale. Instead, they sought to review how responsive governments are to their constituents' views.
And in order to do that, the researchers had to examine a) the policy views and ideological leanings of city and town residents, and then b) the policies municipal leaders enact.
"When you put all this stuff together, it turns out that cities are quite responsive to how liberal their publics are," said MIT's Warshaw, an assistant professor of political science.
And, indeed, the study shows Massachusetts' biggest municipalities have liberal populations.
Nationwide, Boston is the No. 5 most-liberal city of more than 250,000 people, the researchers calculated, after San Francisco, Washington, D.C., Seattle and Oakland.
But among at-least-mid-size municipalities in Massachusetts, Cambridge is first, Brookline is second and Boston is third. (The chart below lists more Massachusetts municipalities.)
Here's how the political scientists calculated these rankings:
Warshaw and Tausanovitch gathered several surveys on national policy questions, like same-sex marriage and climate change. The surveys, given from 2000-2011, each went to tens of thousands of people. In total, the researchers placed 275,000 people into an ideological scale. Then they used additional sampling techniques "to develop more accurate estimates at the city-level," according to the study. This gave them, essentially, a city's median voter.
So that's residents' views. For enacted policies, Warshaw and Tausanovitch turned to census data on municipalities' tax and spending patterns, and also a survey, mostly on environmental issues, which provided them with some more granular data.
Linking views and outcomes, then, Warshaw said, offers "strong suggested evidence that people are getting roughly what they want from local governments." And, the study adds:
Moreover, the substantive impact of citizens' preferences on policy outcomes is quite large. After controlling for a number of factors that influence city policies, the most liberal cities spend over twice as much per capita as the most conservative cities. They also have higher taxes per capita and less regressive tax systems than conservative cities.
3 More Tidbits From The Study
-- The researchers also examined if certain institutions — "such as the presence of an elected mayor, the popular initiative, partisan elections, term limits, and at-large elections," the study says — affect policy responsiveness.
And here's what Warshaw told me: "What we found is that none of the institutions that were enacted, mostly with the explicit purpose of trying to enhance representation, actually seemed to have much effect on the link between voters and elected officials at the city level."
-- A significant majority of the nation's big cities fall on the liberal side of the scale, which, as The Economist notes, "confirms the conventional wisdom that most big cities swing liberal."
At the other end of the spectrum is the most conservative big city: Mesa, Arizona.
-- Back to Massachusetts. Among municipalities that had more than 45,000 people in the 2000 Census, Peabody is the most conservative in the state, Warshaw said.
You'll notice in the chart below, however, that it still falls on the liberal side of the scale. And, as Warshaw added, Peabody is still more liberal than the average person nationwide.
This study will be published in the American Political Science Review. (H/T The Economist)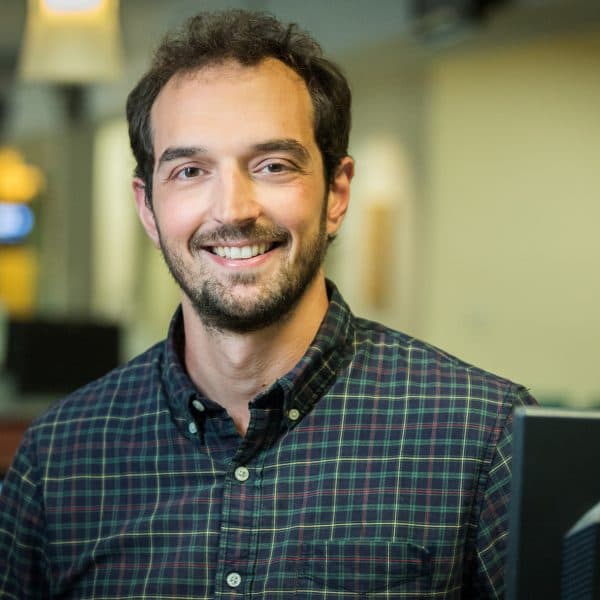 Benjamin Swasey Digital Manager
Ben is WBUR's digital manager. He occasionally reports on economic and transportation policy, climate and social issues, and politics.