Market Basket Standoff Hits Low-Income Customers Hard
04:07
Play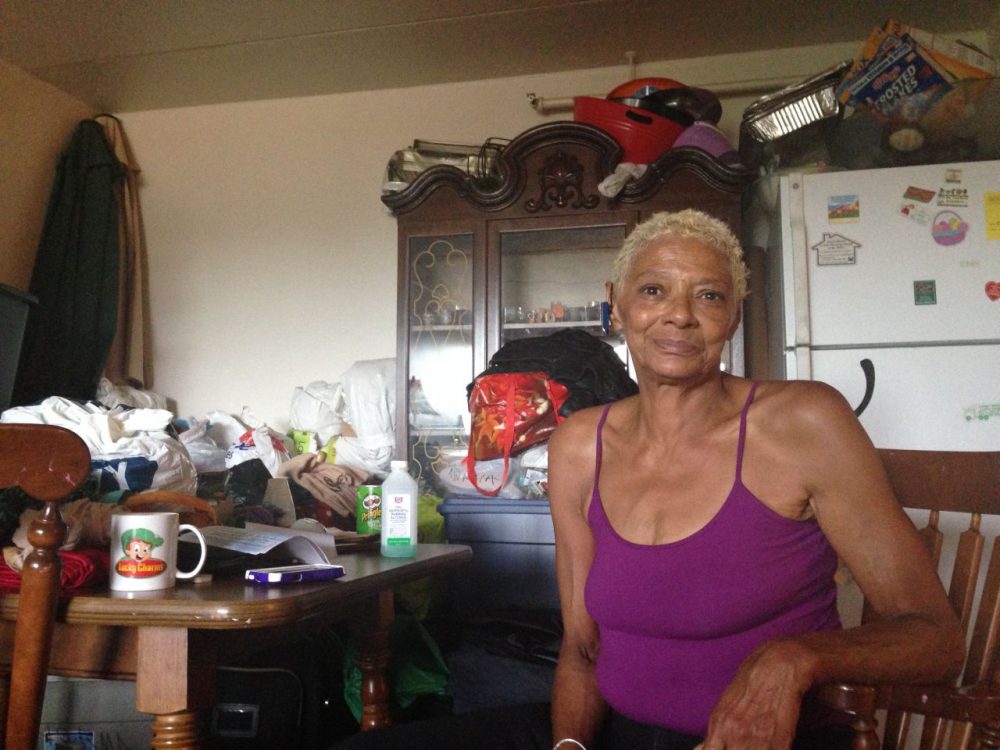 This article is more than 7 years old.
The Market Basket standoff is putting a growing strain on the company's customers — especially on low-income shoppers, who make up a disproportionately large part of Market Basket's customer base, compared to other supermarkets.
Isabelle Jackson is raising four of her grandchildren in a Cambridge affordable housing complex. She says she can't afford this company squabble, and calls the workers who've shut down the stores selfish.
"I can't take it. I'm very upset," Jackson says. "You know, you don't shut down a business like this, and leave the people to not eat. Did anybody think about us?"
She walks around a Somerville Market Basket to see if she can find anything to buy.
"It's the place to shop," she says. "I've been coming here for years. Their meats are fresh, their fruits, vegetables are fresh. They're really good. For the right price. That's the thing."
And that's the problem. The price may be right, but there's still little on the shelves. Jackson has to buy her food somewhere else.
"Been having to go to Star Market, oh, it's killing me," she says. "You get like eight bags, and mine's was just like a hundred and something dollars."
Heather MacCormack and Todd Rousseau are raising four children in Amesbury, including their 9-month-old Emma Arlene. Lately, they have been spending more to feed the family.
"Like I spend twice as much," MacCormack says. "We usually go to Market Basket, and I totally go to Shaw's and Stop & Shop, and you get half the stuff, it's terrible."
Even so, MacCormack and Rousseau support the worker protests. They consider themselves low- to middle income — working class. Rousseau says he identifies with Market Basket rank-and-file.
"Like I'm not going to pull into the store with all those people out front and signs and walk in and buy something," Rousseau says. "I'm not buying a single thing in there, you know?"
At an affordable housing complex in Cambridge, Sia Lelano is unpacking from her latest shopping run. She's from West Africa, studies accounting at UMass Boston, and has two children. She says she'd be better off if Market Basket would break its stalemate.
"The employees, they've been out for too long," Lelano says.
She hopes the company's latest call for employees to return to work will bring a resolution.
"I mean, I hope they can solve the issue as soon as they can do it," Lelano says. "Don't wait. Trust me, don't wait."
One floor up, Maria Santiago lives with her daughter. The Cape Verde immigrant still shops at Market Basket even though most shelves there are mostly empty.
"I bought cereal," Santiago says, looking at her cupboards. "Couple of this. That's all that I could find there.
Santiago says it's tough to get by without Market Basket.
"I mean, we have to eat somehow," she says. "If I don't have nothing. So I have to shop around. Check what store have a special. But I have to take more than one trip."
And she says that's tough for many in this complex who take public transportation to get groceries.
"This is taking too long. And we are the one [to] suffer," Santiago says.
Low-income shoppers may differ on whether to boycott Market Basket. But they all agree there's only so much in life they can control, and this weeks-long standoff has taken some of that away.
This segment aired on August 13, 2014.