8 Bands Not To Miss At Boston Calling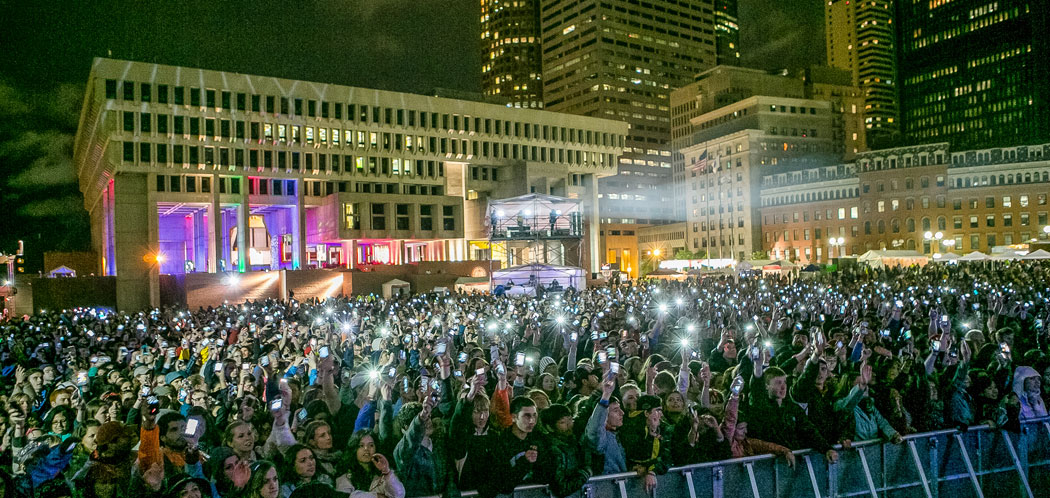 This article is more than 7 years old.
Admittedly, a "best of" list is not exactly necessary for Boston Calling. There's no need to craft a strategic weekend itinerary when none of the performances overlap. But the festival has yet to sell out, and if you're on the fence about buying a ticket, here are eight excellent reasons to tempt you to Boston's City Hall Plaza the weekend of Sept. 5 to 7. (Photo above by Mike Diskin.)
Nas x The Roots: Sunday Sept. 7, 9:20 p.m.
Twenty years ago last April, Nas released his debut album "Illmatic," a tour de force that launched him to stardom and the album into the annals of history. Two decades later, "Illmatic" is at once nostalgic and immediate, as if bursting from a car stereo on a hot summer night in '94. Nas raps about growing up tough in Queens with wit, bravado and a searching interiority that still resonates today, while The Roots help bring the seasoned material to life with trademark inventiveness and virtuosity.
Neutral Milk Hotel: Friday Sept. 5, 8 p.m.
By indie rock standards, Neutral Milk Hotel's 1998 "In the Aeroplane Over the Sea" is practically the Bible. Back then, an intentionally lo-fi aesthetic wasn't pretentious, it was artistic. Trumpet and accordion were genuinely surprising instruments. And frontman Jeff Mangum's vivid, razor-sharp lyrics and cathartic delivery were, and still are, instantly transporting. The group went on hiatus when the singer retired from music in 1999, but since 2013 the reunited band has been making electrifying live appearances that still feel rare and special.
Lake Street Dive: Sunday, Sept. 7, 3:55 p.m.
It took nearly 10 years of hacking it in Boston's small venues for Lake Street Dive to finally break into the mainstream, with help from a cover of the Jackson 5's "I Want You Back" filmed on an Allston sidewalk. Don't let their stripped-down instrumentation fool you—the band's four New England Conservatory of Music graduates have a preternatural grasp of pop music past and present. With an emphasis on musicianship, songwriting and lead singer Rachael Price's stunning voice, they put on one of the best live shows around.
The Replacements: Sunday, Sept. 7, 8:15 p.m.
The Replacements weren't the most commercially successful act during their heyday in the '80s, but they influenced a legion of alternative rock bands. They reunited in 2012, and retain a scrappy underdog quality despite their legendary status.
Future Islands: Friday, Sept. 5, 6:45 p.m.
When you think "synthpop" you probably don't picture Future Islands frontman Samuel Herring. With his dad haircut and tucked-in T-shirt, he is defiantly unhip, though his theatrical stage presence is intense and captivating. Future Islands make dreamy, impassioned music and give everything in their live show.
Girl Talk: Saturday, Sept. 6, 7:10 p.m.
Electronic musician Gregg Michael Gillis trades in remixes and mashups. His albums feel like a hip-hoppy, time-traveling hallucination, racing through samples and beats with insatiable alacrity. Like a radio dial turned too fast, Girl Talk will take you on a strange, surprising journey, and definitely make you dance.
S. Carey: Saturday, Sept. 6, 2:15 p.m.
Sean Carey got his start with chamber-folk band Bon Iver, and you can hear the influence in his intricately-layered arrangements and wistful vocals. His music toes a delicate line between ambience and urgency.
San Fermin: Sunday, Sept. 7, 1:40 p.m.
San Fermin is the project of composer Ellis Ludwig-Leone, who deploys a wealth of collaborative talent to execute his vast, imaginative songs. One of the great joys of seeing this band live is watching them breathe new life into material that has so much richness and possibility.
Amelia Mason is a writer, musician, and bartender living in Somerville. She is a regular contributor to The ARTery. You can follow her on Twitter @shmabelia and Tumblr.
Correction: An earlier version of this article incorrectly listed when Neutral Milk Hotel would perform. Dang!
This article was originally published on September 03, 2014.