'This Is Where The Picture Goes Gray': A Friend's Poem For James Foley
This article is more than 8 years old.
In an email to supporters this week, 826 Boston Executive Director Daniel Johnson wrote about James Foley, not just as the journalist who was killed by militants in Syria last month, but as a man who was like a brother to him.
"Broad-shouldered and smiling, he was wearing a Milwaukee Bucks jersey and high tops, like he'd just come from a three-on-three tournament," Johnson wrote about the first time he met Foley — they both ended up in South Phoenix in 1996 after signing up with Teach for America. "I noticed, to my surprise, that novels lined Jim's dormitory shelves. Jim, I'd learn over time, was a man of delightful contradictions."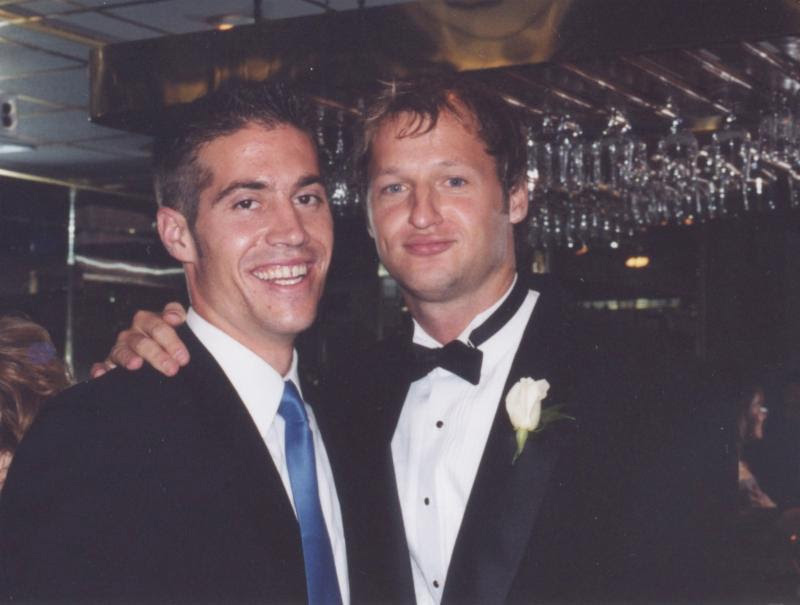 Johnson was writing to share his decision to publish "In the Absence of Sparrows," a poem he penned during Foley's nearly two years in captivity in Syria.
He wrote that, in doing so, he intended to "stamp out the numbing vision of Jim in an orange jumpsuit, kneeling in a desert expanse, his captor clad in black, standing above him."
The serial poem swings in time, from when Foley was in captivity...
When did you last see
birds? The winter sky in Boston

is gray with flu. Newspapers,
senators, friends, even your mom
on Good Morning America—

no one knows where you are.
...to Johnson's apparent memories of earlier times: protesting the 2004 Republican National Convention in New York City, a reckless night on Lake Winnipesaukee in 1991:
Winter solstice, 1991. You turned donuts,
drinking beers, in a snowy public lot next to the lake.
Girls yelped. You cranked the Pixies louder, cut the lights,
and steered Billy's grandma's Chrysler onto the Winnipesaukee ice.
The moon flamed bright as a county coroner's light.
You revved the station wagon's engine. Billy tied
a yellow ski rope off the hitch, flashed a thumbs up,
and you punched the gas—5, 15, 20, 25 miles per hour—
towing Billy, skating in high-top sneakers,
across the frozen lake. Chill air filled his lungs.
Billy pumped his fist. You torqued the wheel left.
Triumphant, you honked and flashed the lights.
You took a swig of Heineken and wheeled
the wood-paneled station wagon in a wide-arcing turn
to pick up Billy, bloodied but standing. People do reckless things
but your friends dubbed you the High King of Foolish Shit.
The nose of Billy's grandma's Chrysler broke the ice.
You jammed it into reverse. Bald tires spinning,
you flung yourself from the car. In seconds, it was gone.
You gave Billy's grandma a potted mum
and a silver balloon. Standing on her screened-in porch,
you mumbled an apology. What am I supposed to do now?
she asked. What the hell do I do now?

Johnson wrote in the letter that he didn't think Foley, who is the godfather of Johnson's 1-year-old son, was drawn to war reporting because of the danger or violence. "Rather, it was peoples' stories, the stories of mechanics, oil workers, mothers, and fathers, people living in extremis, that drew him to Iraq, Afghanistan, Libya, and, ultimately, Syria."
The same thing, Johnson said, he believes drew Foley to that South Phoenix classroom years ago.
Read "In the Absence of Sparrows" in its entirety at poems.org.
Related Coverage: