Boston Rock Bands Reunite For Pipeline! 25th Anniversary Concert Series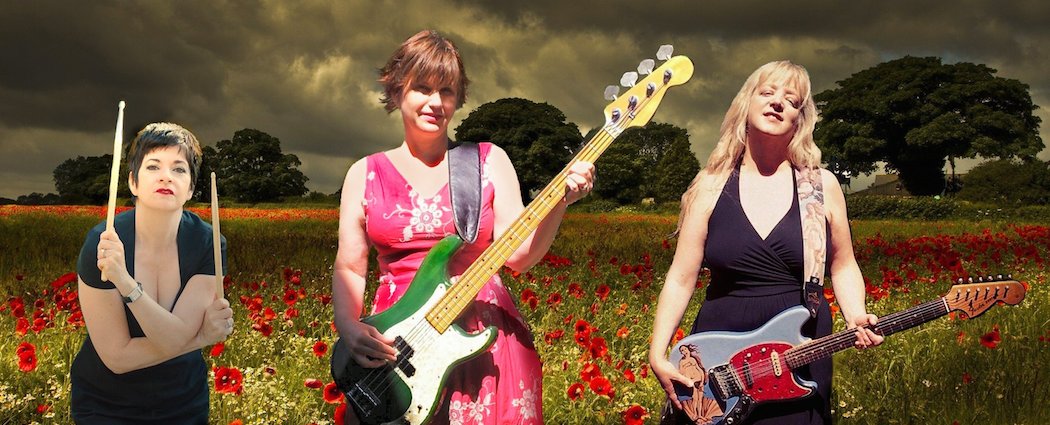 This article is more than 7 years old.
John Hovorka hasn't lived in Boston for 27 years and comes back infrequently. But now the singer-guitarist of a great '80s band, the Turbines, is coming back for one reason: To rejoin his bandmates for a gig at Cuisine en Locale in Somerville.
"It's an opportunity to play some songs with a band I love to play with," Hovorka says. "This will be our sixth reunion show since we broke up 28 years ago. And surely this event is a great thing for the Boston rock scene in general."
The event, called Pipeline! At 25: 50 Years of Boston Rock, is a 13-night string of weekend concerts running from Sept. 12 to Oct. 12. The concerts will take place at the Regent Theatre in Arlington, The Brighton Music Hall and the Paradise in Boston, the Middle East Downstairs in Cambridge and the Cuisine en Locale in Somerville. It will feature Boston bands of the Pipeline! and pre-Pipeline! era such as Reddy Teddy, Barry & the Remains, the Rising Storm and The Freeborne.
Pipeline!, WMBR's Tuesday two-hour live music and more show, is an influential program that has been emanating from the MIT radio station since 1989. The show's first hour is recorded music by New England bands. The second hour is live music.
Bob Dubrow hosted Pipeline! from 1993 to 2003. Jeff Breeze, who prompted Dubrow to undertake the herculean task of booking, took over the Pipeline! seat and is there now.
"It's nice to be reminded of all the talent that the area has produced," Breeze says, "and I hope that there is an audience that remembers and is up for attending these shows. People should also be aware of all the great music happening currently as well so that we don't have to wait 25 years to celebrate the great sound that's around now."
Dubrow, one-time co-owner of Kimchee Records, rented the rooms and booked the gigs for the upcoming event. He organized a similar event for the 10th anniversary in 1999, booking six reunited bands into the Middle East Downstairs for a sold-out show.
"I have this thing for doing large events," says Dubrow. He began working on the bills in April and landed just less than half of those he'd hoped for. The misses, Dubrow says, included the Girls, Bullet Lavolta, the Zulus (first band to play Pipeline!), Belly, the Neighborhoods, Karate and Helium. Bands that surprised him by saying yes? The Cave Dogs, Anastasia Screamed and Lazy Susan.
As to this year's skein, right now, 78 bands are on the docket and a couple more could be added. The roster includes luminaries from several eras of Boston rock: O Positive, the Dogmatics, Someone & the Somebodies, the Flies, the F.U.'s, the Bentmen, Heretix, and Willie Alexander and the Boom Boom Band.
"The thing that probably sets the Boston scene apart from others," says Fertile Virgin singer-guitarist Julie Kantner, " is it's transitory nature. So many people come here from all over for a few years for school or whatever before moving on to the next town the next adventure. So bands come and go and audiences ebb and flow. Keeps things fresh and at the same time spreads the music way beyond Boston. And even though we've always been considered small potatoes compared to New York, I love Boston, and Cambridge, and Somerville and the support you can get from more intimate cities."
Band members have praised Dubrow's commitment and dedication to organizing this event.
"This grand undertaking by Bob certainly seems to me to be pretty much unprecedented," says the Sheila Divine singer-guitarist Aaron Perrino. "I have a hard time scheduling a practice with three other band members. I can't imagine what kind of time suck it'd be to organize this thing."
The reality, too, is there have been many bands going in-and-out over the weeks, right up to the present.
"Nevertheless," says Dogmatics singer-guitarist Jerry Lehane, "Dubrow has certainly outdone himself here. I don't believe that anyone could have done this without the support of the Boston rock community and he undoubtedly has that."
The Boston rock scene has always been diverse—garage rock, punk, metal, synth-pop, art-rock. All kinds of genres and subgenres have held the spotlight at various times and Dubrow says, "All elements and many eras are served."
It's my theory — having been here since 1978, writing about music — that while the Boston scene has never exploded nationally (as Seattle, Athens and others have at various points), it's never really gone below what you might call a B+ level and has often cruised into A territory. Certainly, a constant influx of students and the still-vital club scene help keep it alive, despite the closings of many clubs of yore — the Rat, the Channel, Jonathan Swift's, Nightstage among them. Maybe it's just a certain creative buzz in the zeitgeist, but Boston has been a strong scene for bands, from developing to fully-fledged.
The Rising Storm bassist Todd Cohen says his band goes way back. "It was a group of six students who graduated from Phillips Academy in Andover in 1967. That spring, we released a self-produced album, 'Calm Before.'"
"My personal take on the band's longevity is that The Rising Storm has been for each of us more than simply a memory of high school, and more than an ongoing series of get-togethers to reconnect and make music," Cohen continues to say. "It also has served as a kind of touchstone that continually has helped remind us who we were, and helped us think about who we have become."
"I loved when everything was still swirling and gelling in punk rock's Big Bang," says Someone & the Somebodies singer-bassist Tristram Lozaw. "When 'punk' was an umbrella term for lots of different styles that incorporated other artistic disciplines and challenged the musical norm (I remember when the crowd at the Rat threw beer cans at the Ramones). From the loft scene to the basement clubs to the Combat Zone, there was such a connection among all the bands."
"The creativity in Boston is world class," says Dave Herlihy, singer-guitarist of O Positive, a perennial local favorite back then that had a national record deal with Epic in the late '80s. "There will always be great artists and musicians here." Herlihy says. "While Boston doesn't have the machines of industry to catapult that talent into the commercial mainstream, the sheer diversity and quality of talent in Boston is unparalleled."
So what does Pipeline! and the radio mean to artists?
"I wouldn't even be here if it wasn't for college radio," says Willie Alexander. "They always played Boom Boom records and still play my stuff."
Hullaballo guitarist Sluggo says, "These radio shows offered important publicity for emerging and established bands virtually free. I think that these shows solidified the music scene."
"Every group remembers the first time they heard their music on the radio," says the Somebodies' Lozaw. "It tells you, 'Hey, we really are a band that people are listening to.' I certainly remember when I heard the Somebodies' "Workin' in a Coal Mine" on WMBR. By being a great outlet for fresh music, unadulterated by the hackneyed confinements of the music business, shows like Pipeline! are a big part of nurturing the Boston rock scene. The DJs enthusiasm for the music they spin is contagious. I still listen to the 40-band compilation that Pipeline released in the 1990s."
Some of the acts are intact from back in the day. Others aren't—Eric Martin of the Neats has recruited others (non-Neats) to join him playing Neats songs. Bill Goffrier is the only Big Dipper member playing Big Dipper songs, however Big Dipper member Tom Brewitt will join Goffrier in at least one song. Only two members of the Atlantics are alive and performing in the Big City Rockers playing all Atlantics songs. Tom Hauck can't make this show, so it's just guitarist Fred Pineau of the original band. As for the Turbines, Hovorka sadly notes the passing of guitarist Dave Shibler.
For many — both bands and fans — it's a chance to relive halcyon days.
"This gig has special meaning, for sure. I haven't played with original Blood Oranges drummer Ron Ward in 23 years or our one-time bass player, Bob Kendall, in 25 years. It will be the first time playing some of the songs in many years. But three out of four of us still play for a living, to some degree," says Blood Oranges member Jimmy Ryan.
"I don't like to relive the past myself," says singer-guitarist and Chartbusters front-person Robin Lane. "There's too much going on in 'the now.' That being said, we are rarely together as a band playing out, perhaps once a year or twice at best, and so, although we are not reliving the past as far as the songs we will be playing, we are going to be in that moment. Moments are what you make of them and the guys I play with are amusing, intelligent and hysterically funny so the Pipeline! show will be a way for all of us to get together and have oodles of fun."
Richie Parsons, the singer-guitarist for Unnatural Axe, still gets together with band members sporadically. They were part of Boston's first punk wave of the mid-late '70s. He says the Pipeline! series "is important because of the magnitude of the undertaking and we are happy to have been asked to play. I think the scene is pretty healthy and I am grateful that the bands from 'my time' are still playing live and writing music. I never saw bands with guys in their 50's back in 1977."
"The four Somebodies — me, drummer Jon Coe, guitarists Robbie Davis and Michael Glickman — scattered long ago would probably not have reunited the band without the Pipeline! anniversary show," says Lozaw. "It's an opportunity — a good excuse, if you will — to revisit and rework material that's been in our rear view mirror for a few decades … Maybe this Pipeline! series of shows can reignite a few flames. It certainly should be a rush."
The Pipeline! Series lineup and schedule below. For show updates visit the event Facebook page or Bob Dubrow at bob@kimcheerecords.com
September 12th at the Regent Theatre
Cordelia's Dad
The Freeborne
String Builder
We Saw The Wolf
O Positive
September 13th at Cuisine en Locale
Baby's Arm
The Dogmatics
The Neat's Eric Martin & friends
Stranglehold
The Turbines
Miranda Warning
September 19th at Cuisine en Locale
Ultrabreakfast
Curious Ritual
Mistle Thrush
Nisi Period
The Pods
Purple Ivy Shadows
Someone & the Somebodies
September 20th at Cuisine en Locale
Dirt Merchants
Evol Twin
Fertile Virgin
The Gravel Pit
Honeybunch
The Sheila Divine
September 26th at the Regent Theatre
The Barnies
Big Dipper's Bill Goffrier & friends
Dumptruck
The Jigsaws
Vapors of Morphine
September 27th at the Regent Theatre
Barry & the Remains
Cardinal
The Downbeat 5
September 28th at Brighton Music Hall
Anastasia Screamed
The Flies
Bentmen
The F.U.'s / Straw Dogs
Men & Volts
The Nervous Eaters
one more act TBA
October 3rd at the Middle East Downstairs
Tacklebox
The Blood Oranges
Buttercup
Robin Lane & The Chartbusters
Fuzzy
Lazy Susan
one more act TBA
October 4th at the Middle East Downstairs
Birdsongs of the Mesozoic
The Clamdiggers (proto-The Upper Crust)
Crazy Alice
Kudgel
Bulkhead
Quintaine Americana
Orangutang
October 5th at the Paradise
Big City Rockers (Atlantics)
The Dents
Heretix
High Risk Group
Reddy Teddy
Shake the Faith
Willie Alexander & the Boom Boom Band
October 10th at Cuisine en Locale
Green Magnet School
Luca Brasi
Orbit
The Red Telephone
Hullabaloo
Permafrost (Miles Dethmuffin)
Unnatural Axe
October 11th at Cuisine en Locale
The Cavedogs
Drumming on Glass
Flying Nuns
Gigolo Aunts
The Natives
The Rising Storm
The Dambuilders' Dave Derby & Friends
October 12th at the Middle East Downstairs
The Bags
Ed's Redeeming Qualities'/ The Breeders' Carrie Bradley
The Gizmos
Kenny Chambers / Electric Ears (doing Moving Targets)
The Underachievers
The Voodoo Dolls