Primary Wrap Up: Four Things We Learned
This article is more than 8 years old.
The votes are counted and the winners have already started their general election campaigns. But before we put this week in the rear view mirror, here are four things we have learned so far from the trail of data left by the party primaries.
1) Both in raw votes and percentage, turnout in this primary was historically low.
Tuesday's primary featured the fewest total votes cast in any gubernatorial primary since 1970. This is all the more remarkable because voter rolls have grown significantly over that period, meaning millions more voters were eligible to vote in this primary but chose not to. With more eligible voters and fewer turning out, the turnout percentage (16.3) was also the lowest ever.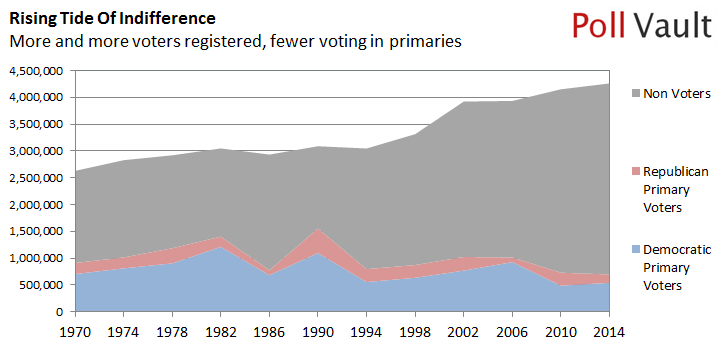 2) Though they didn't know much about the candidates, most still voted in down-ballot races.
Massachusetts voters tend to vote even when polls show many of them are undecided close to the election. Few will leave their ballot blank, even if pre-election polls show they know little or nothing about the candidates. This year was no different. Knowledge of the candidates was low, but 81 percent of those who voted in the governor's race chose a candidate for lieutenant governor, and 96 percent voted in the hot contest between Maura Healey and Warren Tollman for attorney general.
3) Cities carried Martha Coakley, and cities matter.
Cities will play a critical role in the election strategies of the general election gubernatorial candidates. And to the extent the primary is any indication, Coakley is off to a strong start. Democrat's margins in the state's urban areas have grown so large that Republicans can no longer overcome the deficit by running up the score in the suburbs. Charlie Baker has clearly recognized this dynamic and, as Asma Khalid reports, is running a different campaign this time around. Paul McMorrow explored the contours of this urban / suburban split in the gubernatorial primary on Poll Vault yesterday. The map he generated for this piece is well worth your time to explore:
[asset url="2014/0911_primary-demographics"]
4) General election polls show a tight race to come.
According to our WBUR tracking poll, Coakley's lead over Republican Charlie Baker in a general election matchup has closed from 10 points at the end of August to a 5 point race the weekend before the primary. The last two waves of the Upshot / New York Times poll also showed a narrowing race, moving from a 16 point gap in July to an 8 point gap this week. In their last general election poll, the Boston Globe/Social Sphere showed a 1 point lead for Baker, his first of the cycle, and a major change from the previous week's 7 point lead. It's clear that the primary campaign has taken more of a toll on Coakley than Baker. Coakley's favorable ratings have been sliding since January, and took a sharp downward turn in the last week of the primary. Baker's, on the other hand, grew throughout the primary campaign.