Boston-Based Partners In Health Leaps Into Ebola Crisis
05:48
Play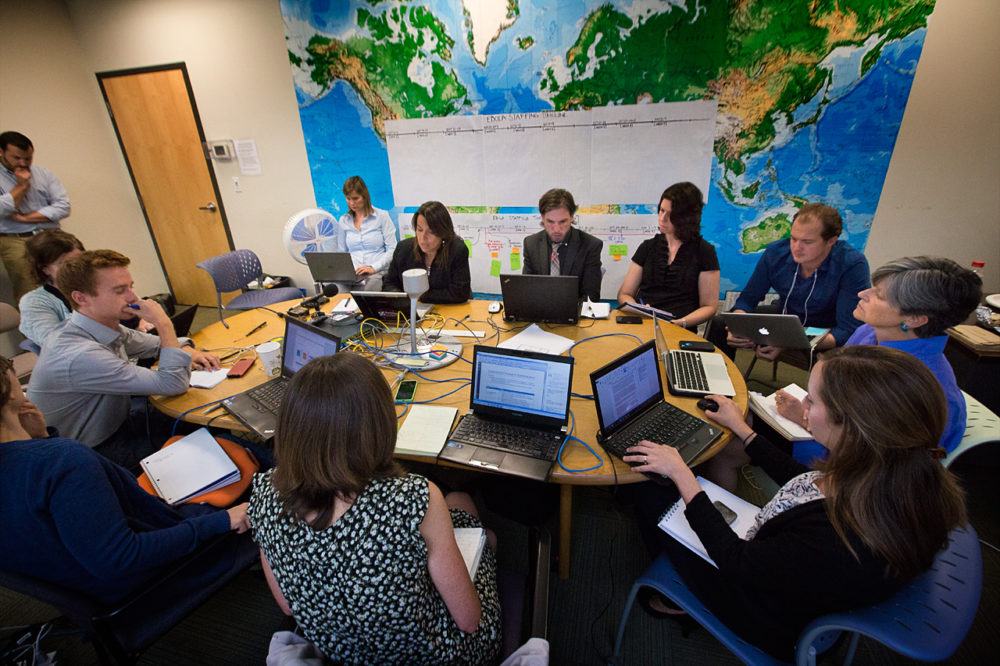 This article is more than 7 years old.
An advance team from Boston-based Partners In Health heads for Ebola-stricken Liberia Monday. Four doctors, including co-founder Paul Farmer, and two operations staff will lay the groundwork for an ambitious two- to three-year project that will require well over 100 volunteer doctors, nurses, lab techs and public health workers. The budget for just the first year is $35 million.
"We are at a dangerous moment with Ebola," said Farmer as he prepared for the trip. "Even though this is a huge jump for PIH, I am confident we will succeed."
PIH will work with two established groups, Last Mile Health in Liberia and Wellbody Alliance in Sierra Leone, to strengthen existing public health clinics and train several hundred new community health workers. In addition, PIH will open two 50-bed Ebola treatment centers in rural areas of each country.
The plan began to take shape last week, as the World Health Organization reported a near doubling of Ebola cases in Liberia and an estimate from Columbia University projects 30,000 cases by mid-October if conditions in the country deteriorate.
"There's more doctors on a single floor of the Brigham than in the entire country of Liberia."

PIH's Paul Farmer
In the colorful offices of PIH, decorated with art from countries where the group works, some staffers are flashing back to 2010 and the weeks following Haiti's earthquake. Ebola is creating another humanitarian crisis, one that is unfolding right before their eyes.
The call for volunteers went up on PIH's website five days ago. More than 100 people responded within 24 hours, but it will take some time to determine if the skills of applicants fit the needs of these rural Ebola treatment and isolation units. PIH is trying to screen potential recruits quickly. It plans to send a first round to a training run by the Centers for Disease Control next week and open the centers by mid-October or early November.
"To do this right, we will depend on people who are willing to fight against this terrible crisis," said Joia Mukherjee, chief medical officer at PIH. "The reason we will need a lot of non-Liberians, non-Sierra Leoneans — these countries simply do not have enough doctors and nurses."
"There's more doctors on a single floor of the Brigham than in the entire country of Liberia," added Farmer, who is also chief of the Division of Global Health Equity at Brigham and Women's Hospital.
He hopes to tap the medical wealth of Boston for the Ebola project, but the PIH board has demanded that a plan to treat and evacuate sick volunteers is in place before the operation begins. Farmer and Mukherjee are talking to the U.S. Department of Defense and other possible partners about transportation and care options.
A fourth doctor in Sierra Leone died Saturday, bringing the total number of health care worker deaths in Liberia, Sierra Leone and Guinea from Ebola to 150.
Groups that have adequate supplies and follow strict protocols, including Doctors Without Borders, have largely avoided the infections that trigger high fever, headaches, muscle and joint pain, nausea and diarrhea. But "we are overwhelmed," said Dr. Deane Marchbein, president of Doctors Without Borders USA. "We are at the point of having to close the doors and leave otherwise sick patients dying outside our doors."
Marchbein says she's delighted to hear that PIH will be working in Liberia and Sierra Leone. A spokesman for WHO Director General Margaret Chan says the PIH plan fits the plea Chan made last Friday.
"Our response is running short on nearly everything from PPE (Personal Protective Equipment), body bags, to mobile laboratories to isolation wards. But the thing we need most of all is people, health care workers," Chan said.
No one is minimizing the difficulty of the PIH plan or stress it will place on recruits. PIH is asking for a minimum of 10 weeks, which would include training, six weeks treating patients and three weeks in quarantine.
Dr. Corrado Cancedda, an infectious disease doctor at the Brigham who has traveled with PIH before, will head for Liberia with Farmer, just one week after hearing that PIH might get involved in the effort to stop Ebola.
"It was crazy," he recalled, laughing. "It was literally [a week ago] Sunday night. I was looking at emails and said, 'Oh boy, Elizabeth, I think this Ebola thing — we may have to do something about it.' "
Cancedda looked at his wife, Elizabeth Barrera-Cancedda.
"It was almost like a catastrophe had hit us," he said.
Cancedda spent the next few days rearranging his work schedule, reassuring his parents who are in Italy, enlisting help with the couple's new puppy and drafting a will with his wife, just in case. He'll be gone one week on this trip and is not sure what happens after that. But Cancedda said he'll do what he can to help control Ebola.
"It is really a moral call; we just need to do it," Cancedda said. "There's this sense of urgency."
Ebola is eroding access to care for all kinds of patients in Liberia, Sierra Leone and Guinea, even those with common illnesses. Many hospitals are full or have closed because health care workers are on strike.
"So that's the crisis that is being faced," Farmer said. "Health care that would be delivered in the absence of the Ebola epidemic is not coming to pass."
Health care workers in Sierra Leone and Liberia say they've seen this pattern again and again.
"We have outbreaks, they are contained, then another outbreak comes again," said Dr. Mohamed Bailor Barrie, a co-founder of Wellbody Alliance in Sierra Leone.
Barrie is optimistic that the PIH intervention will help end this cycle. They take a comprehensive approach, Barrie said. "Working with them is a dream come true for me."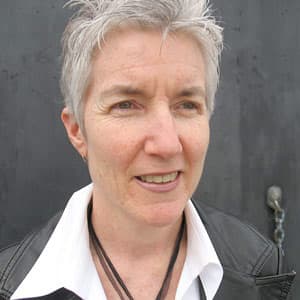 Martha Bebinger Reporter
Martha Bebinger covers health care and other general assignments for WBUR.