Massachusetts' Tough Map For Charlie Baker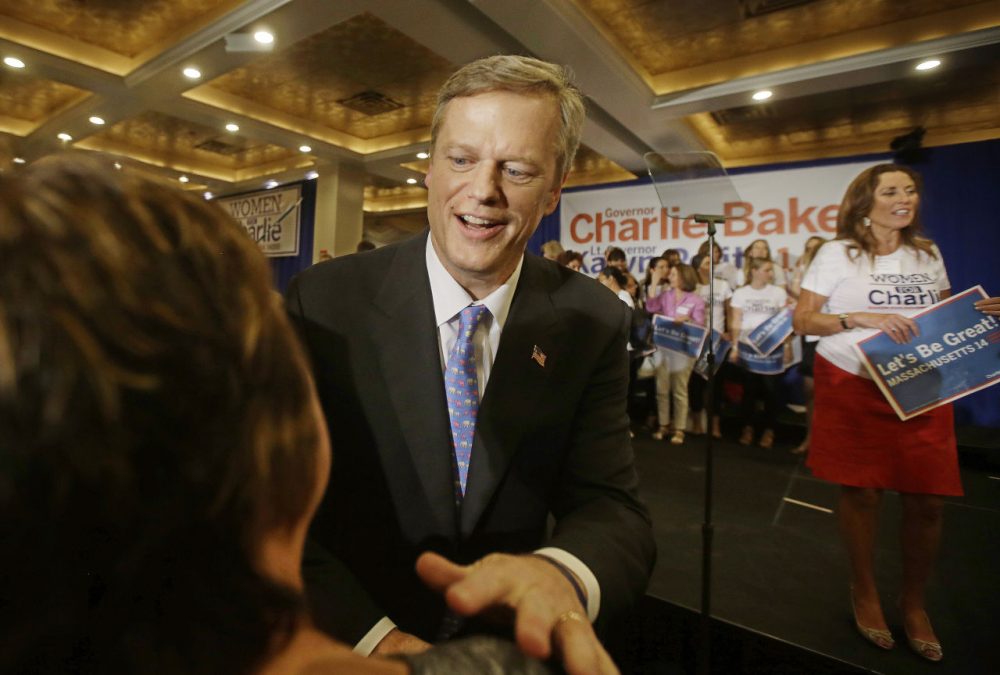 This article is more than 6 years old.
The current Massachusetts political map offers Republicans a very narrow path to victory, with little margin for error. The map has changed from its historical form in several important ways. And the ways it has changed make the path to victory for Charlie Baker more difficult.
Massachusetts Is Now 3 Political Regions
Recent statewide election results for governor and U.S. Senate show a state divided into three regions. Greater Boston and parts of Metro West are becoming reliably blue. Outside Boston runs a collar of red, bleeding into the central region of the state and down into the south coast. The red stops around I-91 and the Pioneer Valley, and the western third of the state is deep-blue, from Springfield arcing north and west to the New York border.
The boundaries between these regions ebb and flow a bit, like a political tide moving in and out. But overall, the state is now three big partisan regions. How big? From the state's western border, it is about a 30 minute drive to the first town a Republican has won recently (Scott Brown won Otis in 2010). Farther in, one could drive from Framingham to Springfield without seeing or touching a blue town but for Worcester out the right hand window.
In this respect, Massachusetts, normally viewed as uniformly blue by outside observers, is actually becoming a microcosm of the national political landscape. We have our blue "coasts" on the east and west, surrounding an increasingly red central and southeast region. And digging within these regions, there are relatively few "swing towns," just as presidential elections typically feature only a handful of competitive states.
The Massachusetts political map did not always look like this. Throughout the 1970s and '80s, electoral maps looked more like a quilt of red and blue patches. The now-familiar tri-region map began to materialize in the early and mid-1990s, as Republicans won the governor's office by running up large margins in the suburbs, and cities went more and more for Democrats. But with Democratic margins in the cities growing larger, it is becoming harder and harder for a Republican to thread the needle.
Polarization? In Massachusetts? You Bet. 
Within each of these regions, cities and towns are becoming more partisan. Blue Democratic towns are growing bluer and red Republican towns, redder. The final result in any given election is more accurately described as the midpoint between two increasingly distant voting blocs. There are fewer and fewer true "bellwether" towns who support a victor of either party.
In past decades, the vast majority of cities and towns fell within a 30-point range on either side of the overall state margin of victory in any particular race. So, in a hypothetical 10-point Democratic victory, 80 or 90 percent of towns voted somewhere between a 40-point Democratic victory (the actual 10-point victory plus 30 points) and a 20-point victory for the Republican (30 points minus the actual 10-point loss).
This is changing rapidly as the state's cities and towns become more polarized. In the most recent statewide election (the 2013 Senate special election), just 57 percent of towns fell within these boundaries. The rest voted far to the left or far to the right of the state's population. So while the overall figure (Democrat win by 10) looked fairly innocuous, it is but the average of two increasingly distant voting blocs.
Margins In Population Centers Heavily Favor Democrats
This regionalization and polarization is apparent from recent election maps. But perhaps the toughest problem for a Republican like Charlie Baker is less visible. The fact is, the biggest vote centers in the state are voting Democratic by larger and larger margins in recent years. (Western Massachusetts, impressively blue on a map, contributes far fewer votes to the statewide total.)
Restoring the GOP to long-term competitiveness in Massachusetts will require a new strategy. Margins in the cities and inner suburbs have gotten too big, and the blue towns are just too deep a blue. In Boston alone, over the last few election cycles, Democrats have won by an average of 92,000 votes, giving up 70 and 80 point margins in the majority-minority precincts. Clawing back some of these votes is an absolute must for Charlie Baker.
You can see the impact of the cities in the interactive visualization here. Notice how the largest dots, representing cities like Boston and Springfield, have drifted farther and farther to the left of the statewide margin in recent elections. Losing these major cities by wide margins, which is becoming commonplace for Republicans, puts them in a hole that is very difficult to dig out of.
Early indications are that Baker may have recognized the increasingly unworkable position in which the Massachusetts GOP finds itself. Having been dealt a terrible hand, he may instead opt to flip the table rather than play his cards. Baker held his primary night rally in Dorchester, and the Gateway Cities have featured prominently in his campaign itinerary and policy proposals.
It is not impossible for Republicans to conquer this new political geography, but to do so requires many factors to fall into place. Scott Brown was the last Republican to win statewide, in the 2010 Senate special election. He surged to victory late on a wave of Tea Party resentment, concerns about the president's health care law, and other one-time factors. But later that same year, when another Republican wave swept over the rest of the country, Baker and other Republican candidates were shut out in Massachusetts.
A better bet for Republicans would be taking steps to re-color the map rather than trying to tread the increasingly narrow path it offers. Baker is unlikely to flip the deeper blue cities red. But if he can pull them closer to the center, shading them a lighter blue than they have gone recently, he will reduce the risk of his own strong regions being swamped by a sea of urban Democratic votes.
Steve Koczela is the lead writer for Poll Vault and president of The MassINC Polling Group. Parts of this analysis previously appeared in CommonWealth Magazine.