Musical Precision And Chaos Collide In Buke And Gase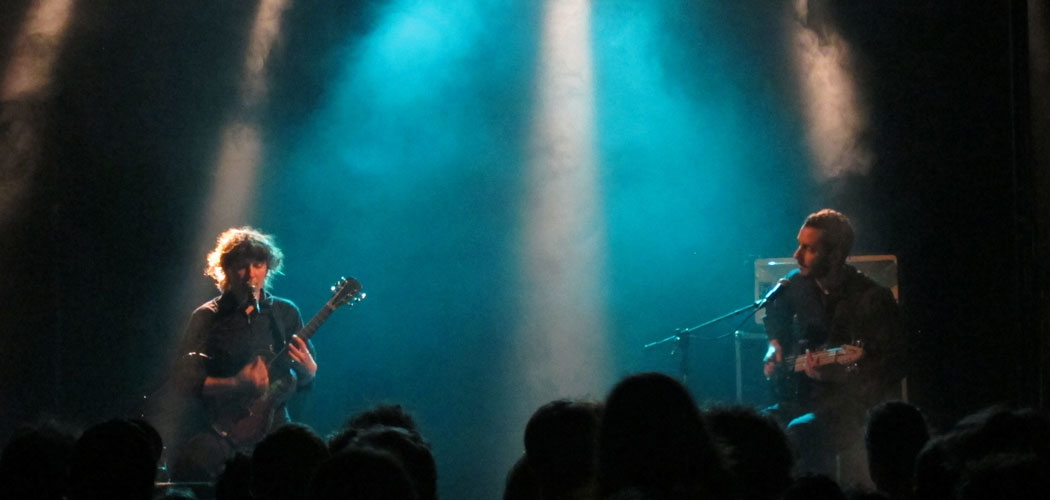 This article is more than 7 years old.
There is something about the Brooklyn rock duo Buke and Gase that people find hard to pin down. Descriptions necessarily focus on the name, a reference to the band's curious instrumentation: a revamped six-string baritone ukulele (buke) and a Frankensteinian bass-guitar amalgam (gase). The concept is eccentric, almost cute. But the music is something else entirely, a deafening, cathartic descent into the subconscious, both musical and emotional.
"We do have the conversations like, 'Oh, we should try to do this or we should try to do that or I'm interested in this,' but at the end of the day our music is really dictated by what we can play when we're in a room together," explained gase-player Aron Sanchez recently, reached by phone from the duo's practice space in Hudson, New York. "And we write from improvisation, so it's really about what's happening in the moment when we are playing together. So we try to be more contrived with our songwriting—and it usually doesn't work."
Buke and Gase, who headline at Great Scott in Allston on Oct. 2, perform sitting down. In addition to playing the gase, which he designed and built, Sanchez uses his feet to operate a bass drum and electronic samples. His bandmate Arone Dyer sings, plays buke, and contributes her own foot-powered percussion and electronics. Both buke and gase are fed through amplifiers and sonically modified to the point of erasing any strummy or folksy associations the word "uke" might evoke, sounding instead like the snarling, electric progeny of rock 'n' roll that they are. The group's prog- and punk-inflected repertoire is made up of pop-length songs that consistently defy pop music standards. They change time and tempo, tracing a dissonant arc across syncopated blasts of noise while Dyer pushes her limber voice through extreme melodic excursions.
Buke and Gase's music (pictured at top in a photo by Christian Dopping) hinges on a precise set of tandem operations, a kind of human Rube Goldberg machine: together, Dyer and Sanchez approximate a four-piece rock ensemble with a full percussion section and multiple stringed and keyed instruments. But their songwriting process is the opposite of structured.
"We don't bring anything to this project from our own personal stash," says Dyer, describing the duo's improvisatory approach. Instead, they write songs together in the studio, improvising riffs while Dyer sings wordlessly or with phrases gleaned from her diary or a book. They record the sessions and then tinker with the results, fusing melodic motifs and revising lyrics, slowly whittling an idea down to a fine point.
Dyer and Sanchez formed Buke and Gase back in 2007 after playing together in the experimental rock band Hominid. In 2010 the band, then styled as "Buke and Gass," released their first full-length effort, titled "Riposte." "Riposte" throttled the group's natural intensity into full gear, favoring monstrous downbeats and menacing minor keys.
The band's 2013 album "General Dome" displays a slightly rounder edge, albeit one as hard and gleaming as polished stone. Though the songs on "General Dome" are just as likely as their predecessors to feature odd time signatures or lopsided hooks, they are more apt to sink into something resembling a groove. Dyer's lyrics, as always, seem to skirt the edges of a nightmare; much as the music is born of an improvised process, so, too, do the words emerge from an unconscious place. "How you gonna wave/ Hello or goodbye/ When your hands are tied," she sings in the album's opening number, her voice flickering from reedy stridency to feathery softness and back.
For four months starting in March, Buke and Gase assigned themselves a creative challenge, posting a new song or compositional concept on their Soundcloud page every Monday. The idea, says Dyer, was "to release [ourselves] from the ideal of perfection. Because we tend to get really stuck wanting to make things sound exactly the way we imagine them sounding, and this was a way to get away from that need, or obsession."
The pieces that emerged are strange and entrancing, and exhibit a noticeable electronic bent. Dyer experiments with effects on her voice, at times seeming to sing underwater or through a faulty phone connection. Sanchez explores the rhythmic possibilities of his latest invention, a kick drum that activates short bursts of electronic percussion.
The new music is built with slightly more palatable pop ambitions. "There's different kinds of listeners. There's listeners who are really listening and want something more from the music, and then there's listeners who need it for vibe or emotion or background or something," explains Sanchez. "And that's where our music could be annoying."
Yet even as Sanchez and Dyer purport to try to achieve a balance between satisfying, friendly sounds and a habitual experimental bent, the band is, at its heart, committed to subverting musical expectations. Buke and Gase's new song experiments might sound somewhat more at home in a nightclub than their brethren, but they are still deliciously, off-puttingly bizarre. Melodies take zigzagging chromatic turns; insistent polyrhythms keep the listener from ever feeling too relaxed.
"We make music that we don't want you to be able to predict," remarks Dyer.
To which Sanchez replies, "Isn't that how music should be?"
This article was originally published on September 25, 2014.