Boston's Adventurous Big Bands — Jazz Composers Alliance And The Aardvarks
Despite the odds, big bands carry on. In the "swing era," when jazz was America's pop music, big bands made the country dance. Since then, their sound, like the rest of jazz, has become concert music. Rather than vehicles for dancing, they're laboratories for composers — "orchestras," rather than bands, their ambitions often symphonic in scope. The sound they make is still often in the Basie or Ellington mode, from the Jazz at Lincoln Center Orchestra to the Village Vanguard Orchestra. But, going back to the orchestral experiments of Anthony Braxton or Butch Morris, they exist in as many different forms as there are forms of jazz. I recently received a jazz big band recording of the music of Charles Ives, and composers like Darcy James Argue, John Hollenbeck, and Maria Schneider continue to lead big ensembles playing adventurous new work and making festival appearances.
Boston boasts at least two distinguished big bands of longstanding, both with new CDs and upcoming shows. The Jazz Composers Alliance Orchestra, who gave its first show in 1985, plays Berklee Performance Center on October 14 to celebrate that day's release of its new "Why Do You Ride?," its 10th CD. At Scullers tonight (October 2), Aardvark Jazz Orchestra begins its 42nd season by celebrating the release of its 12th CD, "Impressions." (Both discs are on Leo Records.)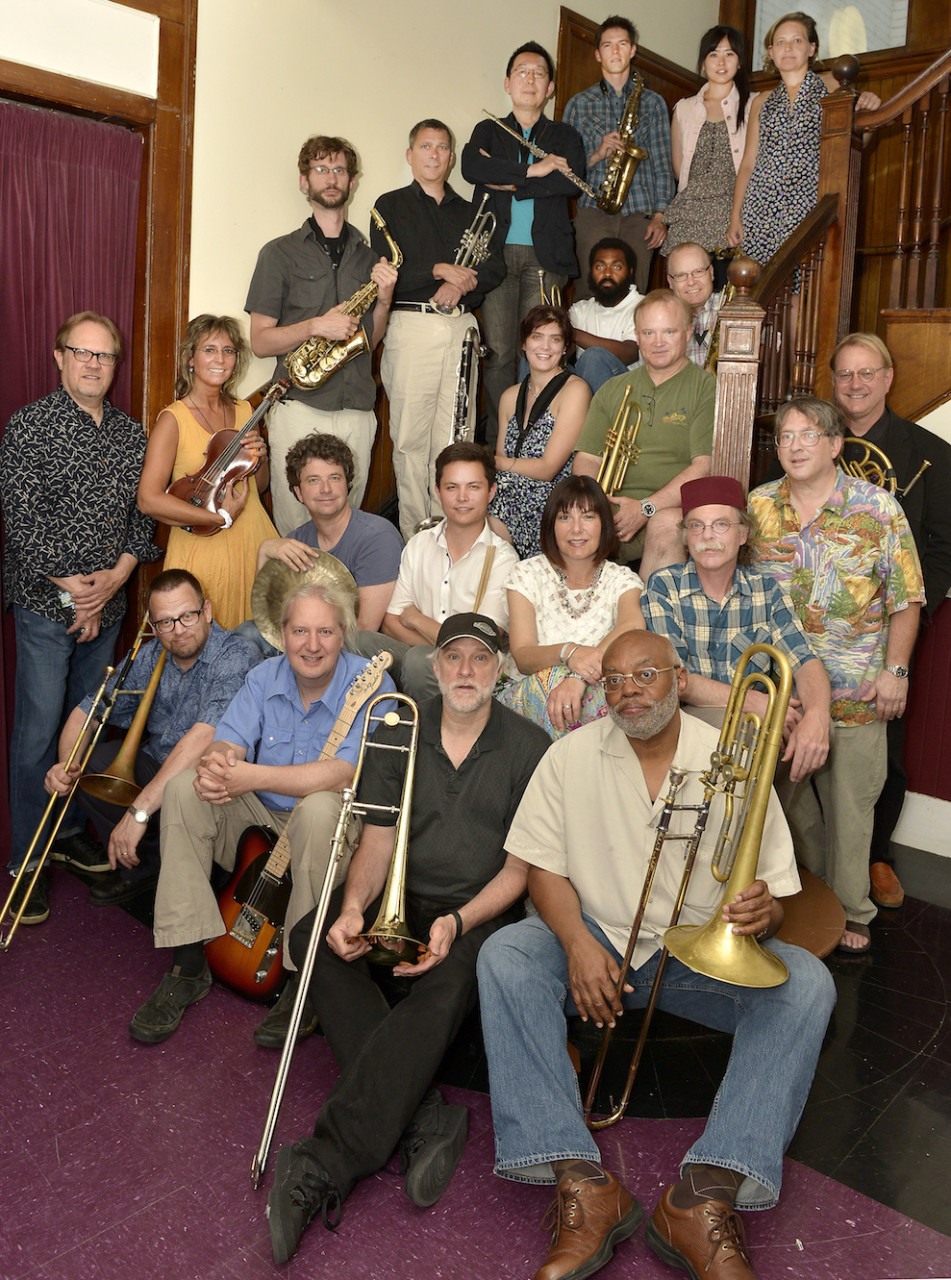 These bands are of different intent and set-up, but with some things in common. The Jazz Composers Alliance is, as the name implies, a collective of writers that provides original compositions for the orchestra. In the past, the JCAO has featured works for and by guest player/composers like Steve Lacy and Sam Rivers. But these days, with the occasional exception for, say, Muddy Waters or Ray Charles, they stick with original material written by their members.
Aardvark, on the other hand, is the pet project of its musical director, the composer and trumpeter Mark Harvey. Harvey likes to dig up interesting repertoire — Ellington in particular. Last December the band played the Ellington-Strayhorn arrangement of Tchaikovsky's "Nutcracker Suite." At the October 2 show, they'll play Mary Lou Williams's "Roll 'Em," Dizzy Gillespie's "Manteca," as well as two rarities: the Bob Brookmeyer arrangement of Django Reinhardt's "Manoir de mes Reves" and Gerry Mulligan's "A Ballad." But new Harvey compositions animate almost every Aardvark show, and this one will include two from the new CD, "The Journey" (a commemorative piece about Boston's struggles with school desegregation, which began 40 years ago) and "Urban Renewal/Loss & Lament," about the destruction of Boston's West End.
The JCAO shares Aardvark's interest in a broad range of programmatic topics, though maybe with a more literary bent (in 2003 they released JCA member Darrell Katz's "The Death of Simone Weil," about the French philosopher). And the JCA writers share Harvey's broad post-avant-garde palette — everything from Basie swing and Ellingtonian orchestrations to Afro-Latin grooves, free squalls of sound, and, well, Ray Charles.
The new "Why Do You Ride?" — with three pieces by Darrell Katz and one by Thelonious Monk — is one of the JCAO's most satisfying discs. It was inspired by a quote from Albert Einstein — which turned out to be apocryphal — that the three greatest inventions of the modern world were the three-masted sailing ship, the refrigerator, and the bicycle. That was enough for Katz, an avid bicyclist, to build the eight-part, 41-minute suite, "Wheelworks," with lyrics sung by JCAO  vocalist, Rebecca Shrimpton. The album's title track serves as a kind of extended prelude.
The "Wheelworks" text is little more than a series of short statements — a mélange of Einstein quotes and apocrypha — that treats serious matters with a light touch and philosophic irony ("I know not with what weapons World War III will be fought, but World War IV will be fought with sticks and stones").
Part of what carries the text is Shrimpton's delivery — straight-faced, with pinpoint diction and a clear soprano. She easily shifts personae, and she knows how to deliver the wit in a line like: "The only escape from the miseries of life are music . . . and cats."
What also lifts the text is, of course, Katz's music. Commissions buy music by the yard, so that's how composers sell it: dollars-per-minute. But when you're left to your own devices, you can just keep writing. If you can find people to rehearse and play a piece, it's all yours, and JCAO composers can go on. But over the years, Katz in particular has learned how to proportion a piece, how to keep it moving. And "Wheelworks" keeps moving, creating interest from moment to moment, rarely flagging. Maybe that sense of movement derives from the inspiration for the piece, and another Einstein text that's sung here: "Life is like riding a bicycle. To keep your balance you must keep moving."
In this case, Katz keeps things moving with rhythmic variety — African and Afro-Latin grooves, free-time orchestral crosstalk, jazz swing, riff-figures that propel the piece from one section to the next. Solos are short and serve a function, part of that long unfolding musical narrative.
Katz also knows how to vary textures — even a simple thing like following a thickly orchestrated passage for voice and horns with the shimmering aquatic sound of a solo vibraphone. The title piece, for example, Katz's adaptation of a Zen-master story, moves from the aether of free-time bowed bass and quizzical horns to a chugging Ellingtonian groove, to fast-paced swing, Shrimpton soaring with the lyrics, especially as those long syllables "Why" and "ride" recur, higher and longer in each verse. The Zen master's question to his four students culminates in a final ecstatic, answer, sung ardently by Shrimpton, and then translated beyond words in a stunning free alto solo — controlled frenzy — by Jim Hobbs.
The album concludes with a serene arrangement of "Monk's Mood" by the JCA Sax Quartet (Jeff Hudgins, Daniel Ian Smith, Phil Scarff, and Dan Bosshardt). Its poised harmonies recall Ellington as much as Monk — a fitting coda to this varied and exciting CD.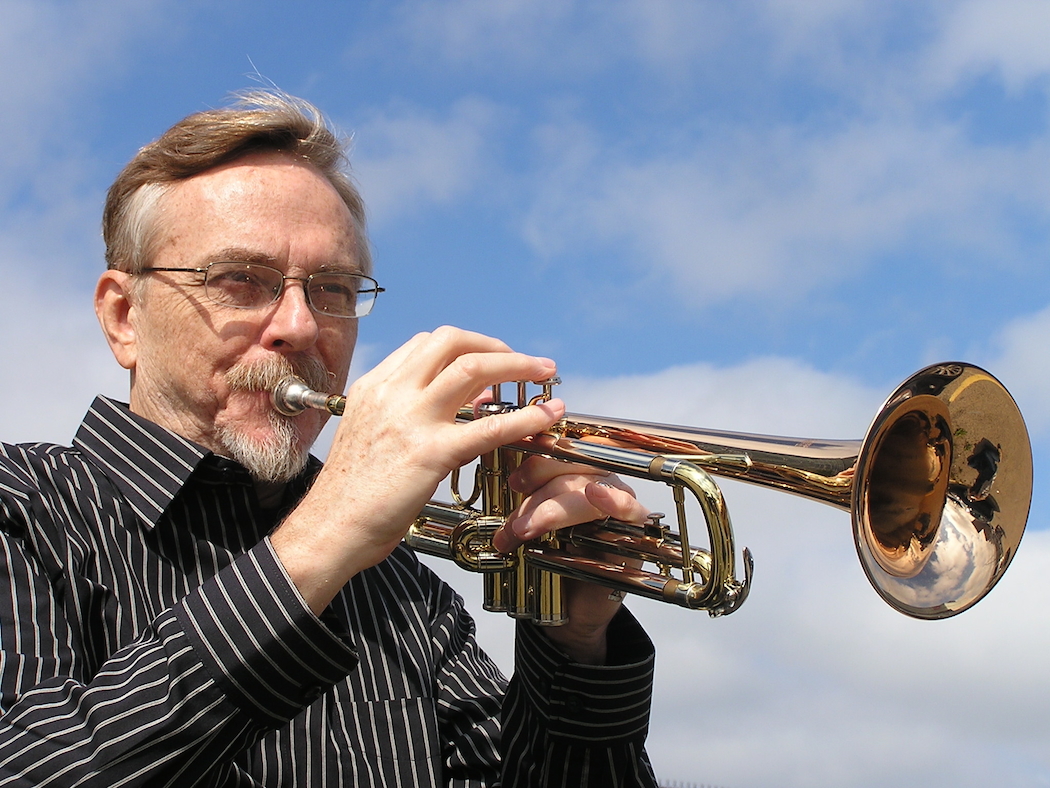 Though Harvey often leads Aardvark through tight arrangements, on "Impressions" the compositions (all originals) take their time, leaving lots of solo space as well as extended passages for subdivisions of the larger group to break off into free improv. (A couple of pieces pass the 17-minute mark.) Harvey likes grooves as well (one of his best-known pieces, "No Walls," takes off from the township rhythms of South African composer Abdullah Ibrahim). Harvey also has an affinity for Ellingtonian big-band color and lyricism along with Charles Mingus's satiric edge. A previous piece was called "March of the Booboisie," and "Impressions" closes with "Neanderthaleology," which Harvey's liner notes describe as depicting "the current American political culture of nihilism and primitivism."
The new CD shows Harvey in full satiric flight. On "Urban Renewal/Loss & Lament," the trombones become the bulldozers that tore up the old West End. They're followed by a wordless, mournful vocal from soprano Grace Hughes and a biting blues alto saxophone solo from Arni Cheatham. In "Passione," the trial and execution of Sacco and Vanzetti culminates in a guitar powerchord, followed by a brass-and-flute Italian funeral march. On "Elemental," Aardvark's veteran baritone vocalist Jerry Edwards takes a virtuoso extended solo whose gibberish syllables recall Mingus's "Passions of a Man."
So, no, this isn't "The Nutcracker." In fact, the album as a whole is suffused with what Harvey describes in those "Neaderthaleology" notes as a "strange, brooding harmonic language." As the soloists take their turns in Harvey's charts, the orchestral backing figures slide in portentous chromatic steps. More often, though, the band is a church congregation, offering moans of assent and consolation to the soloists, or urging them on with rhythmic call and response.
There is beautiful playing throughout the album (it's worth noting that trombonists Bill Lowe and Bob Pilkington, saxophonist Phil Scarff and Dan Zuban all do double duty with the JCAO), as well as some attractive themes by Harvey. The prevailing mood is a mix of mournful and defiant, with some genuine catharsis — especially in the solos by Cheatham, Lowe, and Pilkington. The album as a whole has the unity of a thematic suite. There aren't a lot of uptempo grooves, and I imagine that the audience will be grateful for "Manteca" on October 2. But this is another impressive edition in Aardvark's — and Harvey's — ongoing body of work.
More