With 2 New CDs, He's Still Every Inch A Prince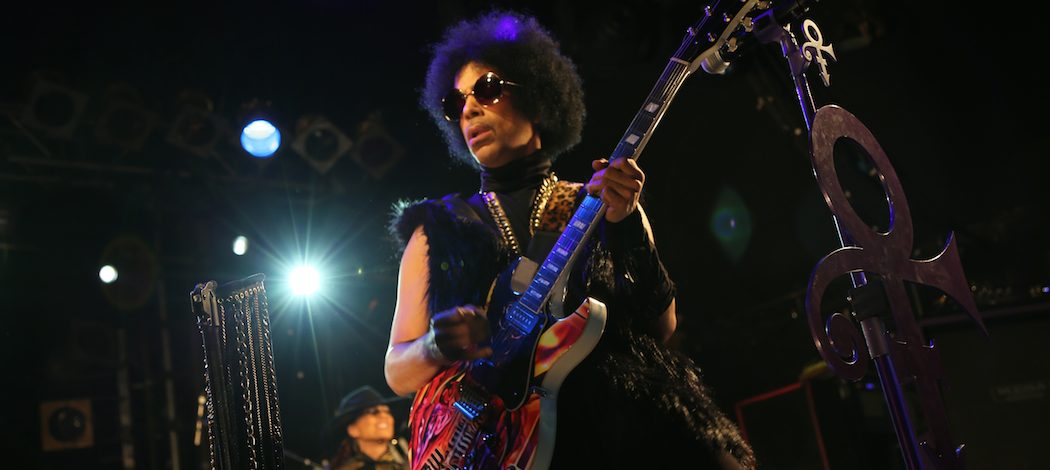 This article is more than 7 years old.
Under the handle @3RDEYEGIRL, the name of his female backing band, Prince has accumulated more than 175,000 Twitter followers. He, of course, follows no one. Why would Prince behave any differently on social media than he has throughout an eclectic career that began during the Carter administration?
That's because the artist formerly known as The Artist Formerly Known As Prince has never followed anyone. While musical influences such as James Brown, Sly Stone and Jimi Hendrix were apparent, he was no copycat anymore than Beethoven was a Mozart knockoff. Prince's singular distillation of knotty funk, roaring guitar licks, turn-off-the-lights bedroom soul and orgasmic gospel yowl has never been derivative. Even as a surly, doe-eyed prodigy barely out of his teens on his 1978 debut "For You," which yielded the evergreen club jam, "Soft and Wet," Prince has always been fully formed, certain of his creative path, and beholden neither to fads nor public favor.
Recently, he's been better known for oddities like this year's guest-starring turn on the Zooey Deschanel sitcom, "New Girl," than his music, so there's some fanfare marking the arrival of his two new albums: "Art Official Age" and "Plectrum Electrum," with 3RDEyeGirl. His first studio albums in four years also mark his return to Warner Bros, the label where he began, achieved his greatest successes, and ultimately against whom he waged a lengthy contract battle in the 1990s, characterized by his curious decision to write the word "SLAVE" on his cheek and change his name to an unpronounceable symbol.
But that's in the past. "Welcome home, class. We've come a long way," Prince says on, "Art Official Cage," the opening cut on "Art Official Age." This is not a message for the Katy Perry demographic, although they're certainly welcome to tag along. This is an album for the longtime true believers who, in the vibrant musicality of Bruno Mars, Kanye West's attitude and Nicki Minaj's brusque sexuality, instantly recognize its indomitable source, and refuse to settle for anything less.
In some ways "Art Official Age" seems tailor-made for them with some cuts partying like it's 1999 — not the year, but Prince album of the same name, released in 1982. With its tweaking guitars, sputtering organ and Prince's piercing falsetto (his voice is as supple as ever), a song like "The Gold Standard" could be an outtake from his early '80s discography. That's not to say the song is dated; instead, it's a winking and deliberate evocation of an era-specific groove. Neither a cultural changeling like vintage Bowie nor a shameless trend chaser like Madonna, Prince's music has stayed consistent in his ardent pursuit of all things funky, rockin' and soulful. It's not a rote formula, it's a signature sound, and if this is less revolutionary than some might prefer (or expect), it also never seems grasping or desperate.
For veteran artists, it's become de rigueur to team up with younger singers to contemporize their image; last month, it earned Barbra Streisand her latest No. 1 album, "Partners," even if she is slumming, albeit gamely, with the likes of Blake Shelton and John Mayer. Prince does no such thing here. He has always championed newer artists, but he doesn't use them as a way to wedge himself into another generation's consciousness.
On "PlectrumElectrum," he plays with 3rdEyeGirl — guitarist Donna Grantis, bassist Ida Nielsen, and drummer Hannah Welton — his touring power-trio. If "Art Official Age" is lean toward seductive funk, this album is fat with fuzzy guitars and jam-happy journeys. "A girl with a guitar is 12 times better than another crazy band of boys," he sings on "Fixurlifeup," and the overall effect is looser and loopier, with Prince trading off vocal duties with Grantis and Nielsen on songs like the slowly percolating "Stopthistrain," and the ballad "Whitecaps."
For more than a decade or so, Prince has peppered his concerts with the same declaration: "Real music by real musicians, y'all." It's practically his mission statement these days, but it's a sentiment likely lost on anyone weaned on Auto-Tune and songs better suited as ringtones. He's a legend and a member of the Rock and Roll Hall of Fame, but is Prince still relevant? To a certain extent, that's never been a pertinent question. Now 56, Prince has always done what he felt musically compelled to do, regardless of its commercial viability. His new albums may sound like nothing else on the charts, but then that's always been the case throughout his career.
"Don't worry about what the crowd does; just worry about being good at what you love," Prince says on "Fixurlifeup," and it could be his personal mantra. After 36 albums in 36 remarkable years, Prince Rogers Nelson is still single-mindedly doing exactly that.
Renee Graham is pop culture correspondent for WBUR's Here & Now, and was a longtime arts writer and pop culture columnist for The Boston Globe. Follow her on Twitter at @reneeygraham.