Biden: American Global Leadership Is Critical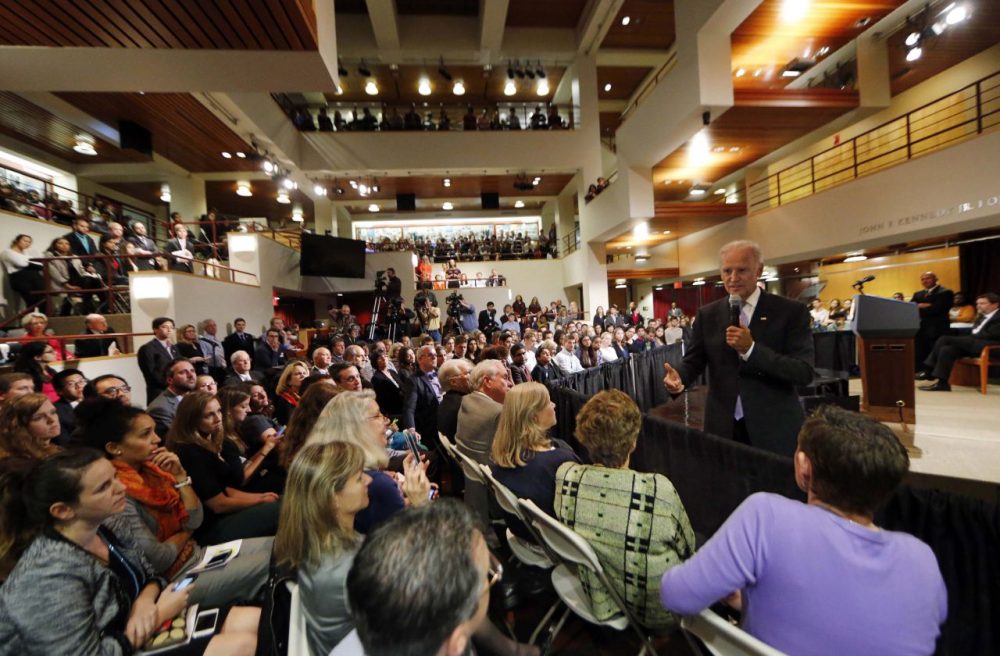 This article is more than 6 years old.
Vice President Joe Biden delivered a full-throated defense of the Unites States' active role in an ever more complex international environment during a speech Thursday.
Biden said the United States' engagement in the world is more critical now than ever, even as he warned that "the international order that we painstaking built after World War II" is fraying.
Biden said managing the United States' relationship with China is the most essential part of the country's effort to build relationships with emerging powers in the 21st century. Biden said the U.S. seeks deeper cooperation with China — not conflict.
"Nowhere is it written that there must be conflict between the United States and China," Biden said at Harvard University's Kennedy School of Government.
But he added that no American president could shy away from human rights issues in the Asian nation in exchange for better international or economic relationships.
"America is a Pacific power and we will remain a Pacific power," he said.
Biden also said that the multiple challenges posed by upheavals in the Mideast, the fight against violent extremists like the Islamic State and the changes brought on by the Arab Spring could take "a generation or more to work itself out."
Biden also said that while groups like the Islamic State pose a serious challenge, they do not represent "an existential threat to our way of life or our security."
"We didn't crumble after 9/11. We didn't falter after the Boston Marathon," Biden said. "This is going to require a lot of time and patience."
He said the administration's effort to degrade and ultimately destroy the group is strengthened by the international coalition that has been created to fight it.
Biden also faulted Russian actions in Ukraine arguing that the administration has found ways to stand up to Russian President Vladimir Putin without putting U.S. troops on the ground.
"We don't want Russia to collapse, we want Russia to succeed," Biden said. "But Putin has to make a choice."
During the speech, the vice president also pointed to other kinds of international challenges, including pandemic diseases and the growing death toll of Ebola. He noted that President Obama has sent 3,000 troops to Africa to help bolster the efforts there to contain the disease.
Biden also cheered what he said was progress closer to the U.S., pointing to the country's increasing energy independence and growing relationships with other emerging nations like Brazil.
He said that for the first time the world can imagine a North America that is "secure, democratic and middle class."
Earlier in the day, Biden attended a fundraising event at a Boston restaurant for the Democratic National Committee. About 50 guests attended the event, where tickets started at $1,500.