Knock, Knock — Imaginary Beasts Pounce On 'The Daniil Kharms Project'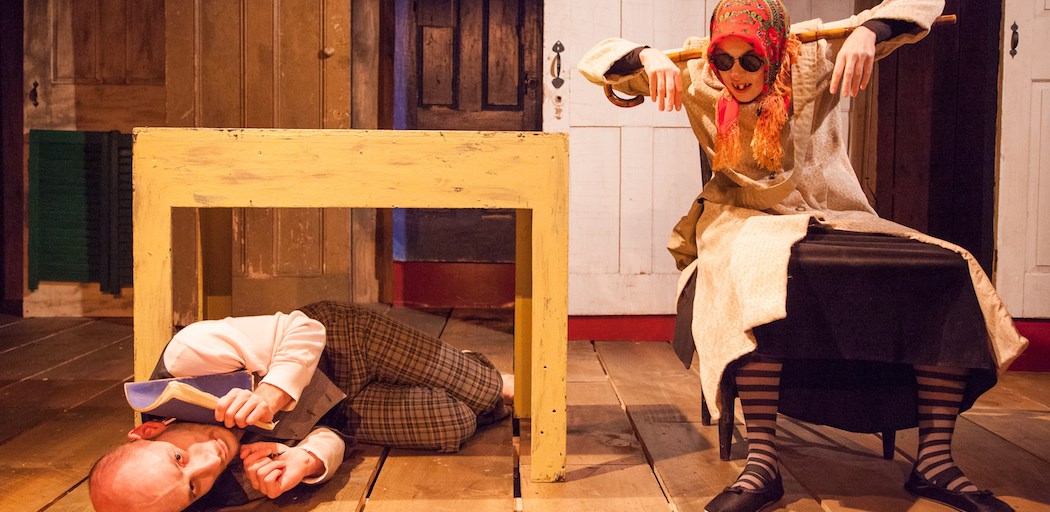 This article is more than 7 years old.
When I sat down to watch Imaginary Beasts' production of "Knock! The Daniil Kharms Project," I had no idea what to expect. Imaginary Beasts is known for their creative approach to storytelling; they describe themselves as an "incubator for adventurous theatre making," so I was prepared for something unusual. I sat in my seat at the Boston Center for the Arts' Plaza Black Box, reading the program notes explaining that the works this play brought to life were never intended to be published, and had been saved from Kharms' building after a bomb blast in the 1940s by a friend who dragged them to safety through the snow on a sled. Kharms himself was an early Soviet absurdist writer who fell afoul of authorities when Joseph Stalin turned on the avant-garde.
When the lights came up, a tableau appeared of a woman (Joey Pelletier) bent on splitting a log, and a man with a pipe (Noah Simes) determined to interrupt each stroke of the ax with one word, "KNOCK!" I giggled at the randomness of a woman in a fine dress, who curtseyed before each attempt at a whack at the wood, her glasses falling off each time she raged at the man with the pipe. On her final attempt, a curtain of canvas fell, creating a backdrop of yellowed material that would be tied and manipulated to create a snowy landscape, a screen for shadows, a sheet for a body.
A shadow of an angel danced, and a man spun his hat on a cane and suddenly we were off in a topsy-turvy world. There's no real chronological storyline, though characters reappear and their stories pick up and leave off as needed. Short moments of absurdity are interspersed with clowning around that fills mundane tasks like standing in line or chopping wood with delightful tomfoolery. While one vignette shows a man pulling a suitcase of papers through a howling snowstorm, another shows a man struggling to write a clever sentence at a writing desk. There are images of a different time in Russia when people stood in long lines to buy sugar. There are also dark, frightening moments — a young girl is pulled off into the darkness, a young man is carted away by a villain with a billy club.
The ensemble uses a movement vocabulary usually suited to a three-ring circus — falling off of chairs, somersaulting over tables, and hanging on doors. Their faces are painted with rosy cheeks and red noses of clowns, but the color also brings to mind the chapped skin in cold Mother Russia … or perhaps that the wearers had a tot too much vodka. A crew of buffoons in foam red noses toddles around the stage to execute the transitions and add sound effects using childlike instruments like a tin whistle or a wood block.
The troupe is exemplary, each member stepping into the spotlight for an outstanding turn at the helm, and then melting back into the finely-tuned ensemble. Molly Kimmerling's performance as the toothless Babushka stands out — and gave me the most delightful case of the creeps.
Directed by Matthew Wood, "Knock! The Daniil Kharms Project" (through Oct. 18) is put together like an intricate quilt made with many different scraps of amazing fabrics. He's harnessed the capabilities of his cast and design team to create a whirling landscape of doors and shadows, with amazing effects and characters that both delight and disgust.
Robin Allen LaPlante is a local arts administrator who is skilled in the mystical arts of social media, musical theater and arts marketing. When not working as a Marketing & Communications Manager at From the Top, she fills her time baking delicious goodies, camping with her family, or playing with the crazy theater-makers at New Exhibition Room.
More on Daniil Kharms: