First Lady Stumps For Coakley In Boston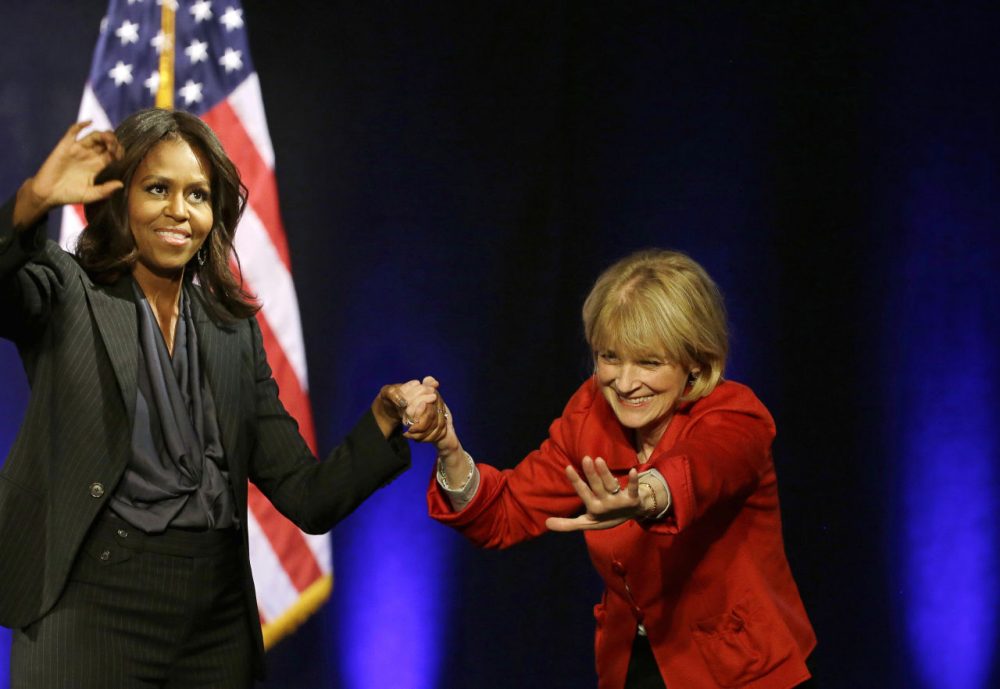 This article is more than 6 years old.
First lady Michelle Obama is making a political swing through New England Friday on behalf of Democrats running for governor in Massachusetts and Maine.
Obama energized a crowd at the Strand Theatre in Boston's Dorchester neighborhood during a rally for state Attorney General Martha Coakley's gubernatorial bid, warning that "races like this can be won or lost by a few thousand or even a few hundred votes."
Obama said the midterm elections are so important that she and her husband are both on the road even though it's their 22nd wedding anniversary.
"I might not even see him today," she said.
Obama said the election of candidates like Coakley is critical to help build on the successes of her husband and to protect the needs of children and women, including raising the minimum wage, ensuring paid sick leave, and guarding women's reproductive rights.
"That is the kind of leader that Martha Coakley will be," Obama said. "That's why we need to elect her the next governor of Massachusetts."
Democrats are eyeing the midterm elections, not only in Congress, where they are working to retain control of the Senate, but also in statehouse races.
Obama said the success of those elections depends on Democratic voters heading to the polls without her husband's name at the top of the ticket.
"When we stay home, they win," she told the crowd. "They're assuming that we won't care. They're hoping that we won't be organized, energized."
She also said much has changed since her husband became president, including the way children perceive political leaders.
"Think how our children take for granted that a black person or a woman could be president of the United States," she said.
Coakley vowed to campaign hard to become the state's first woman governor. She also took a shot at Republican challenger Charlie Baker and a new super PAC ad critical of her record on protecting children.
"If he thinks I will stand by and allow him to lie about my record ... then he's wrong and he doesn't know me," she said.
Baker said Thursday that he didn't like the tone of the ad but stopped short of asking that it be pulled off the air.
If elected, Coakley pledged not only to make early education more accessible to all children and to bring economic growth to all areas of Massachusetts, she also vowed to "be a good partner to our business community."
Deval Patrick also helped spark up the crowd. Patrick said he's proud to be a Democrat, but said his fellow party members are sometimes too quick to doubt themselves.
"We are the first ones to believe the Republican talking points. We wring our hands and fret about what we think are their great slogans. Elections aren't about slogans," Patrick said, urging Democrats to talk about their values.
"Those values have to do with common destiny," he said. "All we hear from the other party are yesterday's ideas."
Polling indicates Coakley is locked in a tight race.
The first lady later is scheduled to attend a rally at the University of Maine in Orono for Democratic congressman Mike Michaud, who is challenging Republican Gov. Paul LePage.
This article was originally published on October 03, 2014.