Patrick Discusses Gov. Race, Final Months In Office
07:14
Play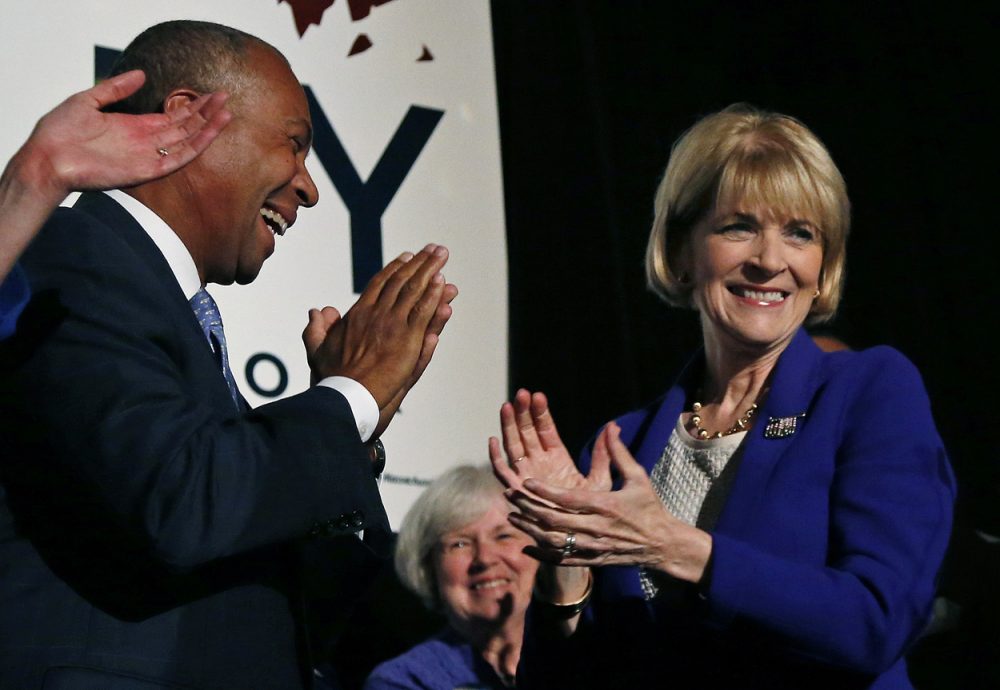 This article is more than 6 years old.
Massachusetts voters decide a month from now who will become the state's next governor.
The race appears to be a toss-up right now between Republican Charlie Baker and Democrat Martha Coakley — who meet Tuesday night, along with the three independent candidates, at a debate at WBZ-TV.
To Gov. Deval Patrick, the election is as much a contest between those candidates as it is a referendum on continuing his policies.
---
Highlights from Patrick's conversation with WBUR's Morning Edition.
On what's important to him as he prepares to hand over the reins:
I think that the most compelling issue has to do, not so much with a policy difference, but with an approach and an attitude: whether the next governor is going to continue what we've been trying to do in terms of governing for the next generation and not just the next election cycle; or whether we're going to have a return to the short-sighted, self- involved kind of governing that we had over much of the 16 years of Republican leadership.
On his fears:
Well, you know, we made in this Commonwealth lots of decisions in 16 years that short-changed the transportation infrastructure, short-changed school funding and support of voided things like reforming the mandatory minimum sentencing laws — all things that are wise to do but difficult to do politically. And we've tried to bring a different approach. We've got a lot of results to show for it. And I'm hoping very much that Martha Coakley will continue that focus on, as I say, the next generation.
On whether Charlie Baker is self-centered.
Well, I think his record has been one of thinking very much about himself and his ability to have the office and not do the job, and I'm worried about that.
On an example of one thing that bothers him.
Well, I'll give you an example that we've been living with — and when I say "we" I mean the Commonwealth — and that's the way he conceived of and then basically hid the Big Dig financing scheme. The Big Dig is a great project from the perspective of, you know, the engineering fascination of it and its contribution to the ease of and functionality of our airport.
It was a better idea at, you know, whatever it was originally — $8 billion — than the $16 or $19 billion it ended up being. But the way of funding that $18 or $19 billion project starved the rest of our infrastructure around the Commonwealth for two decades.
And you don't have to take my word for it — that's the view of an independent transportation commission. And we've been trying to turn that around ever since with different and more responsible ways of dealing with that debt — one element of which is the increase in the gas tax and pegging it to inflation. And you have the very same candidate now going around and saying we should repeal that very courageous vote that the Legislature took, knowing that that was part of the solution to the problem he left.
On what he likes about Martha Coakley:
Well, I particularly love her emphasis on early childhood education which every single study shows is a high-impact, but inherently long-term, investment of the kind we're just talking about, right? It's not something that we're going to see immediate payback. But we are going to see payback and savings and improved outcomes for our citizens out through a generation. And that's the kind of leadership I think the Commonwealth deserves.
On perceptions of Coakley's struggle to connect with average voters:
You know, this job of being a candidate and then serving in office is a funny blend, Bob, of substance and performance art, you know, and I think the hard job for the media is to discern — first of all to report both — but to discern the difference between the two. And I think that Martha is a person who runs really deep in the substance and in the empathy, but, you know, she's more reserved in public. But it doesn't mean she's an ineffective leader. In fact, quite the contrary: she's been an important and effective leader. And I think she'd be an important and effective governor.
On the most pressing problem, issue-wise, facing the next governor:
Well I think, you know, we've made great progress in terms of recovering from recession. But we haven't solved every problem. There are still people who have not experienced the kind of economic recovery that many — but, again, not all — of our citizens have experienced. You remember, we had a conversation about a series you were doing as you were moving out Rt. 9? Remember you talked about going, was it to Otis?
BO: We went to Ware. We were in Ware.
Ware, that's right. And, you know, Ware is an example of a handful of cities and towns where the recovery has not been as robust as it has been in, you know, Kendall Square or down the south coast or places up in Merrimack Valley. And while I think the strategy of emphasizing education innovation and infrastructure is a winning strategy, we do need to tailor that strategy for differences in the economic conditions of our regions in the Commonwealth.
On top priorities for the next three months:
Well there are a couple things that I think are going to land really well. The Connector website is fixed, which was, as you know, a big issue this time last year — or November last year. So the issues that surfaced then have been resolved, and it looks like we're in a position to meet a deadline set for this time next year around the website in time for this open-enrollment period — so almost a year ahead of schedule.
The reforms at DCF have taken hold. And we're seeing, I think, really good results there in terms of more people and the use of the technology and what have you. And we want to have a really smooth transition and we're preparing for that, whoever the successful candidate is, and that it's a responsible and transparent transition — and that takes a lot of work and planning. And then beyond that I have to find a job.
On whether it's hard to think about a transition:
Is it hard? No. You know, this has never been my office. It's interesting. When I have appointments I don't invite people into my office: I invite them into the governor's office. It belongs to the job. It doesn't belong to me.
This segment aired on October 7, 2014.