Mass. Officials Try To Quell Ebola Fear
03:46
Play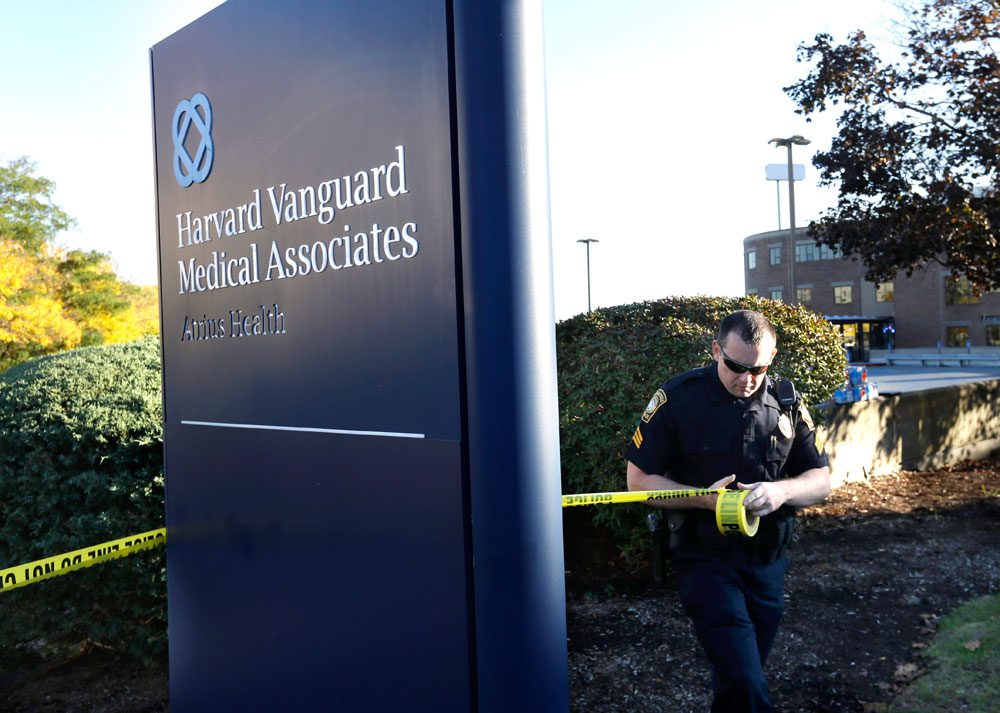 This article is more than 7 years old.
At this moment, in Massachusetts, the fear of Ebola may be more troubling than preparing for the possible cases.
Gov. Deval Patrick and Boston Mayor Marty Walsh pulled their top health, police, fire and transportation leaders into a briefing Tuesday morning and then addressed the public from Logan Airport. Their message: We're ready, don't worry.
Sometime Sunday afternoon, as word spread that a Braintree patient was being screened for Ebola, the fear factor in Boston spiked. Could this virus that's killed 4,447 people as of early Tuesday in West Africa be in our midst? I heard from moms who were disinfecting playground equipment, from colleagues whose parents called with worry, and Walsh says his phone was ringing off the hook.
"I know this weekend was very fearful for a lot of people," Walsh said, "but in the case of an Ebola case, we were prepared for it."
Ebola has been ruled out in all of the scares this weekend — that Braintree patient and the five sick travelers who landed at Logan Airport from Dubai. Patrick says there have been several dozen cases in Massachusetts where doctors or nurses suspected Ebola and took precautions.
"I want to make clear that there have been no confirmed cases of Ebola in Massachusetts," he said. "Each of the individuals that I referred to have been examined and Ebola has been ruled out."
If you've called your doctor's office or gone to a clinic or emergency room recently, you should have been asked about your travel history and whether you've been in contact with anyone who's been to West Africa and is sick. State Department of Public Health Commissioner Cheryl Bartlett says all hospitals, clinics and large physician practices are using these questions to step up screening.
"[Also,] we're asking them to do a risk assessment so that we understand if someone has low, moderate or high risk of Ebola virus disease, and that we can isolate them right away in the event they are at risk and keep them out of waiting rooms and causing exposure to other individuals," she said.
The screening may be flagging people who do not have Ebola because the early symptoms — headache, fever, muscle aches — could be the flu or other illnesses. But Ebola is nowhere near as contagious as the flu, which kills, on average, more than 23,000 Americans every year.
Boston Public Health Interim Commissioner Huy Nguyen says with Ebola, you have to be within three feet of someone who has symptoms to be at risk.
"You cannot get Ebola through the air or water," Nguyen said. "If you have not touched the blood or body fluids of a patient, an individual who has Ebola, if you have not touched the blood, the vomit, the feces, the semen, the sweat of an individual with Ebola, sick with Ebola, you are not at risk for contracting Ebola virus disease."
Patrick emphasized that point about close proximity, gesturing toward Commissioner Bartlett.
"If I had Ebola, the commissioner standing right here would be at minimal risk of catching it," Patrick said. "This is hard to catch."
The state continues training local police, fire and other municipal health workers who might be the first to encounter Ebola. The daily conference calls, updates and outreach will likely go on for some months.
In the meantime, a growing number of Boston area medical workers are preparing to head into this public health emergency in West Africa. The World Health Organization reports a thousand new cases this week and said the rate of deaths among those who contract Ebola is climbing.
This post was updated at 4 p.m. with the All Things Considered feature report.
Earlier: