Peter Mac Channels Judy Garland In Salem; Endora Also Casts A Spell
This article is more than 8 years old.
Judy Garland once said, "Always be a first-rate version of yourself, and not a second-rate version of someone else." After seeing "Judy's Bewitched Halloween Treat" at Opus Underground in Salem, it's clear that Peter Mac is the tribute artist that even Garland would hire to sing on her kitchen table while she poured Tanqueray for Noel Coward.
The 32-year-old Mac has been performing professionally as Judy Garland for 12 years — and at Opus Underground since June. Before that, he spent six years performing in Los Angeles. In 2012 actress Margaret O'Brien bestowed upon him a special Golden Halo Award for "Outstanding Achievement in Live Performances of the Great Judy Garland" on behalf of the Southern California Motion Picture Council.
Before his Judy Garland life, Mac made his Off-Broadway debut as Archie in "Ferryboat," a jazz musical, and picked up a variety of musical theater credits throughout his teens and 20s. He brings a showman's sensibilities to his Garland act. Though his wigs and costumes are great, and his range matches 1960s-Garland's very well (of course, a few of her signature high notes are just not possible), what sells the show is his warmth and charm.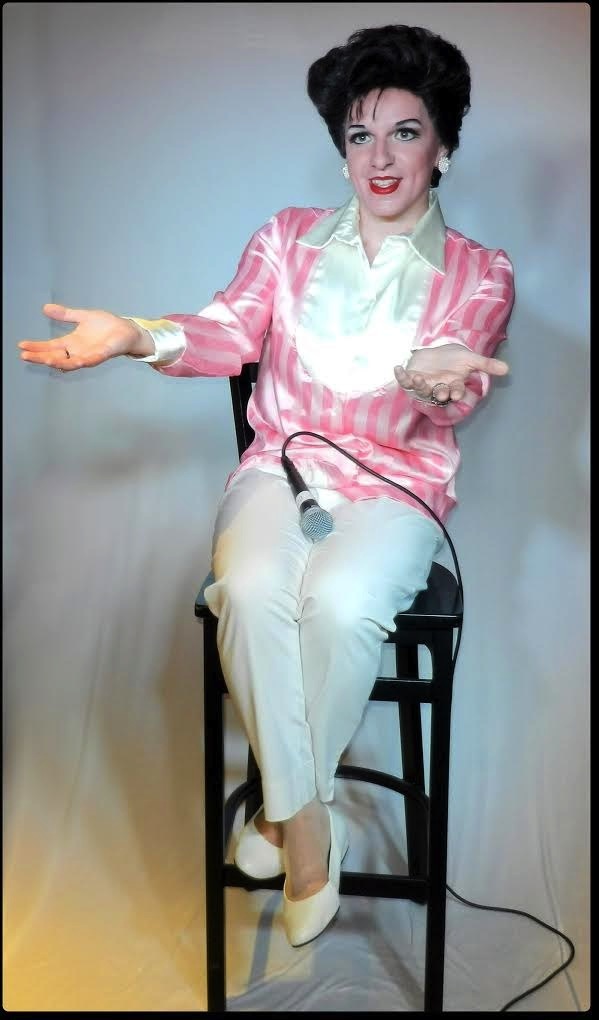 Mac has absorbed Garland — he's mastered flicking his wrists, running his fingers through his sculpted black hair, and overusing the word "marvelous." He goes beyond superficial mimicry, though; he's got Garland in his nasolabial folds. But what really matters is this: Mac is a consummate raconteur, like his muse. He knows so much about her life that he gives off the impression of having lived it. This drives the audience crazy with delight, no matter what happens.
"Judy's Bewitched Halloween Treat," the October flavor of Mac's Garland show, opened Oct. 5 and plays every Sunday night at 7 through Nov. 2. It begins with John Mac, Peter's domestic and professional partner, playfully badgering the audience a bit before introducing Garland. He then slips behind a curtain to man the sound and the lights, and Peter Mac takes over, opening with "Anything Can Happen on Halloween."
The show is cleverly structured as a dialogue between Garland and Schaefer, whom Garland refers to as "Mort Lindsey," one of her orchestrators of yore. Schaefer's probing inspires Mac as Garland to tell stories from her life. Astute listeners will recognize Mac's stories from Garland's appearances on "The Jack Paar Program," "The Judy Garland Show" and other variety shows, as well as from documented interviews of Garland's friends and colleagues. The stories create the cues and transitions for songs.
And those songs, by the way, include all the ones you might come looking for: "Over the Rainbow" (surprisingly, Mac's best of the evening), "Get Happy," "The Man That Got Away" and "Swanee." To honor his promise of a Halloween show, Mac delivers the spookier songs that Garland really did sing in life ("Purple People Eater," "Mack the Black"), and some fitting pieces that she didn't, like Johnny Mercer's unfinished ballad, "When October Goes."
About halfway through the show, just as the club-goers are starting to massage their necks with the first inklings of weariness, an instrumental-only version of "The Trolley Song" cues a short break, and a minute later Mac, dressed as Agnes Moorehead's Endora from "Bewitched," appears with Schaefer, as Paul Lynde's Uncle Arthur. Schaefer, by the way, gets Lynde's swishy accent just right.
Just how do they justify these ghoulish appearances? What remains unspoken is that several episodes of the sitcom were filmed in Salem.
As Endora, Mac sings "I Put a Spell on You" using the Bette Midler arrangement from "Hocus Pocus." The vocals didn't feel all that different from the Garlandia, but it made the audience look alive, and after just the one song Mac and Schaefer smartly got back to their original shtick.
(If vintage television tributes are your bag, check out their Saturday-night Opus Underground show, "The Golden Girls LIVE Parody: The Lost Halloween Special," which also plays through the month.)
The additional songs are a light way to keep the show "hep" (as Garland says) to the times. Additionally, Mac has Garland quipping about all sorts of modern phenomena — Target, John Travolta, Google and Sarah Palin — in Garland's dry, often self-deprecating style. These jokes, more than the contemporary songs, help the show feel "hep."
The show's orchestrations are just there. They are too simple to support and enhance the strength of Mac's voice. The experience was also dampened by opening-night timing glitches and a 30-minute delay in the performance.
Opus Underground is a great venue for this sort of act: clean and classy, without being too upscale, appealing to old and young with plenty of breathing room. The food and drink are first-rate.
The showroom is right between the MBTA commuter rail station and the Salem tourism information booth, an easy two-minute walk to either.
Beginning Nov. 9 and continuing throughout the month, Peter Mac will perform "Liza Minnelli, Live in Concert" Sunday nights at 7 at Opus Underground. Also in November, Mac brings Judy Garland to a new home at Jacques Underground, 79 Broadway, Saturdays at 7 p.m.