'This Is A New Time' — And Dianne Reeves Finds Her Place In It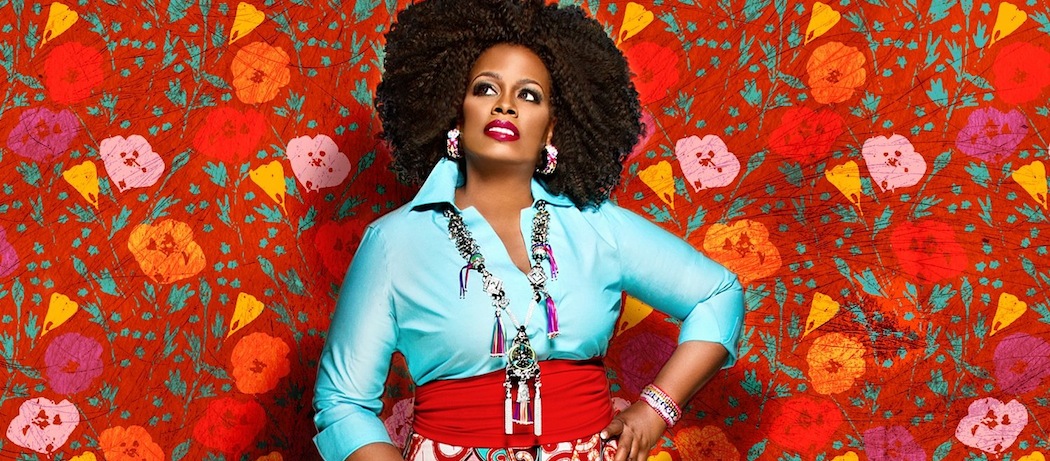 This article is more than 7 years old.
Last February, vocalist Dianne Reeves graced the world of recorded music with her rich voice and crystal clear vocal interpretations for the first time in five years. Every track on her new album, "Beautiful Life," produced by Terri Lyne Carrington, features a different ensemble.
Collectively, the musicians (including Robert Glasper, Esperanza Spalding, and Lalah Hathaway), read like a modern "who's who" of jazz musicians. Each supports Reeves as she brings her versatility and creativity to new arrangements of pop hits like Fleetwood Mac's "Dreams" and standards like Harold Arlen's "Stormy Weather" as well as originals by Reeves, Terri Lyne Carrington, Esperanza Spalding, and Geri Allen.
World Music/CRASHarts will be presenting Reeves at the Berklee Performance Center Oct. 18. She'll be performing music from her new album with Gerald Clayton on piano, Romero Lubambo on guitar, James Genus on bass, and Terreon Gully on drums.
I spoke with Reeves about her new album, her voice, and how she keeps her music relevant.
Claire Dickson: "Dreams" is one of my favorite songs on the album and a great example of a successful cover. What was the process of recording and arranging that song?
"Dreams" was arranged by Robert Glasper. He had this idea — I always liked the song, but I wanted to hear what he did. He sent me a demo of his idea and it put a whole new light on what the lyric could be about. It was really nice, the feeling of it, and the integrity of the song was still there because the melody was still strong and singable — you didn't have to change it. I always like when you change the movement underneath, because to me the song is the lyric and the melody, the strong melody.
So when we went in to do it, I took it to all my musicians, and of course Robert Glasper played on it, and we just went in and played it. I sang it a couple times and I could feel where I wanted to lay things. Because I had always heard the Fleetwood Mac version, and sometimes you have to get that out of your head. When we went into the studio, the feeling of the rhythm allowed me to be able to phrase in a whole different way which made the song come out more like sage advice than the way Stevie Nicks sang it to somebody. It was really cool, it's got that great interlude that breaks up the verses and ends the song. I think the arrangement is just stellar.
Your physical instrument alone is enough to set you apart as a vocalist. What do you do with your voice that you feel is unique?
First of all, I have a very broad instrument that early on I learned I could define with color and have a way to express emotion through my instrument. I started defining the sound of it. Early on, I started with classical voice and had that wonderful foundation. For where I wanted to go at that time, there were no teachers to teach it so I came up with all kinds of different ways to develop the sound of my voice. Sometimes it would be through listening to instrumentalists, to the tones of other singers who sang in different languages — languages make you place the tone in a different place in your head.
I would listen to Miles Davis who had the ability to play these straight tones with no vibrato but they had an emotional thing to them: there was this childlike quality at times, sometimes it was this "longing for" quality or loneliness, it could be a lot of different things. Then I heard a vocalist who had that same kind of thing, which was Milt Nascimento. Then I discovered Brazilian singers who sing at the top of their range, but they do it in a way where it's this mixture of sound. Basically, I went through and listened to sound all across the board and found things in my voice that would help me give the emotion and the feeling I had so you could hear it in the timbre and the sound of my voice.
You've covered many genres from straight ahead jazz to pop and R&B. What inspires the direction you take for each project you do?
I'm always inspired to push forward. This record was really inspired by the fact that a lot of young jazz musicians were listening to the music that I actually came up in, that was my experience. I thought that it would be an amazing bridge between me and them, because we have this common ground. So that was the inspiration for "Beautiful Life." It was really great because if you're working with musicians or students, you hear how the times, how the music of the times, really inspires them. I think the only way for you to grow and evolve is to keep listening, keep moving forward, keep jumping in and trying to experience. It's always going to be what I do, but I can pull from other elements which I love.
What's next for you as a performer?
The record kind of inspires other things. The thing that's been great with this record, is I've had the opportunity to work with all these other musicians. I'm kind of a chameleon. Everybody, especially pianists, have their own harmonic vocabulary and approach and it's those kinds of things that make me go "Wow, I didn't even know that I had this in me."
And then they'll inspire another idea. I have a sketch of an idea and I never really talk about: perhaps do another jazz record, but with other elements involved. I love how a lot of these young musicians are really bending the tradition. They come from the tradition, but they don't sound like the tradition. I love that. This is a new time and — Miles Davis, he kept up with it, he's my inspiration — I want to keep moving forward, too, as long as they feel something from me or they can relate. I try and keep my stuff new.
More
Claire Dickson Contributor, The ARTery
Claire Dickson is a jazz vocalist and writer studying at Harvard College.