'Ether Dome': The Story Of Numbing And Inflicting Pain
Play
This article is more than 8 years old.
On Oct. 16, 1846, a flustered young man named William Morton raced up marble steps to the dome of Massachusetts General Hospital.
"He was late, and you don't want to keep surgeons waiting," said Dr. John Herman, a psychiatrist at Mass General who is steeped in the history of that day.
A group of physicians awaited Morton in the operating room, located high above other floors because "before ether, people screamed," Herman said.
Morton, a dentist, had promised to put an end to those screams, to the pain patients endured during surgery.
That day, with a patient waiting, Morton pulled out a glass bottle of ether that he had colored red, according to Herman, to disguise the common gas. Morton told the patient to inhale. Moments later, a surgeon sliced into the neck of a relaxed man.
"As he came out of the anesthesia, the surgeon, John Collins Warren, said 'Mr. Abbott, did you feel pain?' and Abbott said, 'Did you begin the procedure?' " Herman recounted. "The world changed. Within days, news of what happened here traveled by steamship and by locomotive ... to the capitals of the world."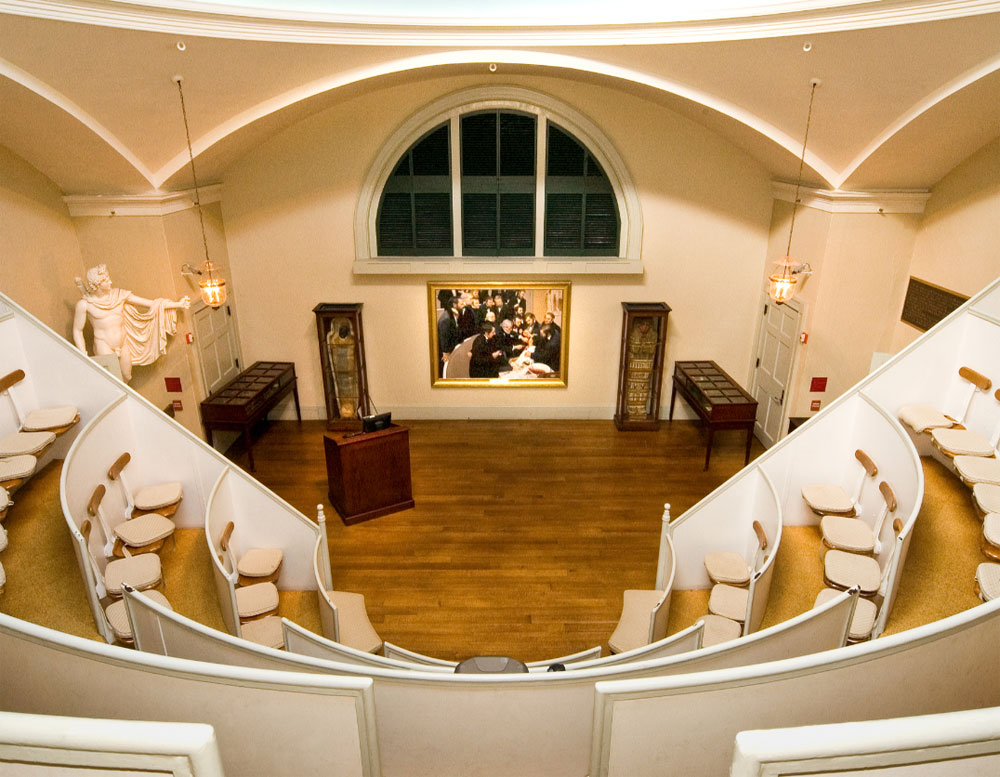 The discovery, that inhaling a gas could make a patient insensible to pain, would change surgery and medicine forever. But it wasn't clear who should get the credit. That question is at the heart of a Huntington Theatre production called "Ether Dome."
The play opens with the screams of a woman strapped down. Dr. Horace Wells, a dentist, wrenches a tooth from the woman's mouth.
"No, it's stuck, it's stuck," screams Wells as his then-student, Morton, looks on.
The play follows Wells, Morton and two other men who claimed a role in that first public demonstration of anesthesia at Mass General.
"Morton's story is the engine of the play," says playwright Elizabeth Egloff, but "Horace Wells became the person I connected to."
It's Wells who first experiments with inhaled anesthesia to help his patients avoid pain. He uses laughing gas. Morton takes that discovery to MGH, where he gained fame without acknowledging Wells. The betrayal crushes Wells. He becomes addicted to chloroform and kills himself.
Wells thought anesthesia should be free, Egloff said.
"He never believed any of this should be sold, there should be no money made off of it," Egloff said. "So there was a personal betrayal as well as a moral betrayal."
Egloff says Wells' demise marked another milestone in medicine.
"It was morally a turning point," she said. "Now [we] have the commercialization of all these medicines for people that they can't afford to pay for, that they don't even have access to, unless they have the proper insurance, and that's where this all started."
Some doctors scoff at that idea, saying the profit motive has always been present in medicine.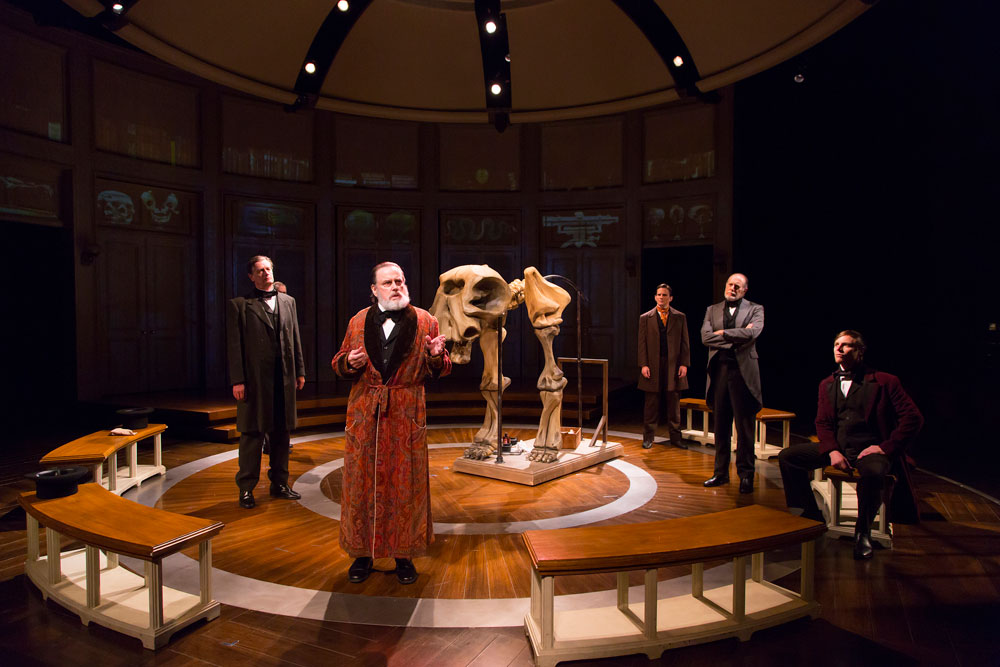 Director Michael Wilson says a number of key moments in the play are left open to interpretation. Some in the audience empathize with Morton, who had just begun medical school. He never graduated, but Wilson says Morton showed daring and confidence in persuading Mass General to try the inhaled anesthesia experiment.
"He was very reckless in what he did, and it was very dangerous," Wilson said. "He could have killed someone, but the fact of the matter is, he didn't."
On stage, we see some of the founders of Mass General debate Morton's proposed experiment. Morton doesn't tell them that he's using ether, a common drug, but one of the Mass General physicians has detected the familiar odor.
"Ether? Ether, this is his new compound?" asks Dr. Warren, who will perform the surgery during Morton's experiment.
"All I know is this could be it, this could be the answer to pain," says Dr. Henry Bigelow. "It's astounding."
Most of the scenes occur in a surgical theater. The location changes with images projected onto the stage. There's fake blood and screams and a coffin-shaped box that would hold patients in place, with holes in the sides for an arm awaiting amputation.
"The play is asking, how do we deal with pain in our lives?" Wilson said. "Not just physical pain inflicted by a knife or amputation, but the emotional pain and loss of deep love."
And "Ether Dome" is a reminder, he says, that few of us can do anything remarkable without help.
"We do owe a debt to those people that have seen the potential in us," he said. "It's a powerful thing to believe in someone, and it's an equally powerful and destructive thing to cut off the hand that has brought you up."
"Ether Dome," the play, takes the expected dramatic license in bringing history to the stage. But seeing it may help you figure out who to thank the next time you settle into a dentist's chair without straps or wake from surgery realizing you didn't feel a thing.
The story of modern-day anesthesia that began in Boston runs from Oct. 17 through Nov. 23 at the Huntington Theatre's Calderwood Pavilion in the South End.
Correction: Due to an editing error, an incorrect date appeared in the second photo. The photo is of the Ether Dome as it appears today. We regret the error.
This article was originally published on October 16, 2014.