Regina Carter Connects To Family Roots Through Music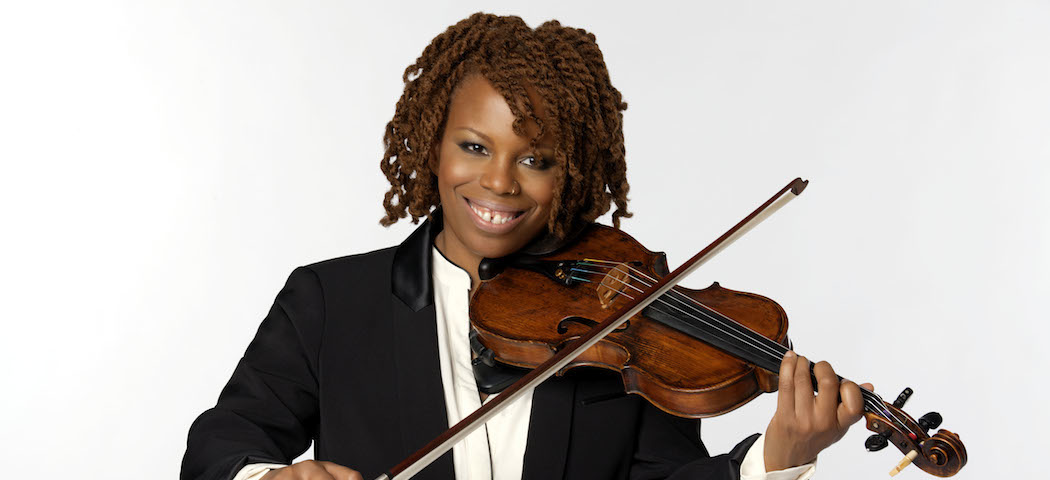 This article is more than 7 years old.
For jazz violinist Regina Carter, now a New Jersey resident, music connects her to her family's Southern roots. In her latest album, "Southern Comfort," released in March, she brings a modern twist to folk tunes, intertwining melodies she found while digging into her grandfather's coal miner roots and songs she remembers listening to while growing up.
On Friday, Oct. 17, Carter, a recipient of the MacArthur Foundation's "genius grant," will be performing at Sanders Theatre in Cambridge for the Celebrity Series of Boston. This will be Carter's third appearance in the Celebrity Series. Yet, Carter says, "each time is like the first time."
She will be playing songs from "Southern Comfort" with Marvin Sewell, Will Holshouser, Jesse Murphy and Alvester Garnett.
Family history and culture is not new subject matter for Carter. She delved into similar topics in her previous albums, "I'll Be Seeing You: A Sentimental Journey," which features some of her mother's favorite jazz tunes, and "Reverse Thread," which is Carter's interpretation of traditional African music.
When Carter began looking into her family's history, she knew there would be a lot to find, but it wasn't easy searching.
Much of the family information from her grandfather's side was missing, burned or destroyed by relatives and friends who lived in the South during the time and wanted to forget it. After going through Ancestry.com, some DNA testing, linking together a family tree, and contacting some distant relatives, Carter had a catalog full of family history and information. Her last item on the agenda: create an album illustrating what she found.
Using field recordings of some fiddle, early gospel, coal miner and other tunes she found at the Lomax Collection at the Library of Congress, "Southern Comfort" gives listeners a taste of Southern music with a modern feel. These songs blend Carter's violin with drumbeats, intertwining with chords from an electric guitar. The opening song of the album, "Miner's Child," directly references her grandfather, who was a coal miner. Some tracks even feature vocals, like "Shoo-Rye," a song Carter says is one of her favorites to perform.
"Some of them have more of a personal meaning to me like 'I'm Going Home,' which is something I used to hear a lot when I visited my grandmother, but also when I go to see my in-laws, who happen to live down South. I hear it in the churches up the road from where they live where it is very rural, very picturesque," says Carter in a phone interview from her home after coming in from gardening.
For Carter, music is one of the best ways to connect with her family roots, her audience and the universe.
"I feel like when I play music I leave this physical place and [I feel at] one with all the other musicians and with the audience. I feel like we are all in our physical bodies and we are all meeting in a different plane," she says. "So that's why I feel like it comes through me, because it is just a different energy."
The day before the performance, Carter took part in "Down Home: The Musical Heritage of the American South," an educational event where she discussed her career and latest album with an audience of students.
"I love doing the Celebrity Series and I like doing the lecture and hearing from people and working with students because, not only am I sharing what I'm doing, but I'm learning from the feedback and the questions I get from the audience and the students," says Carter.
The lecture was a chance for her to create a program where, Carter says, she would be able to work with young musicians, who are able to absorb, listen, relate, feel and have the music affect them the way it affects her.
"A lot of what I offer is helping students find their own answers instead of saying, 'Here's a formula for this answer,'" she says. "What sounds right to you? What makes you feel when you play it? It is examining what is already inside of them to come up with their answers."
Carter has discovered up-and-coming musicians while touring the country, who she asks to open for her own performances. "People should keep their ears open for [Elena Pinderhughes]," says Carter, referring to an 18-year-old jazz flutist she met while performing in San Francisco.
As for future albums, Carter says she has many ideas in mind—not ruling out the possibility of continuing to discover other parts of her family roots. While researching her family tree, she found a small percentage of Finnish heritage. She laughs, but says that's another possible route for her next album after she gets back from her London show at the end of the year.
Katherine Lam is an editorial intern at The ARTery. She is currently a fourth year undergraduate at Boston University studying International Relations and Journalism.