40 Years And Counting: The Damned And Captain Sensible Still Rock The Stage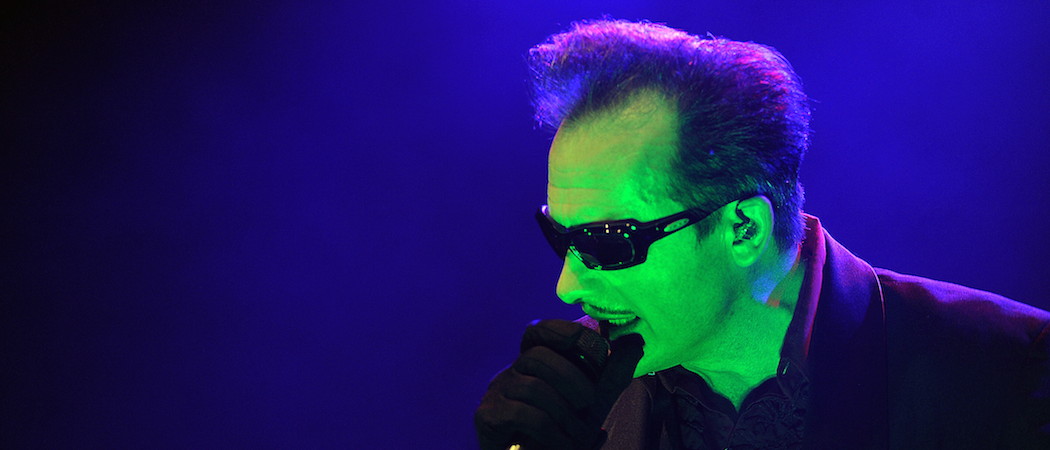 This article is more than 7 years old.
"The Damned ain't going to quit while the Stones are still lurching on. Won't be beat by a bunch of old reactionary turds," so says Captain Sensible, co-leader and guitarist of the Damned, one of England's first punk rock bands, and miracle upon miracles, one still making noise as they approach the 40-year mark.
Sensible and singer-songwriter-co-leader Dave Vanian will be cavorting on stage alongside their three bandmates at Royale Boston Saturday, Oct. 25.
"We kick more ass than most young bands," Sensible continues. "We're still playing — by public demand."
"Punk put the UK at the forefront of the music scene for a couple of years. Not everyone liked it, of course, but the Damned, Sex Pistols and Clash were the only respite from 'Saturday Night Fever.' And the venues were full of pogo-ing spiky haired types having a bloody good time," says Sensible.
Those were, in some ways, the glory days of punk — everything fresh and new, doors open to discovery.
"Now, we're older," says Sensible, who was born Raymond Burns 60 years ago. "The radio plays even worse stuff than 'Saturday Night Fever.' All that horrible pop with mangled vocals that sounds like it's never been anywhere near a real musical instrument. With so much plastic dross about we need real punk, not the corporate crap. Real punk more than ever. That's what this tour is about."
Earlier this month, I caught up with the Captain, who was on a train from Croydon to London Victoria to pick up work visas for the US tour. I sent him questions. He answered on his tablet.
Jim Sullivan: You were the first British punk band to get to vinyl, with both the "New Rose"/"Neat Neat Neat" 45 and the debut album "Damned Damned Damned." Do you take any sort of pride in that?
Sensible: I'm just happy to be able to twang a guitar for a living. I'm very lucky and don't take it for granted like some other musos [British slang for musicians] I could mention. The glory days you mention were actually quite rough 'n' ready and we were sleeping on each other's floors. It was fun but hardly glamorous. And we were the first, which always got up the Pistols' noses. Nice eh!
How do you look back on the Damned music today?
I don't play our albums often, but while having a quick twang before the tour I had a jam along with the "Black Album" [1980] and was impressed. How we got away with some of the eccentricities and self-indulgence is beyond me. "Machine Gun Etiquette" [1979] is still a firm fan favorite to this day. Launched with the slogan "3 years of anarchy, chaos and destruction," the album goes through various moods and styles, even occasionally pointing towards the goth thing that we would be involved with in the '80s. I don't play it that often, but when I do it still takes my breath away in places. I think to myself, "We were actually quite good, weren't we?"
Is the Damned music relevant both to people who grew up with it and to kids today?

Punk is rebel music. It's not for couch potatoes who haven't a thought in their heads. Punk is an ongoing discussion about the world we live in and society and our corrupt political system. Stuff like that. Sounds relevant to me. Some of these new-fangled bands are inspired by us and drop our name, cover our songs so their fans get to hear of us and that's how our audience is the mix of ages it is. Also, parents bring their kids who also dig the raunchy sound and irreverent banter between band and audience. I've always loved this ... Some of the things people [shout] between songs are genuinely funny. And often not completely complimentary to my good self! Banter is good and keeps gigs fresh.
When the band started, with guitarist Brian James as the primary songwriter, we all got it: fast and furious punk rock, with some anger and some dark wit. But then, changes...the album produced by Nick Mason, of Pink Floyd (!), moved the genre to psychedelia, into goth. If you had to look at the Damned's sound today, where would you peg it?
We straddle several genres - punk, goth, psych- it's a good mix. Without getting uppity, the Damned can really play. It's a proper band like Deep Purple and the Sabs [Black Sabbath] before us.  I just wanted to be in a group as good as that.
Did you get any stick from the press when you shifted course from pure punk, as if you'd betrayed some nebulous ideal?

What is punk? Good question. If you think it's monotonous, one-dimensional, two-minute noise bombs then, yes, you'll be upset by some of the Damned catalog. If, however, you think punk an adventurous go- for-it, don't-worry-about-having-no-musical-education, just-create-something-marvelous kinda thing, that's what we did. It didn't always work, but bands just don't have the freedom to go mental in the studio any more. We were lucky to catch the tail end of an anything goes music biz '70s vibe and do whatever we wanted.
There have been various and numerous breakups and realignments over the years, like your offshoot band, the Doomed. Dave and you, though, have always been at the singing-songwriting core, certainly after Brian left. What is the chemistry that you two have that keeps this Damned machine rolling in the 21st century? 
I was cast adrift for a while after doing my dubious solo thing, but Mr. Vanian invited me back to play a show with them and all the old chemistry appeared instantly. Fighting for the spotlight, etc. And we complement each other as songwriters, neither of us treading on each other's toes. We both love '60s garage music and appreciate a bit of dark melancholy if there's any going. And the bloke is the best singer of his generation. Better than [Johnny] Rotten that's for sure.

Speaking of your dubious solo thing, you had a short-lived, but rather fun and funny career as a solo artist in the early '80s. Your signature song was the deliriously fun "Wot?" and you had a No. 1 English hit in the UK with Rodgers and Hammerstein's "Happy Talk." Where does it fit for you in your personal ranking?
Not for me to judge. Didn't do so bad for a bunch of (mainly) Damned rejects though, did it?
A few years ago, you told me you got your name Captain Sensible for the obvious irony of it, saying, "I used to behave quite badly." But given the longevity of you, and the Damned, one would have to surmise there really is something quite sensible about you, at least in this century. You also said you're "a trendy vegetarian and we have to be aware of what's going in our bodies." So, is the modern Captain Sensible indeed a more sensible chap?
Now we often forgo the sound check to visit a preserved steam railway. Yes, it's come to that! There's several train fans in the Damned these days [What happened was] basically, I met Crass, the vegetarian, anarcho-punk group [1977-1984] for a few weeks. I learned to love the food and despise the likes of McDonald's. I got the Crass brainwash big time and am glad I did. I was a debauched maniac when I met them and came out of that collaboration — the "This Is Your Captain Speaking" — a very changed person. They saved me from myself, as I was having a mad old time regardless of the consequences. Now, I'm more sensible. Groan. 
How has your motivation changed over the years? It's got to be a lot different than when you were kids, yet part of your job, if you will, is to maintain that youthful exuberance. 
It used to be all about the booze and mayhem and doing all we could to upstage the other punk acts - musically and bad behavior-wise. I have to admit my behavior was fairly out of control. We were living in this mad 24-hour punk-rock party with drunkenness and lots of stuff getting smashed because I had discovered I was actually quite good at causing a bit of chaos. Never once did it occur to me that we were the idiots who were paying for all the destruction, as I might have been a bit more careful with other people's property had I have known!
Are there any infamous intra-band Damned punch-ups, altercations or mishaps you'd care to regale the public with?

Not wanting to disappoint you here, I'll just say that yes, people did end up in the studio floor owing to "disagreements" occasionally. In fact, it's amazing the records got made or sound so good. It's about passion I guess, and there's a lot of that in the band. For me I just wanted to make albums of the quality of "Sgt. Pepper" and "Pet Sounds" so we set quality control quite high. Which didn't always go down well with some of my colleagues. Naming no names – ha-ha!
The "sensible" issue asked and answered, is there a chance you'll be baring your bum when you take the stage in Boston? I saw you, as they say, naked from the waist down at a gig back in the '80s at the old Boston club the Channel.
My kids come to gigs these days so I've kinda stopped the baked cavorting. I don't give a [expletive] to be honest, but they don't want their chums seeing that on YouTube and bringing it to their attention.
The latest album is 2009's "So, Who's Paranoid?" Is there new music on the horizon and if so tell me about it?
Yes, although I usually jokingly dismiss our sporadic production of records as "quality rather than quantity these days," we are talking about a grand finale of some sort.
Jim Sullivan is a former Boston Globe arts and music staff writer who pens the arts-events website jimsullivanink.com and contributes to various publications, TV and radio outlets.

More: