Aretha Franklin Proves She's Still The Queen Of Soul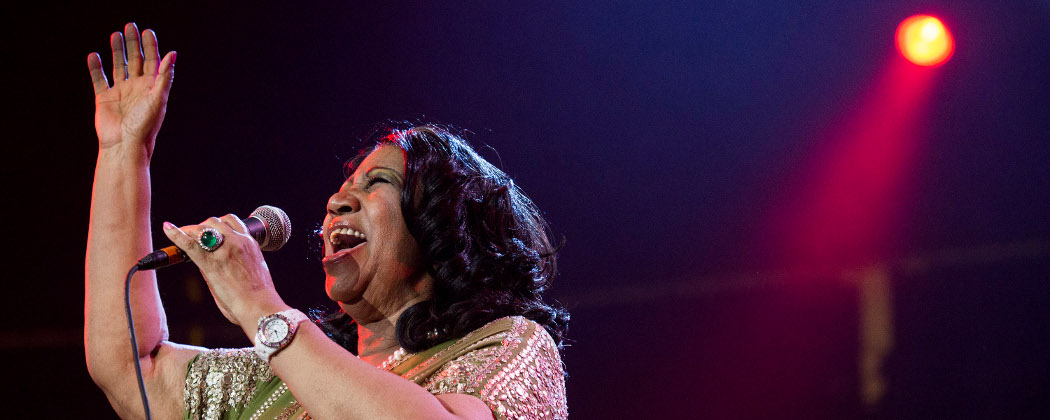 This article is more than 7 years old.
When Aretha Franklin gave a rollicking performance of Adele's "Rolling in the Deep," on the "Late Show With David Letterman" a few weeks ago, some were surprised that the legendary artist would bother singing such a massive recent hit, as if covering someone else's music is somehow beneath her. That reaction was not only odd, but historically myopic since the Queen of Soul's signature tune is a cover song.
"Respect" is so indelibly linked to Franklin that many forget the 1967 song was written and first recorded two years earlier by Otis Redding. As the story goes, when Redding sang "Respect" at the Monterey Pop Festival the year Franklin's version was released, he jokingly introduced it as the song "that a girl took away from me." Franklin's cover far outsold Redding's, was adapted as a defiant anthem by both the 1960s civil rights and women's movements, and launched one of the seminal careers in pop music history.
Or, to borrow from a Jay-Z lyric, the Detroit preacher's daughter stretched the game out, and etched Redding's name out.
Already an established star, Redding learned early what many other artists over the decades would come to realize: more than a singer, Aretha Franklin is a musical linguist who has always understood, better than most, the art of the cover song — from Hank Williams ("Cold, Cold Heart") to Sam Cooke ("You Send Me"), from Ben E. King ("Spanish Harlem") to Simon and Garfunkel ("Bridge Over Troubled Water").
Think of her astonishing 1998 Grammy performance, a last-minute substitution for an ailing Luciano Pavarotti, singing in English and Italian the great tenor's signature aria, Puccini's "Nessun Dorma." It wasn't Maria Callas or Renée Fleming, but pure Aretha complete with soulful trills that brought the audience to its collective feet – not just because she did it, but because she did it so well with her own idiosyncratic flourishes intact.
Clearly that was the game plan with her latest album, "Aretha Franklin Sings The Great Diva Classics," featuring 10 cover songs made famous by a range of singers from Gladys Knight ("Midnight Train to Georgia") to Alicia Keys ("No One") to Sinead O'Connor ("Nothing Compares 2 U).
"At Last," the timeless Etta James warhorse, opens the album, and it's not Franklin's first time with the song, which she first recorded in the 1960s. This version is much closer in style to James' 1961 vintage; what it may lack in vocal acuity, it gains in hard-earned experience. "At Last" has never been a young woman's song. A heart needs to be several times broken for the lyrics about the long-awaited arrival of a great love to find its truth.
At 72, Franklin's voice isn't the unnaturally natural wonder it once was (and hasn't been for longer than her most ardent fans are willing to admit), but she knows how to bypass the meat of a song for the sweet, rich marrow inside its bones. To command a song is less about carrying a pretty tune than soul-honest interpretation. For example, Beyoncé can surely sing, but who believes a single word that comes out of her mouth? With all the hips, hair and haute couture, much is lost because Queen Bey is interested only in selling Queen Bey, not the song.
Now she may be every inch a diva, but Franklin has always been more performer than corporation, and she always works in service of the song. That's why her "Rolling in the Deep" is so much fun, and revives an earworm of a song that had been played into the ground. (Someday, someway, there needs to be an Aretha-Adele collaboration.) And just for kicks, she even vamps in the old soul chestnut "Ain't No Mountain High Enough," and it's as lighthearted and thrilling as Franklin has ever sounded.
Not everything here is as memorable. Her take on Barbra Streisand's "People" is something of a slog, and not only because it exposes years of wear and tear on Franklin's voice. (So much for those Twitter-fueled theories that Franklin's vocals these days are the result of Auto-Tune.) On "I Will Survive," she seems to be jousting with a tempo that leaves her sounding out-of-breath, and also sticks with the original disco arrangement of Gloria Gaynor's late-1970s hit which makes the song sound dated.
On the winning side, there's "Teach Me Tonight," made famous by Dinah Washington, the singer to whom the young Franklin, then signed to Columbia Records, was often compared, and it may make listeners wish Franklin had done an entire album of pop standards.
As vibrant and engaged as Franklin often sounds, this album is easily her best in years. Mostly captivating and occasionally curious, it's always clear that Franklin, as much the Queen of Cover Songs as the Queen of Soul, is having a grand old time with music she clearly and dearly loves.
Renee Graham is pop culture correspondent for WBUR's Here & Now, and was a longtime arts writer and pop culture columnist for the Boston Globe. Follow her on Twitter at @reneeygraham.