The 'Doctor' Is In: Comedian Jonathan Katz Is Back
This article is more than 8 years old.
Interviewing comedian Jonathan Katz is different than conducting the typical Q&A. First, there are the jokes and stories—alone worth the price of admission—but at some point you both start acting as if he's there for your mental health.
Understandable, since the veteran funny man was long identified as Dr. Katz, professional therapist, which was also the name of his animated series on Comedy Central. Voicing the part of the mild-mannered, quietly bemused psychotherapist, the good doctor saw two patients an episode and in between tried to bond with his son, get his secretary to pretend some semblance of professionalism, strummed the guitar and palled around at the bar with his friends, Stanley and Julie. The series won both an Emmy and a Peabody Award.
Fans of the show, who felt down when it went off the air in 1999 after a six-season run, can rejoice. Dr. Katz is back in a recording captured in San Francisco. "Dr. Katz Live" puts the cartoon onstage with results that are less "animated," but just as funny as the series.
"Dr. Katz Live" is a recorded performance of the cartoon, staged before an audience with original cast members Laura Silverman and Jon Benjamin as his slacking secretary and slacker son, respectively. The guests include B.J. Novak, Eugene Mirman and Andy Kindler. As an added twist, the original show's co-creator and longtime Katz collaborator, Tom Snyder, shows up as Dr. Katz's personal therapist.
While the stage show lacks the Squigglevision that made the cartoon so identifiable, doing it live allows the performers to feed off the audience's energy as they improv their way through the evening. Also, having Snyder sit in as Katz's therapist to ostensibly evaluate his performance, adds another dimension to the show and more opportunities for laughs.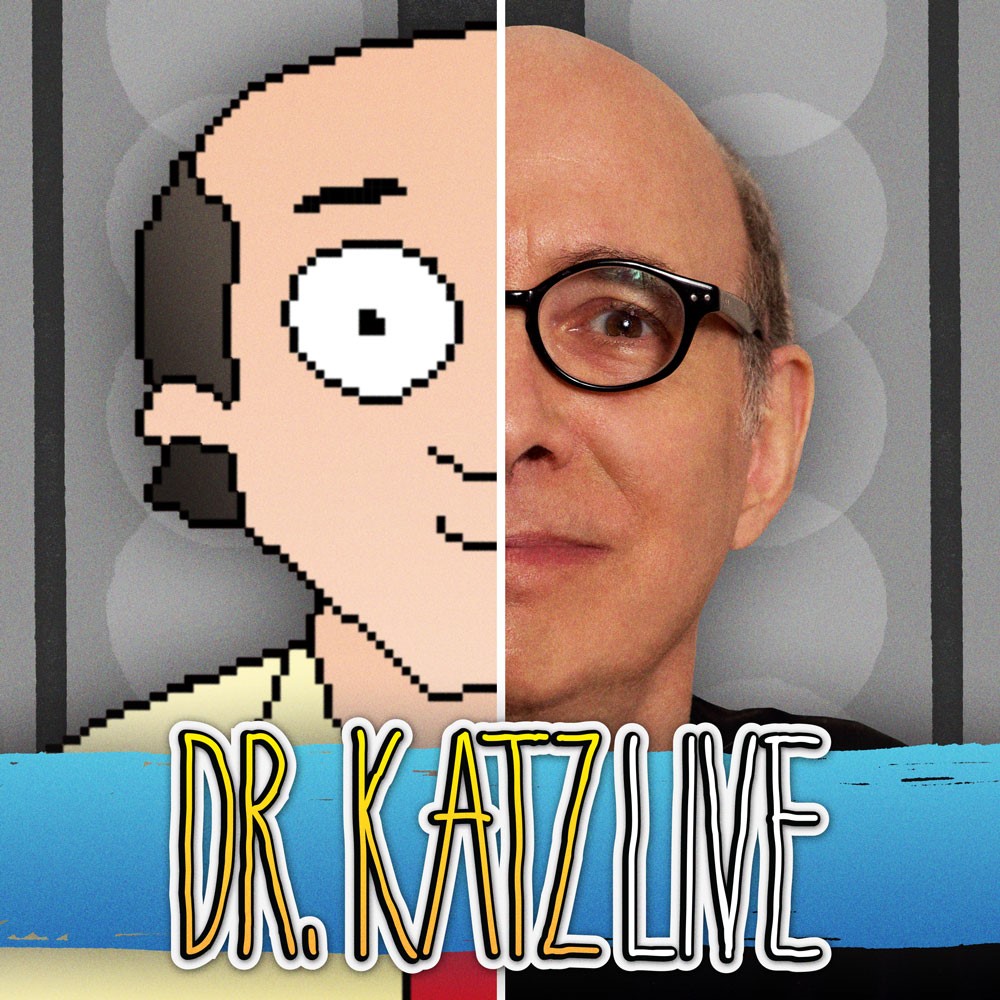 "In the (TV) show I was the straight man," Katz said. "In this CD I actually get to make jokes."
Katz and crew have done the show live a few times. Once, the late Robin Williams, an old friend, took part.
"We were not allowed to record him, but it was so exciting for the audience to have him there," Katz said.
Meanwhile, the real Jonathan Katz and a handful of friends will bring his show, "Hey We're Back," to ImprovBoston on Nov. 2.
But enough about him, what about my problems? My need to be liked? My intense fear of abandonment? Indeed, at one point in the interview I referred to some of Katz's fellow comedians who appeared on the old show as his "patients," and for a moment, we had indeed gone down the rabbit hole. The doctor was in and the session underway.
In reality, Katz probably would make a good therapist: he's understanding and observant. And, he knows a lot of people in show business, a boon to anyone practicing in the field of psychology.
"There's something about performers, not just comedians, who are a little needier than most people," Katz said. "Because once you feel the adulation of an audience, you get a little full of yourself."
Katz moved from his native New York City to Newton, Mass., in 1985. The city was where his wife grew up, but to him the place was "the home of psychotherapy." Beyond the plethora of available therapists, Katz enjoys his adopted hometown's more bucolic side.
"I like it here," he said. "I don't get it why people who live in Newton, some of them have country homes. I grew up in Manhattan. And this is my country home."
Listening to his soft, reassuring voice, one can see how its nonthreatening tone shaped Katz's comic delivery. He says he was also influenced by watching Steven Wright work, seeing the way the veteran Boston comic used a similarly quiet, near-mumble to great effect.
"By nature I'm a soft-spoken guy," Katz said. "Some people find it soothing, some find it annoying." After a beat, he adds that his wife falls into the latter category, and suddenly I feel as if we've moved from a pretend therapist's office to a comedy club.
In 1995, when Katz's voice found expression via a cartoon therapist, the result was a thrilling mix of deadpan humor, improv and the kind of strange material that could only spring from the mind of a comedian or a desperately needed therapy session.
"There's something uncomfortable about therapy, and I think a lot of comedy thrives in discomfort," Katz said. He adds that he is a fan of the practice, and even views his therapist as an audience. When leaving after an appointment, Katz admits to sizing up the next patient.
"I'd do my stuff and I'd wonder who this schmuck is who's going to follow me," he said.
When not helping his "patients," the comedian is busy with club dates, a podcast and an animated web series, called "Explosion Bus," which is being made into a feature film. Perhaps seeing that during our interview cum therapy session I'd shared stories about my own past and current hang ups, Katz offered a surprising confession: "I don't really like cartoons," he said. "The part that was interesting for me was the audio… It took me a while to realize it's like radio with pictures."
I was about to ask him how this made him feel, but then remembered it was he who was the pretend therapist. And then our session was over. Almost immediately I began to have separation issues.
Good thing there's now a CD I can get.
More from John Winters at johnjwinters.com.