A Fury Of Genres — Ballet Jazz De Montréal In Motion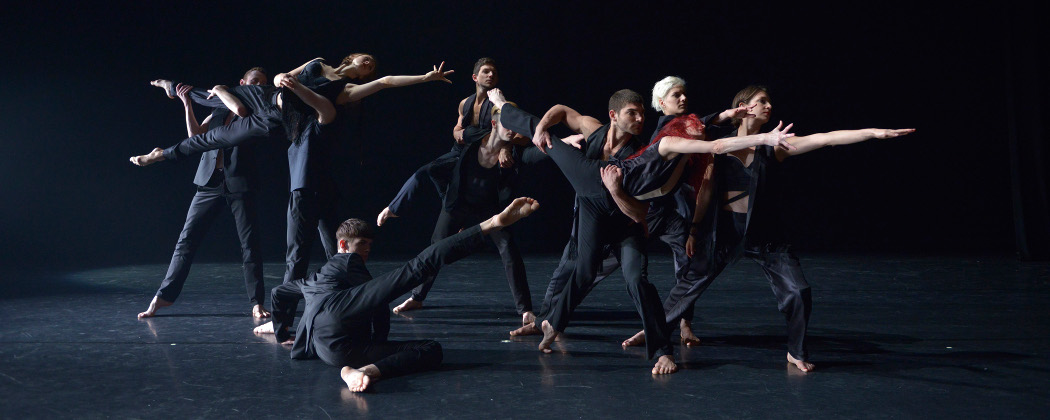 This article is more than 7 years old.
Anyone bored with CrossFit, Tough Mudder or any other extreme fitness craze should audition for Les Ballets Jazz de Montréal (BJM). To dance with the 42-year-old international touring company, artistic director Louis Robitaille said in a recent phone interview, "you need to have tremendous physicality, to be a great athlete and classically trained ballet dancer, and strong in modern, jazz, street dance, African dance and aboriginal dance—to name a few."
For the rest of us content just to witness corporeal madness, World Music/CRASHArts is presenting BJM on Nov. 1 and 2 at the Cutler Majestic at Emerson College. Robitaille, a native Canadian who has steered the company to much more daring territory since taking the helm in 1998, notes that the J in BJM refers less to jazz dance and much more to how they "jazz up" ballet. At the risk of sounding hokey, Robitaille said "every BJM performance is a very bright celebration."
In three sprawling, genre-fusing works, the company will showcase why they've earned their reputation as a "feel-good" dance troupe, and why that's a mark of innovation.
The evening opens with "Closer," a neoclassical pas de deux from "Black Swan" chorographer (and now Paris Opera Ballet director) Benjamin Millepied. Over 20 minutes, the acrobatic Minnesotan Alexander Hille and the lithe, yet indestructible, and red-haired Céline Cassone—who has performed the piece since it premiered in 2006—engage in a torrid romance, weaving in, out, under, over and seemingly through each other's bodies.
As an onstage pianist plays a haunting Philip Glass composition that oscillates from serene to frenzied, the pair toggle from fluid to jerky combinations. In one moment, Hille effortlessly lifts Cassone with one arm and glides forward while gazing into her eyes. In the next, he snatches her arms, as if snapping open a lock, and drags her across the floor.
Just as "Closer" has lured the audience toward a state of meditation on sensuality, "Kosmos" begins. A swarm of leather-clad dancers overwhelm the stage, convulsing to a grungy, frantic, percussive score that would fit well in a David Fincher chase scene.
"Kosmos," a modern ensemble piece from Greek choreographer Andonis Foniadakis that premiered earlier this month in Colorado, reflects on the rapid pace and persistent agitation of today's urban life.
Thirteen of the company's 14 dancers fill the stage in deliberately messy movements, sometimes contorting each other, other times spreading out twirling and swinging their arms violently, missing each other by millimeters. At one point, the batten lights go out and the performers dance to strobing constellations projected onto their silhouetted bodies. Robitaille says watching the piece feels like standing in "total chaos at rush hour in a modern city."
The night concludes with the world premiere of Rodrigo Pederneiras's "Rouge." Once again BJM jumps into a wildly different realm, now in the Native-American landscape. Set to an original work from Paul Baillargeon and the Grand Brothers, the troupe performs in group movements to the sounds of rustling wind, crashing waves, honking geese, thunder and throat singing. Pederneiras, the longtime choreographer for Brazil's Grupo Corpo, crafts raw inter-tribal battle scenes, tumbling movements toward the stage's edge that mimic forced migration, and triumphant reunions.
Despite the disjointedness, Robitaille sees a strong thread laced through "Closer," "Kosmos" and "Rouge." "I'm showing you three different forces of energy," he said. "But by the time we finish, we will have spent so much energy that we reach exhaustion, and stability." The hope is that "we channel enough to visceral responses in the audience that you do, too."
Zachary Jason has written for Boston Magazine, the Boston Phoenix and the Boston Globe. zakjason.com.