New Murals Are First Step Toward Creating A Boston Public Art Corridor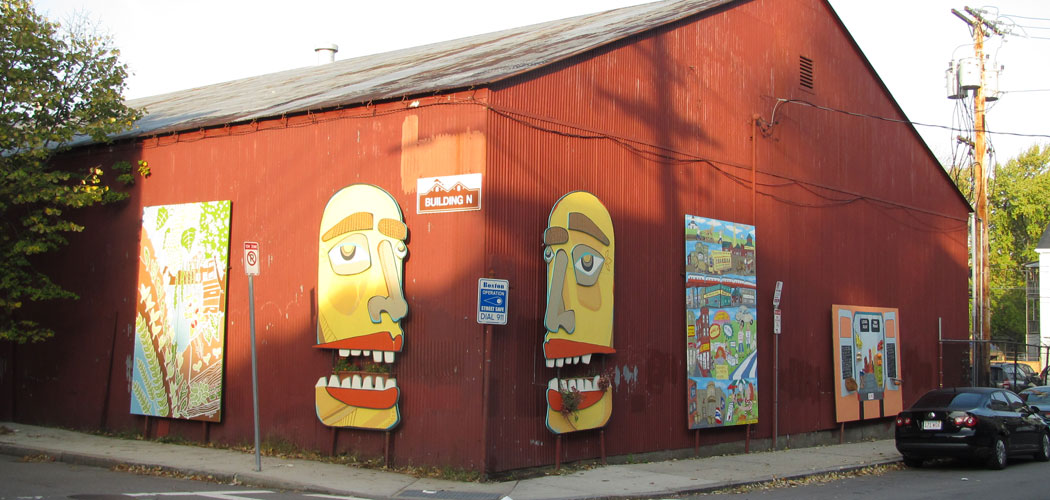 This article is more than 6 years old.
"I hope [my mural is] something that would inspire young children to look and recognize their neighborhood with pride and with love."—Dan Jay
Four new murals—ranging from cartoon faces to graphic patterns to depictions of the history of Boston's Jamaica Plain neighborhood—were unveiled on a building at Brookside Avenue and Boylston Street in Boston last weekend as the first step in a plan to create a Boylston Street "public arts corridor" between the Stony Brook MBTA station and Egleston Square.
"This diverse neighborhood has come together in the face of violence many times over the years, and has worked to create productive, positive, and lasting solutions to broad systemic problems," according to the organizers of this project—the Jamaica Plain Neighborhood Development Corporation, which owns the building; Jamaica Plain New Economy Transition and Samuel Adams Boston Brewery Co. "The Boylston Public Art Corridor is yet another piece of this neighborhood collaborative spirit, this time connecting neighborhood artists with the physical street to tell a piece of the neighborhood's story to all who walk by."
We spoke to the people who created the four artworks:
Dan Jay:
[My mural] celebrates the history of this particular community—the Boylston Street and Egleston Square neighborhood of Jamaica Plain—from all the way back to the early farming communities, to the German breweries that were here at the turn of the century, to the elevated Orange Line, to the protests that were done to save this neighborhood, preventing the expressway from cutting Jamaica Plain in half, finally to the current day.
---
Sarah Coyne:
I'm hoping that when seeing my mural, people—both neighbors and visitors—will think about the green spaces we have around us. Parks, gardens, urban farm areas, the special places that individuals, companies and the city have preserved for growing things. JP has a wonderful history of farming, brewing, community gardening and our present is still rich with great parks and people growing food in their own yards and shared spaces. This desire to save valuable city space for parks and gardens makes Jamaica Plain really special.
---
Nadia Westcott:
My mural is called "Eat Your Veggies." I want my mural to transform the building and brighten that corner. When people look at the mural from afar, I think their first impressions will be "Wow, that's bright, loud, and it's really kind of humorous." But then when they get closer they'll realize that it's more than just a bright and colorful work of art. It's actually housing agriculture in the mouths. It's housing edible plants, so it has a functional element, too.
My piece is not a conventional mural. It's a little bit sculptural. I want my mural to be interactive—for the public to take ownership over it and to take care of the plants that are growing from the mouths. It's shifting what we think a mural is and giving it a different spin. I hope to encourage people to plant and grow their own herbs and vegetables. It's a culture that already exists in JP—I want to present it in a funky way with "Eat Your Veggies."
Urbano Project Youth Artists:
Anthony Peña, 17, Boston Arts Academy:
[I want people to know] a mural can be three-dimensional–well personally I've never seen a 3D mural before…We have black panels on our mural that we painted on with chalkboard paint. It kind of makes the piece interactive as well because anyone in the public can just grab a piece of chalk and write on it.
Yoselin Rodriguez, 22, Lesley University:
Every community should be surrounded by art; it just makes it more beautiful. I'm sure it changes people's moods when they see beautiful artwork on the walls or they're just walking down the street and it makes the neighborhood more united.
[Our mural] opens up ideas of what a mural can be to other people and hopefully inspire other people to also create. [A mural] doesn't have to be flat but we can incorporate other materials into it and bring awareness to urban agriculture, try to get people to be more healthy and take advantage of the farmers market as well because it is in the community.
Faizal Westcott, 17, Concord Carlisle High School:
What I hope people will see in our mural is that it's a food truck selling fresh produce and fruits. People should start to buy their food locally as it is fresher, healthier and is better for our environment. We don't often see food trucks like this here, so maybe it could inspire people as well.