Displaced Deities Stir Things Up For Company One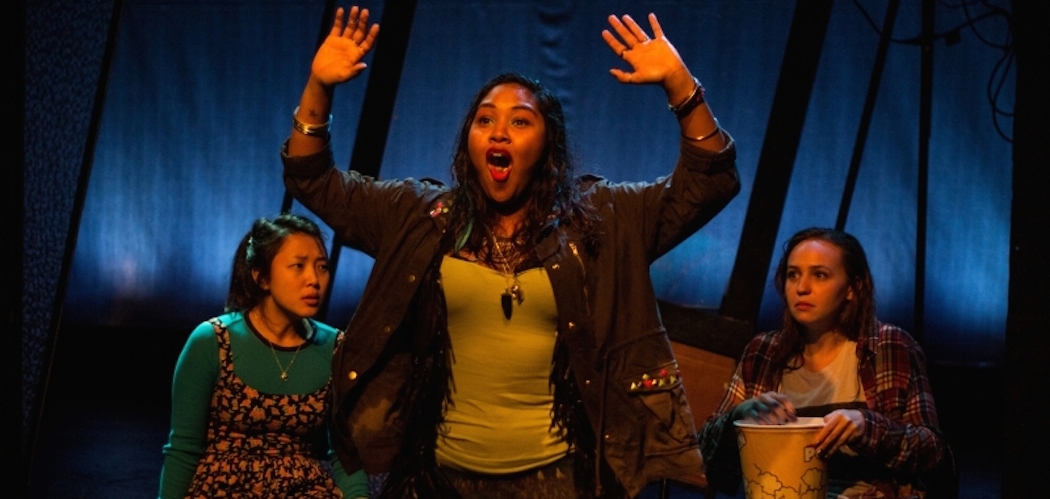 This article is more than 6 years old.
A mattress cloaked in an Indian bedspread becomes a raft navigating "the cosmic ocean" in "Shiv," a magical-realist journey through the immigrant experience. In "The Chronicles of Kalki," an avatar of the Indian protector god comes to earth to kick some hateful high-school ass. And in "Brahman/i: A One-Hijra Stand-up Comedy Show," a hermaphrodite comic makes "Hedwig"-ian hay of growing up intersexual. Aditi Brennan Kapil's "The Displaced Hindu Gods Trilogy" is hardly an integrated entity like, say, "The Oresteia." But in each of these disparate theater pieces (which Boston's Company One is presenting in tandem for the first time since their 2013 premiere by Minneapolis's Mixed Blood Theatre), one of the Hindu Trimurti of Shiva, Vishnu, and Brahma is plopped down among ordinary, callow Americans to shake things up. And prominent among what gets rocked are post-colonial perception and teen angst.
Given the intriguing premise and a mostly arresting delivery by Company One (which previously produced Kapil's "Love Person"), I would like to report that each of the plays — which share a symbolic reliance on water — was a masterpiece. The truth is that each has both strengths and problems — though, despite concerns voiced by the Universal Society of Hinduism, the mocking of Eastern religion is not among the latter. The dramaturgical appropriation of the Trimurti, albeit irreverent, is a device, not a defiling. True, Kapil is a half-Indian, half-Bulgarian woman raised in Sweden by atheists and then imported to the U.S. for college. But that doesn't make her anti-Hindi; it just gives her as many inroads to the outsider experience as Vishnu has arms.
Most successful if least ambitious among the trilogy is "The Chronicles of Kalki," a "girl-gang thriller" in which Vishnu's final personification is envisioned as a teenage super-heroine with plenty of un-Gandhi-esque attitude. "Brahman/i," though some of it is downright hilarious, is essentially a one-joke, two-sex pony ridden for too long. And the magic and realism of "Shiv," despite a lyrical if low-tech Company One staging by Summer L. Williams, bump up against each other like boats in the play's cosmic sea.
That being said, it is "Shiv," its protagonist named for the Hindu god of destruction and rebirth, that is the most moving and personal of Kapil's coming-of-age conjurations, built as it is on the writer's own relationship to her Punjabi modernist-poet dad. Metaphorically speaking, it is also the most carefully put together of the plays. Early on, Shiv and her father fly a kite, opting in the end to cut the string — such willful severing being what the play is about. And not since August Wilson's "Joe Turner's Come and Gone" have "shiny things" (in this case, stolen shiny things) been imbued with such power.
On a largely empty stage we meet Shiv (full name Shivratri), "a bony brown girl sitting in a dusty room on a bent-up mattress." The locale is Skokie, Illinois, where Shiv's immigrant dad struggles to make his poems sing in English and her mom works nights at a convenience store. Father and daughter share an ongoing fantasy that is part "Star Trek," part "Kon-Tiki," in which the mattress, imbued with "magical powers," takes them exploring. As Dad explains, having learned it from "Star Trek," it is better to be the explorer than the alien (read, the colonized).
While the bed remains a constant, the play flips back and forth between Shiv's childhood, in which filial worship gives way to disillusion, and her adulthood, which finds her taking a housekeeping job with a professor/publisher who once rejected her father's work. At the prof's lakeside retreat, the heroine's burgeoning romance with the owner's nephew vies with a plan for small-scale revenge. Since both Shiv and her father are played by adults, the back-and-forth can be confusing. But Payal Sharma is such a commanding, amusingly abrupt, if cryptic Shiv that we know from the start she's nobody's victim. And Williams's staging makes imaginative use of ropes, colored cloth, and Christopher Brusberg's effective lighting.
But if you don't want to toy with Shiv, you sure don't want to mess with Kalki, a "bad-ass" teen who intrudes suddenly into a world-religion class and the lives of two high-school misfits in "The Chronicles of Kalki." The play is set in a police interrogation room, its skewed and grimy windows a-trickle with rain, the story pried by a sympathetic detective out of the missing Kalki's friends (called Girl 1 and Girl 2) in flashback. "She really liked the rain," one Girl tells the cop, alluding to the watery element Kalki carries with her, glorying in it as she does in her fringes, her bangles, her empowerment — the last of which she tries to shower on her two enthralled if more timid disciples in crime.
"Kalki," tautly if ritualistically staged by M. Bevin O'Gara, cleverly incorporates Hindu mythology — as well as "Alice in Wonderland" and the laws of the jungle — into its tale of high school cruelty and revenge. And Ally Dawson exudes aura and authority as the title character, a stand-in for the sustainer/protector who describes her earthly role as to "just keep things spinning." But it is impish Pearl Shin and gangly Stephanie Recio, right-on as the avatar's high-school-reject underlings, who will touch your funny bone as well as your heart. Kapil has composed veritable arias for the two evasive teens that are at once poetical and convincingly adolescent, and the two young actresses take them and run with them.
"Brahman/i," also helmed by O'Gara, moves from the Boston Center for the Arts Plaza Theater to its Black Box, which has been set up as the "Displaced Lounge," with a stage in front, a bar off to the side, and the audience seated at tables as if in a club. There, after we have "put our hands together" for the headliner of the title, performer Aila Peck storms the stage in the East Indian male persona of Brahman, an audacious young funnyman in jeans, suspenders, wool cap, and beads, whose duality, he makes clear, is not just a spiritual thing. He/she is a hermaphrodite Hijra, as in the Ramayana, not the creator god Brahma, imbued with a mix of matter and spirit. (Interestingly, in the play's Mixed Blood premiere, the role alternated between an actor and an actress, the latter being the playwright herself.)
Most of Brahman/i's routine is spun out of his/her awkward youth, in which he/she morphs from the pudgy pre-adolescent Brahman to Brahmani, an ostracized teenage girl bound up in a sari. He/she is definitely a comic with an edge, having tart things to say about colonialism and its aftermath as well as about gender confusion. But the political takes a back seat to perceived freakiness with, for example, a riff on the emergence of breasts in middle-school seguing into one on "The Making of India," in which the island nation gets rammed into Southern Asia, the collision resulting in that awesome set of tectonic mammaries, the Himalayas.
Peck has no one to push her through her bravura routine except us and a possibly stoned, not very skilled bassist drolly portrayed by Casey Preston (who also appears as the protagonist's ambivalent love interest in "Shiv"). The energetic performer brings some Lenny Bruce and some Jerry Lewis to Brahman/i, some of whose tangents — especially one, accompanied by a slide show, centered on the erotic art carved into Hindu temples — are both pointed and funny. And in the end, we are meant to accept the term "stand-up" as a sort of passive resistance whittled into aggression. But this is one long set and more of a stunt than a play.
You might, in fact, say that about "The Displaced Hindu Gods Trilogy" as a whole, though there is more in it to embrace than to dismiss. Just don't try to wrap your arms around it all at once. The plays can be viewed separately (and despite the connections described in the program as "Easter eggs," each stands on its own) or in marathon showings on weekends. My advice: divide the Trimurti, and it's more likely to conquer.
Carolyn Clay was for many years the theater editor and chief drama critic for the Boston Phoenix. She is a past winner of the George Jean Nathan Award for Dramatic Criticism.