'Bold, Big-Hearted, And Boston Strong': Officials React To Menino's Passing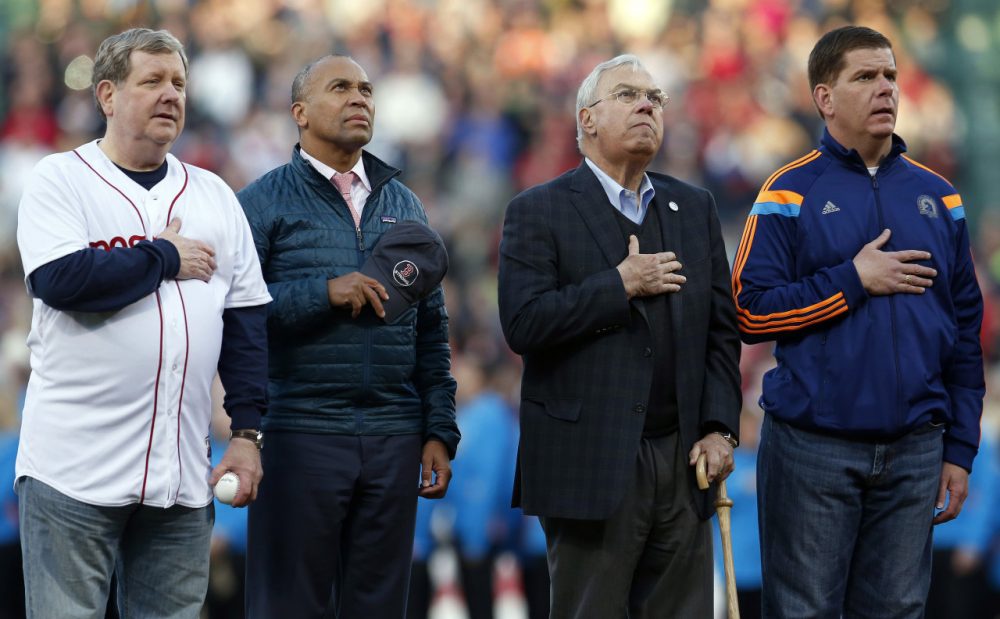 This article is more than 6 years old.
Thomas Menino, the longest-serving mayor in Boston's history, has died.
We're collecting reactions and statements from elected officials and others:
President Obama:
"Michelle and I were saddened to hear of the passing of Tom Menino. Bold, big-hearted, and Boston strong, Tom was the embodiment of the city he loved and led for more than two decades. As Boston's longest-serving mayor, Tom helped make his hometown the vibrant, welcoming, world-class place it is today. His legacy lives on in every neighborhood he helped revitalize, every school he helped turn around, and every community he helped make a safer, better place to live. I had a chance to speak with Tom's wife, Angela, yesterday, and today our thoughts and prayers are with her, with the entire Menino family, and with the people of Boston who Tom loved so much, and who loved him in return."
Secretary of State John Kerry:
"Tom Menino was Boston. In fact, if you just look around the city, you'll see with your own eyes that he is Boston today.

Others talked, Tommy worked.

Crime fell, population rose, the skyline became world-class, schools got better, the financial, academic, and medical sectors thrived, and neighborhoods became more diverse. It was in those neighborhoods that Mayor Menino made his mark.

His example for 20 years as Mayor taught us all a lot about people and politics, and his example the last year taught us even more about grace and grit.

Tom Menino had the big bold beating heart of a street politician. People came up to the Mayor and asked him to fix things, and he followed up and fixed them, whether it was streetlights or parks or getting the snow plowed so people could get to work on time. He knew what built community. He felt the city and the neighborhoods in his bones.

He combined good old fashioned common sense with modern, state-of-the-art vision, and he delivered for Boston block by block, neighborhood by neighborhood. He was fiercely loyal and unbelievably reliable.

Teresa and I send Angela and their children and grandchildren a big hug and big prayers.

Together with their beloved Tom, Angela, Susan and Tommy Jr., Bill and Lisa, Giulia, Will, Olivia, and Thomas III, Samantha, and Taylor embody something fundamental: the love that is a great family.

God Bless them all, and God Bless Tom Menino."
Gov. Deval Patrick:
"Boston has lost a political giant, and Diane and I have lost a friend. Our hearts and prayers go out to Angela and the whole Menino family. And we thank God for the service and the life of Tom Menino."
Former Gov. Mitt Romney:
"Our hearts are heavy today with the loss of Tom Menino. Boston's giant passes on, but leaves behind a city grateful for his leadership and vision.

Ann and I are keeping Angela and his family in our thoughts and prayers during this difficult time."
Boston Mayor Marty Walsh:
"Today the City of Boston mourns together.

"To any who had come to know him, it is no surprise that more than half of Boston had a direct interaction with Tom Menino. No man possessed a greater love for our City, and his dedicated life in service to Boston and her people and changed the face of the City.

"With sheer determination and unmatched work ethic, he took a city that is not as big in size as we are in stature and put us on the world stage as a national leader in health care, education, innovation and the nitty gritty of executing basic city services.

"He was a leader on policy issues that shaped the Boston we know today: from the environment, to youth engagement, to innovation, to crime prevention. But more than anything, he was a man of the neighborhoods. He held a profound understanding of the direct and immediate impact that municipal government can have on people, and made it a great priority to ensure that government served people, and not the other way around.

"Even in the latest stages of his illness, his concern – first and foremost – was always for Boston. We are forever grateful for Mayor Menino's guidance, advice, and continued dedication to Boston. And though he has passed, his legacy and spirit will be felt across the City for generations to come.

"Because of his leadership, Boston is a better place today.

"From a grateful City: Our prayers are with Angela, Susan and Tommy, their families and friends, and all who loved Tom Menino."
Former Mayor of New York City Michael Bloomberg:
"Tom Menino was a terrific mayor and a close partner for me. I got to know Tom well as we worked together to keep cities safe from gun violence. In 2006, we formed Mayors Against Illegal Guns — and what began as a meeting of 15 mayors ultimately became a coalition of more than 1,000 mayors from around the country. Whether it was tackling illegal guns or reviving neighborhoods, Tom was never afraid to take on tough issues. He cared deeply about the people of Boston, and he was tireless in making his city a better place to live and work. Tom was at his best when his city needed him most. In the aftermath of the Marathon bombing last year, he was steady as always, showing the same determined leadership that made his career in public service one of Boston's most important and most influential. My thoughts and prayers are with Tom's wife Angela, their children and family, and their many friends in Boston and beyond."
Massachusetts U.S. Sen. Elizabeth Warren:
"The City of Boston lost a great fighter today. Mayor Tom Menino used his big heart, his strong voice, and his fierce determination to shape every corner of the city. Bruce and I send our prayers to Mayor Menino's wife Angela, to his family, and to all Bostonians. Our mayor is gone, but he lives on in every neighborhood in Boston."

Massachusetts U.S. Sen. Edward Markey:
"Tom Menino wasn't satisfied with leaving the best city of American — he wanted Boston to be the best city in the world ... [He will be remembered as] one of the best mayors this country has ever seen."
Massachusetts Senate President Therese Murray:
"Words cannot express the sadness felt throughout the Commonwealth today. Tom Menino was truly one of the nation's greatest mayors. He cared not just about Boston, but about everybody. Even while he was very sick, his thoughts and concerns were always with the people of this city and their well-being. It's because of his fierce guidance and innovative vision that Boston has emerged as a vibrant urban landscape worthy of the title world-class city. His efforts in each neighborhood transformed the face of Boston.

"Life is too short, but he led a remarkable one. No one will ever love Boston as much as Tom Menino did. I will dearly miss his friendship and, while we will always mourn his loss, Mayor Menino will live through Boston forever. My thoughts and prayers are with Angela and the entire Menino family."
Massachusetts House Speaker Robert DeLeo:
"No matter what part of the city you were from, no matter what your color, no matter what your ethnicity, no matter what your religion, he wanted you to have the opportunity in life to better yourself and to do well. And that was the thing that I appreciated so much about the mayor, and he will be sorely missed."
Massachusetts Attorney General Martha Coakley:
"Today, Boston has lost the greatest mayor in its history. He was a friend and mentor, and a shining example to me and countless others of what it means to love and serve your community.

What made Tom Menino so remarkable was his connection to the people he represented - he understood their lives, their hopes, and their dreams. And he fought for them every day. He never forgot where he came from and stayed true to who he was to the very end.

We will miss him dearly, and we are all better for having known him and Boston is better for his leadership. My prayers go to his family - including his loving children Tom and Susan, his wonderful grandchildren, and to the love of his life, Angela. My condolences also go to his large extended family, his many friends, and his former staff."

Republican Charlie Baker, 2014 gubernatorial candidate:
If anyone deserved a long and satisfying retirement, it would be former Boston Mayor Tom Menino. For two decades, he threw himself into the job of Mayor of Boston with an enthusiasm and intensity that may never be duplicated. Like the thousands of people he's helped, and the many more who simply grew to admire his work, his work ethic, and his deep love for and commitment to the city of Boston and its people, my wife Lauren and I are so sad to see him gone so soon. Our thoughts and prayers are with his wife Angela and their family.
Baker and Coakley, who is also a 2014 gubernatorial candidate, both announced they are suspending their campaigns for the day in response to Menino's passing.
Steve Kerrigan, Democratic nominee for lieutenant governor:
"Mayor Tom Menino was my friend. And I will miss his advice, support, wisdom and humor. But Mayor Menino was obviously so much more than that for our capital city, our Commonwealth and the nation. He was the kind of leader and public servant that we should all aspire to emulate. Without exaggeration, he was quite simply the greatest mayor in America, and his passion for his city and its people was unmatched.

For 20 years as Mayor, Tom Menino dedicated his life to reviving, revitalizing, and reimagining the City of Boston—and every day, he put its people first. From improving public schools to building our innovation economy, he left his mark on each and every neighborhood. Boston is the place it is today because of his bold and unprecedented vision, and the city remains a living, breathing monument to him.

It was my honor and my pleasure to work alongside the Mayor for over a decade on numerous projects, including supporting Massachusetts military families and planning Boston's successful 2004 Democratic National Convention. I learned so much from him, personally and professionally, and his belief in our causes never stopped impressing me—nor inspiring everyone in his orbit.

My sincerest condolences go out to Angela, Tom, Susan, and the extended Menino family. Across the Commonwealth, all of our thoughts and prayers are with you today. Tom Menino is Boston, and he always will be. Thank you for sharing him with us."

Boston City Councilor Michael Flaherty:
Today is a sad day for the people of Boston and my heart goes out to his wife Angela and their family. Mayor Menino gave his heart and soul to our city. He maintained a grueling schedule and helped thousands of people. He transitioned our city into the innovative and inclusive city it has become. Tom Menino is Boston.
Victoria Reggie Kennedy, president of the Edward M. Kennedy Institute Board of Directors:
"Tom Menino was an extraordinary leader and a wonderful friend. He and my husband Ted had a great relationship, built on mutual respect, trust and love of the City of Boston. And lucky for me, Tom and Angela and I shared that same warm friendship."

"Twenty-first century Boston blossomed under Mayor Tom Menino. He leaves a huge legacy of achievement. And his loss leaves a huge hole in our hearts. Angela, Susan, Tom Jr. and their families are in our thoughts and prayers."
Thomas Menino: 1942-2014:
This article was originally published on October 30, 2014.