Coakley Concedes To Baker In Governor's Race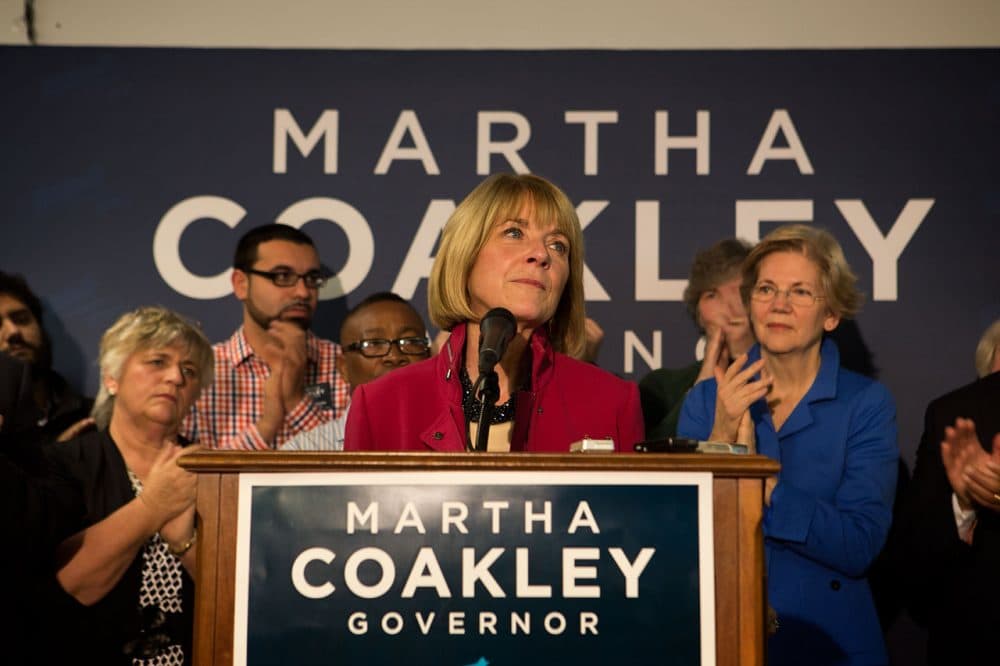 This article is more than 8 years old.
Massachusetts' long Election Night ended Wednesday morning with Democrat Martha Coakley conceding the governor's race to Republican Charlie Baker.

Coakley called Baker at 8:15 a.m. to congratulate him on his victory, then Coakley, who did not speak at her campaign rally Tuesday night, addressed supporters at her Somerville campaign headquarters.
She called it "an extraordinary privilege" to be the Democratic nominee, and said while there's only one winner in the race, "all the voters win."
She also teared up remembering that her mother didn't have the chance to go to college, and she urged young women to "lean in."
Coakley had declined to concede after the ballots came in late Tuesday showing Baker with a narrow lead. She said her camp wanted to wait until the morning for final results.
On Wednesday, Coakley thanked Baker for his "graciousness" in accepting the delay.
Baker addressed his supporters Tuesday night at his Boston event. He told them it's OK that Coakley was waiting. "In politics, every vote counts," he said.
With 100 precincts reporting, as of 11:30 a.m. Wednesday, Baker's victory margin is about 40,000 votes, or 1.9 percent.
Following Coakley's speech, Baker hosted an agenda-heavy press conference Wednesday.
He congratulated the Coakley campaign for its "aggressive" race and thanked voters, calling the election an "honor of a lifetime."
He said his first priority is "hiring a great team," and he expects the transition from the Patrick administration to his to be "seamless."
The concession followed a nail-biting night for election watchers. Both Baker and Coakley held leads, and at one point the margin between the two was 100 votes.
It was a chance at redemption for both candidates. Baker lost to Gov. Deval Patrick in the 2010 governor's race, and Coakley lost to Scott Brown for a U.S. Senate seat earlier in 2010.
Gov.-elect Baker, who will become the state's first GOP leader since Mitt Romney left in 2007, will now replace the Democrat Patrick, who opted not to seek a third term in office.
With additional reporting by The Associated Press
This article was originally published on November 05, 2014.