Shaheen Defeats Scott Brown, Keeps U.S. Senate Seat
Democratic U.S. Sen. Jeanne Shaheen defeated Republican challenger Scott Brown on Tuesday, winning a second term and blocking his return to Washington from a second state.
For Shaheen, a former state senator and governor, it was her eighth win in the state, which she has called home for four decades. Brown, who won a special election in Massachusetts in 2010 to replace the late Democratic U.S. Sen. Edward Kennedy but lost that seat in 2012, moved to New Hampshire last year.
Shaheen told cheering supporters in Manchester that voters "chose to put New Hampshire first."
"I want to thank the people of New Hampshire for once again placing their trust in me," she said. "I promise you I will continue to get up every day and work hard to put New Hampshire's working families and small businesses first."
Throughout the campaign, Shaheen, 67, cast Brown as an outsider who doesn't understand New Hampshire and emphasized her longtime service to constituents. After three terms each as a state lawmaker and governor, Shaheen lost her first U.S. Senate race to Republican John E. Sununu in 2002 but ousted him in 2008, in part by portraying him as a lackey of President George W. Bush's administration.
This time, however, it was Shaheen who was blasted as a blind follower of the president as Brown, 55, took every opportunity to say Shaheen voted 99 percent of the time with President Barack Obama.
Both of their key arguments gained some traction with voters, according to preliminary results of an exit poll conducted by Edison Research for The Associated Press and the television networks. The poll of 2,406 voters showed most people believed Brown hasn't lived in New Hampshire long enough to effectively represent the state. It also showed most people think Shaheen too often agrees with Obama, but more than a tenth of them voted for Shaheen anyway and about half said Obama wasn't a factor in their vote.
Brown, surrounded by his family in Manchester, said Tuesday night he would "walk away with no regrets" and said he witnessed the state's true spirit on the campaign trail.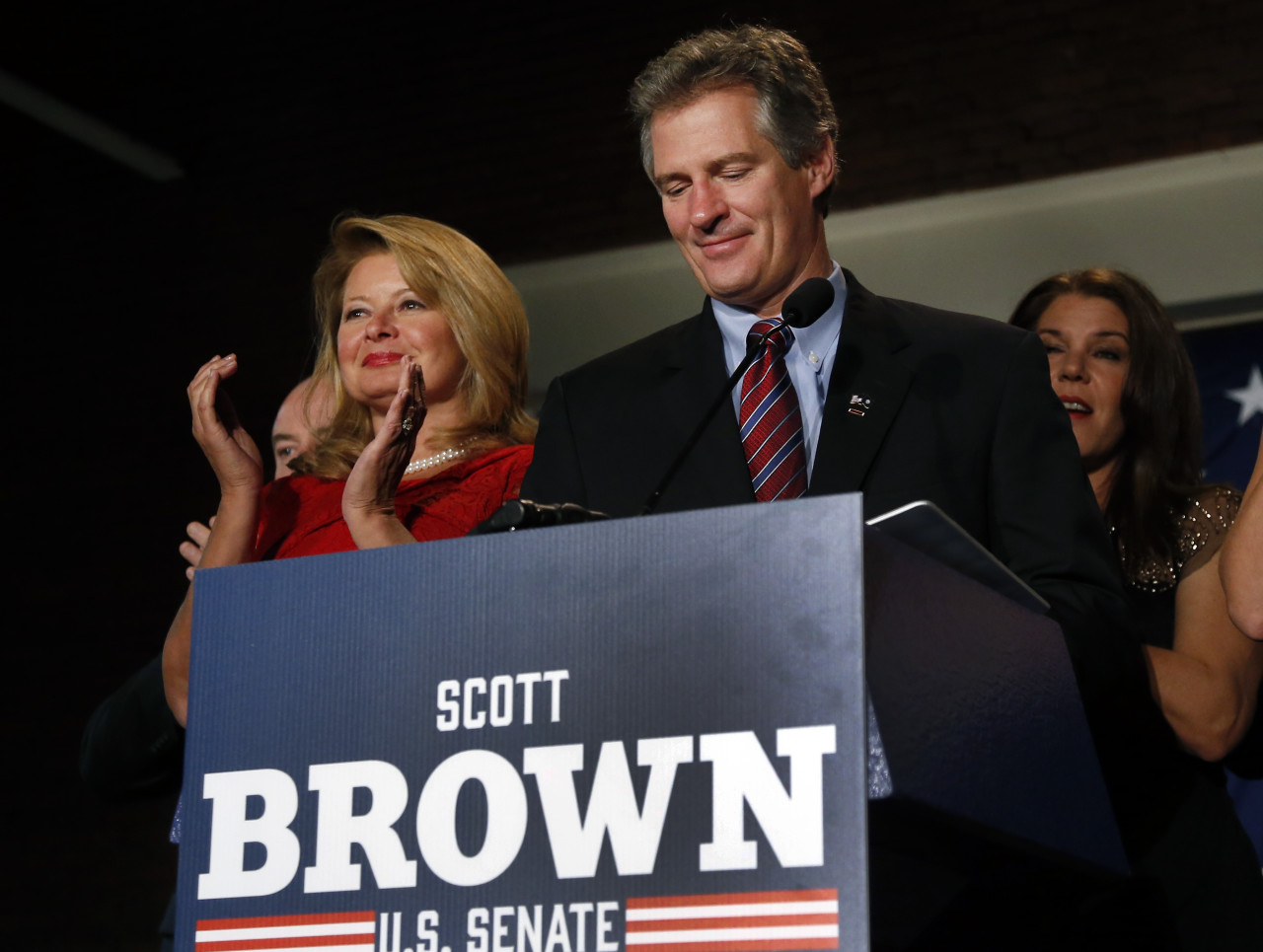 "I feel like a lucky man to live in this great state and call it home," he said.
During the campaign, Brown called Shaheen "confused" on foreign policy, criticized her for missing committee hearings and said the health care overhaul law she supported was a disaster for people and businesses. Shaheen, meanwhile, took Brown to task for missing Senate hearings on border security even though he made the issue one of the hallmarks of his campaign. She also criticized his vote to continue oil industry subsidies, saying he supported big corporations instead of the state's small businesses, and she warned women not to trust him on issues of equal pay, access to contraceptives and abortion rights.
One of the campaign's sharpest exchanges came when Shaheen highlighted Brown's sponsorship in 2003 and 2005 of bills in the Massachusetts Senate that would have required women to wait 24 hours before having abortions and to be provided with a variety of information, including images showing fetal development.
Shaheen's campaign ran an ad saying women would have been "forced" to view the images, which Brown called a "shameful" lie because the information could have been thrown away. Brown, calling himself a "pro-choice, independent Republican," said he had been protecting women since he was a child and his mother was beaten by his abusive stepfather.
Shaheen was the first woman elected governor of New Hampshire and is the only woman who has been governor and U.S. senator. Before her 2008 win, New Hampshire hadn't elected a Democratic senator in 33 years.
Brown, one of the original tea party favorites, rose to national prominence in 2010 when he was elected to serve the rest of Kennedy's term. After getting soundly defeated by Democrat Elizabeth Warren in 2012, he moved to New Hampshire, where he had a vacation home and had lived as a toddler.
Associated Press writer Kathleen Ronayne in Manchester contributed to this report.