Puppet Showplace Theater — Productions That Aren't Just Kids' Stuff
For the last 40 years in Brookline, Puppet Showplace Theater has been giving puppeteers a theatrical home in New England. Started by Mary Churchill in 1974 as a home for her own puppetry company, the organization presents performances by a new artist nearly every week, with over 300 shows per year. While puppets have often been used to teach lessons in the schools, puppeteers come from far and wide to present their works in the 95-seat storefront theater. But many of these performances aren't the didactic, pedagogical puppetry you might remember from grade school. Today's puppeteers are using a variety of styles and mediums to tell diverse stories that are both entertaining and thought provoking.
This November, their "American Journeys" series features four professional puppetry productions for families, using a wide variety of handheld characters to share unique American Stories. Beginning Nov. 20, "The Yankee Peddler: Stories and Songs from Old New England," by resident puppetry artist Brad Shur, will bring 300 years of New England history and folklore to life using intricate shadow puppets, with live folk music provided by Chris Monti. In this atypical pilgrim story, audiences help the residents of Cheshire, Massachusetts, make the world's largest wheel of cheese, sail the ocean with the legendary giant sailor Alfred Bulltop Stormalong, and meet a very fashionable bear by the name of Jenny Jenkins.
However, Puppet Showplace proves that puppets aren't just kids' play. Check out their "Puppets At Night" series for adults, featuring Of Bread and Paper on Nov. 14 and 15. A mysterious storyteller in a coat of paper strings together a tale of a refugee lost in a land made entirely of paper, with nothing but a round of bread to help him find his way home. Finn Campman, award-winning puppeteer from Vermont's Company of Strangers, paints this story using exquisite paper figures, light and shadow, in his one-man show.
"Puppets at Night" also features "Puppet Showplace Slam" Jan. 17, March 21, and May 16. The puppet slam event was created at The Puppet Showplace, and has been used by other puppet theaters across the country. A curated night of short form puppetry, these evenings often feature visiting artists, established performers, and newer performers on the same bill in mini-plays for adults.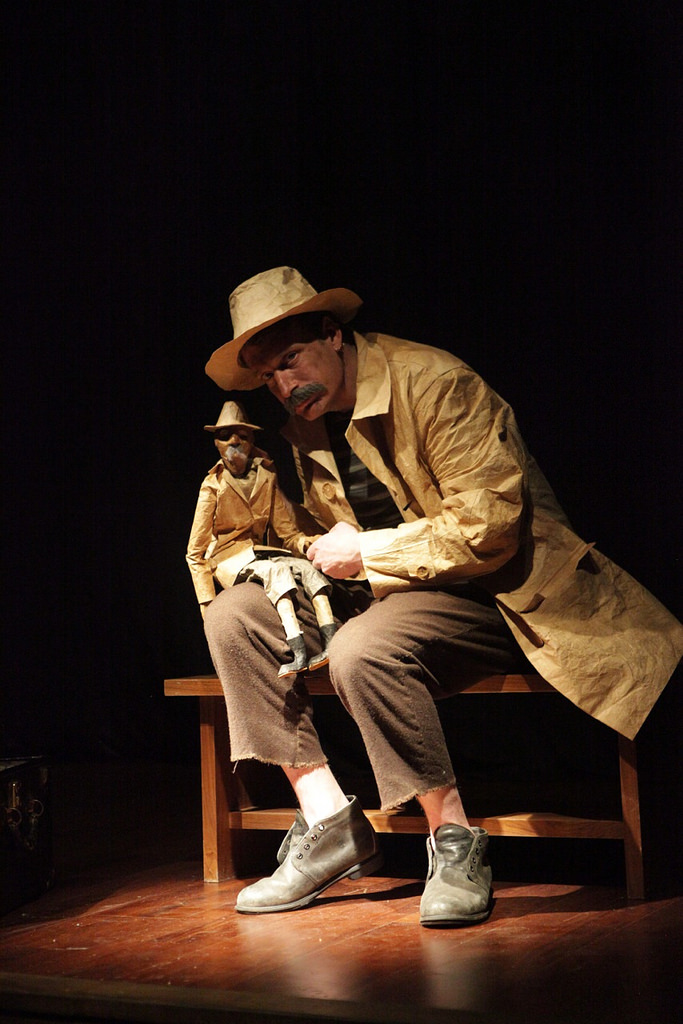 In January, look for the company to showcase works from their developing artists in their "New Year, New Shows" series. When artistic director Roxie Myhrum took over as artistic director in 2010, she noted that soon they would experience a "supply problem" with most puppetry development grants being geared toward more adult and edgy works. She created a development program for puppetry works for youth and family audiences. Each year, three companies are given support to build a new work right there in Allston through their Incubator program. Past recipients have developed shows that have gone on from their Boston premiere to tour internationally and receive wide acclaim. This year, West Springfield's CactusHead Puppets is developing a slightly silly version of the "Pied Piper of Hamelin" and Jamaica Plain's Bonnie Duncan is developing a dialogue-less show, "Lollipops for Breakfast," an imaginative ode to the boundless creativity of kids.
Robin Allen LaPlante is a local arts administrator who is skilled in the mystical arts of social media, musical theater and arts marketing. When not working as a marketing & communications manager at From the Top, she fills her time baking delicious goodies, camping with her family, or playing with the crazy theater-makers at New Exhibition Room.