Who You Calling A Cougar? Paula Plum's 'Phèdre' Has Other Issues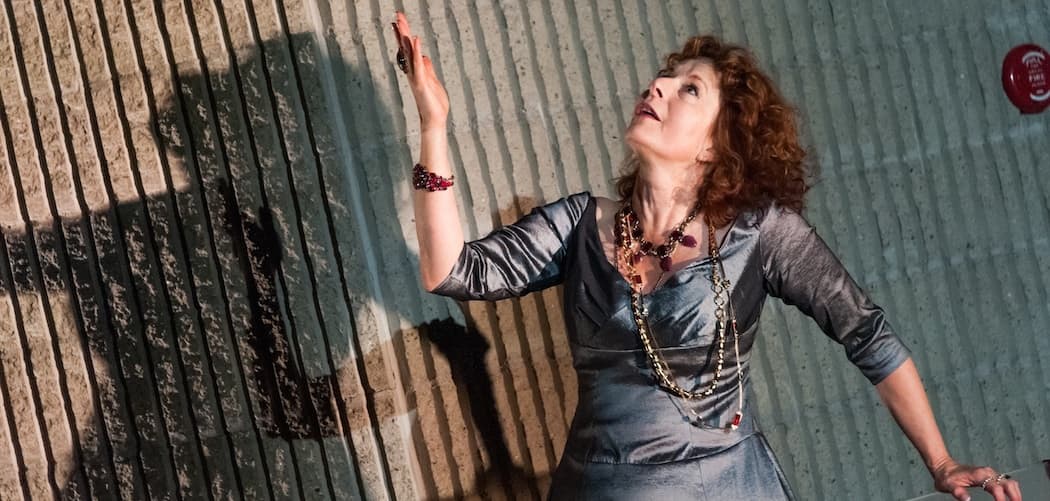 This article is more than 6 years old.
Judging by the popularity of the Phaedra myth, the cougar is far from an endangered species. Since Euripides and Seneca, artists ranging from Unamuno and Swinburne to Eugene O'Neill, Benjamin Britten, and Nancy Sinatra (in the 1967 "Some Velvet Morning") have taken up the cause of the Greek queen plagued by an incestuous lust for her stepson. But perhaps the most esteemed rendition is Jean Racine's 1677 "Phèdre," which many consider the French neoclassicist's masterpiece. Wisely, Actors' Shakespeare Project has chosen to present the 17th-century tragedy in a 1998 translation by British poet Ted Hughes that engulfs Racine's formalism in an animal heat.
Some have speculated that it was the passionately suicidal woman at its center that compelled the onetime husband of Sylvia Plath to spend his last months translating Racine's notoriously difficult alexandrine couplets into English free verse, hot and heavy with "the agonies of craving." But whatever the reason Hughes made "Phèdre" his last project, the translation, like the author's "Tales from Ovid" adapted from the "Metamorphoses," is both lyrical and muscular. And it positively drips with the visceral consequences of being cursed by Venus with a monstrous, inescapable love.
Hughes' version was first presented soon before his death with cool, commanding Diana Rigg in the title role. ASP puts its own grande dame forward, and Paula Plum does not disappoint. You do have to understand that Phaedra cannot help herself: Venus makes her feel, if not exactly do, it. And Plum conveys the character's torturous self-awareness along with her crippling lust. However many transmutations it has gone through, this is still Greek tragedy (mercifully devoid of the Chorus), where destiny trumps free will and the gods take sides for good and ill.
Phaedra herself is not without divine connections: Among other relations, she is descended from the god of the sun. She also carries some dubious familial baggage: Her mother, Pasiphaë, mated with a bull to produce the mutant Minotaur, slain by Athenian hero Theseus, to whom Phaedra is now wed. It was this same Theseus who abandoned Phaedra's sister, Ariadne, on the island of Naxos. As Oenone, Phaedra's nurse, puts it to her mistress, bluntly, in the Hughes translation: "Your family had bad luck in love."
But the crux of Phaedra's tragedy is that she is no remorseless hussy bent on consummating her unholy love. She is racked by guilt. Having used her influence to get stepson Hippolytus banished, lest she act on her forbidden desire, she is also slowly poisoning herself. And Plum, a keenly intelligent actor, puts the self-loathing as well as the physically painful passion across. Her Phaedra has been hit not by Cupid's dainty arrow but by Venus's blowtorch. And by the time the queen, thinking Theseus dead, "vomits" forth her secret, the collateral damage proves horrifying.
But with its mix of wordy formalism and primal emotion, "Phèdre" is difficult material, and the ASP production cannot always pull it off. The play looks strikingly lush and spare in the wide playing space of the First Church in Boston (through Dec. 7), which set designer Cristina Todesco has accessorized with a giant sphere of wrapped gold chain and strips of gold that trickle down the concrete walls like blood (especially when lit red by designer Annie Wiegand).
For the most part, director M. Bevin O'Gara makes good use of the stepped levels—though there are crucial moments when the sheer breadth of the space makes it difficult to watch both the bearer of tragic news and the recipient. And Mary Lauve's gown for Plum, accessorized with gold and rubies that the tormented queen keeps ripping off, only to have them patiently restrung by her fierce retainer, is elegant and effective.
But though everyone in the cast is well spoken, the acting approaches vary wildly, with only Plum marrying the play's philosophical core to its vivid language and operatic emotion. The director is best known for her excellent staging of contemporary dramas, and Jason Bowen's Hippolytus, sporting jeans and a sword, seems to have stepped out of one. Despite the long speeches, his delivery is so relaxed that he does not really capture his character's stature or proud priggishness. Mara Sidmore, as the captive Aricia, last of the clan from whom Theseus snatched Athens, is clad in diaphanous green and carries a chain like Marley's ghost. Her delivery is charming and natural.
Steven Barkhimer, in an open collar and suspenders, is avuncular and a tad mischievous as Hippolytus's mentor and confidante, Théramènes, and he wisely lets the character's mesmerizingly sickening account of Hippolytus's last stand carry itself. The reliable Bobbie Steinbach is solicitous if tough as the misguided Oenone. But Robert Walsh, crashing the play late as a battle-blown Theseus, plays one emotion — what the character himself calls his "berserk rage" — on one note for so long that he seems not only unhinged (and not by events) but monotonous.
Still, Racine, even roughed up by Hughes, is a tough climb, and here the pity and terror do mount. So, even if the production is less perfect than — not to mention devoid of — an alexandrine couplet, the rarely performed "Phèdre" is worth seeing.