The Mark Of Zoya — A Cultural Fusion Of Music And Dance
Zoya, a Russian name meaning "life," couldn't be more fitting.
Sitting in Pavement Coffeehouse on Boylston Street, the 21-year-old singer-songwriter exudes confidence. With maturity beyond her years, she talks about her upbringing — a sparkle in her eyes reveals a strong passion for art, creativity and life.
A recent Berklee College of Music graduate, Zoya is in the process of moving back to California, but she has three local shows scheduled before her departure. Her band will perform at Church in Boston (Dec. 3), Middle East Upstairs in Cambridge (Dec. 8) and The Haven in Jamaica Plain (Dec. 10).
As a child, the staircase in her family's home was her stage, and her parents were her audience. Dressed in overalls with ruffle socks folding over the tops of pink Velcro shoes, she sang into a hairbrush with free abandon, unabashed by her mother's camera.
"I was always singing," she says, laughing at the memory. Her family moved from India to California when Zoya was 6. By age 9, she was writing melodies and lyrics, and at 13, she chose to attend a boarding school in Virginia, feeling more at home with the East Coast mentality. That summer, she recorded her first album at a studio owned by her father's friend in India.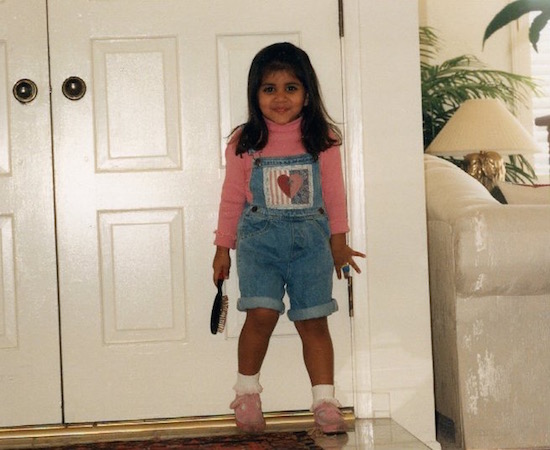 She returned to California the following year, attending another boarding school before being accepted into Orange County High School of the Arts for visual arts and commercial voice. Hearing her story, it's hard to imagine Zoya would have grown up to be anything other than a musician, but she says, "At that point, I loved painting. I had no idea what to do. I was really, really conflicted." Then, after hearing her song "Catch and Release," one of Zoya's teachers strongly encouraged her to pursue a singing career.
In 2011, she moved to Boston in order to get a degree in music business. Through her studies, Zoya has realized her childhood desire to score a record deal as quickly as possible is in fact the opposite of what she wants. "I know so much more about how the industry works — like publishing, knowing what a booking agent does, when I need a manager, what a promoter is versus a booking agent," she explains. "There are so many little things that go into it."
Last week, Zoya released a Visual EP that features three of her songs, "Fire," "Hold On" and "Willows." The project is titled "Lasya," which, in Hindu mythology, describes a dance by the Goddess Parvati, who feeds off the male energies surrounding her.
Asked about her inspiration behind this project, Zoya immediately sighs. "Dance," she says. "I miss dancing." Throughout her childhood, Zoya took classes in Indian dance, ballet, tap and jazz. She trained with Bollywood choreographer Nakul Dev Mahajan, best known for his work on "So You Think You Can Dance," in order to provide entertainment at her parents' Indian-themed parties. "At that point, he wasn't famous," she says. "He would come to our garage and teach us. He's like family."
After pairing each song with a different type of movement, Zoya chose dancers and the filming locations, but she says she had nothing to do with the choreography. Rather, she describes the project as collaborative, "giving my art to someone and seeing what they come up with" — in this case, interpreting her music through dance.
In "Fire," Priyanka Jain, a Doctor of Physical Therapy at Brigham and Women's Hospital, dances in solitude. Her red cultural dress radiates from the darkness surrounding her. Each movement is articulated with purpose and confidence, as if finding strength from within. "I had a very intimate experience with nature," Zoya says, "knowing that the moon and the sun are always going to be there, every day, every night. Just a realization I had that I don't need anything other than me."
There is a much different feel to "Hold On," a song that Zoya (whose full name is Zoya Mohan) envisioned with modern contact dancing. "Just the movements," she explains, "it was so literal to what the song was saying." With the Charles River in the background, Boston Conservatory students Chloe Benitez and Emily Brillson dance as if guided by the wind.
The fluidity is similar to that in "Willows," for which Berklee student Aliya Cycon dances ballet — nothing technically demanding, but beautiful nonetheless. This song's inspiration stems from a particular afternoon when Zoya and a friend met at a coffee shop and there, contemplated the most vulnerable part of the human body. Disagreeing with her friend, Zoya decided, "Our minds are the weakest parts of our bodies. Our hearts can carry so much more weight than our minds really could imagine."
Zoya's free spirit and intellect recall her artistic inspiration Ani DiFranco, whom she recently saw perform at Berklee. Just at the mention of DiFranco's name, Zoya's face lights up. Barely taking a breath, she delivers a biography of DiFranco as if it were a script she had rehearsed for years. "She started her own label. She said no to all the major labels. She writes about social injustice. She stands up for what she believes in and would rather go that route than just choose easy success."
Like DiFranco, Zoya wants to write about things that happen in the world. "That's why I want to travel," she says. "I would rather see it and write about it, than just read a news article." For now, she says her best songs originate from personal experience. "Sometimes I feel it's selfish," she says, "sometimes I feel it's kind of my only truth."
Her desire to return to her home country often translates through her music, but ultimately, Zoya hopes to settle in London and find a happy medium between remaining local and supporting herself. "I want to be able to have that freedom to go work with kids, give back, and also have the freedom to learn, just so I can make art."
Until then, she continues to collect sounds from around the world and incorporate them into her music, unafraid to play with her style. "You don't need a huge inspiration," she says. "It's cool sometimes to just be inspired by the people around you even though they haven't done anything book-worthy yet."