Trumpeter Chris Botti On Connecting With Audiences And The National Anthem That Made Reggie Wayne Cry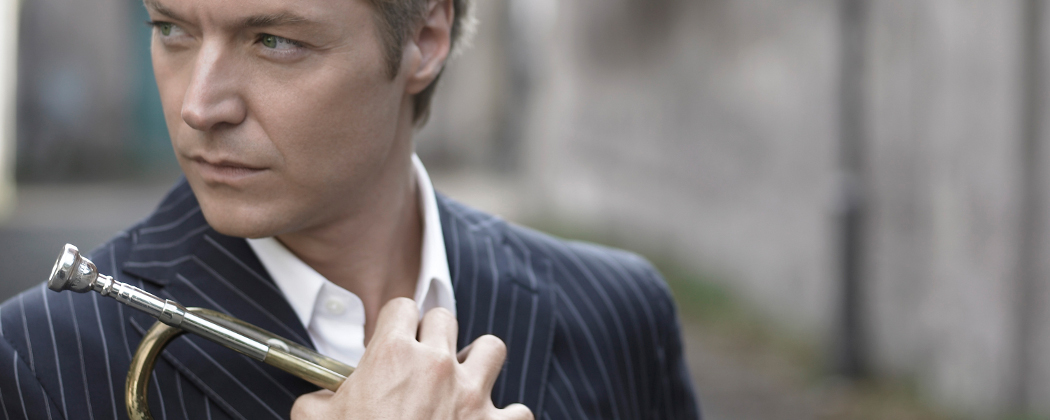 This article is more than 6 years old.
"Chris Botti: Trumpet Humbug."
That's Chris Botti talking about himself and Christmas, specifically referring to what he and his septet will not be playing during the two shows he's doing at the Wilbur Theatre this month.
'Tis the season for you-know-what and though the world's most popular trumpeter did release a Christmas album—2002's "December"—none of those songs (or any other seasonal favorites) will be on the set list Dec. 10 and 11.
Botti will be joined by drummer Lee Pearson, bassist Richie Goods, pianist Taylor Eigsti, keyboardist Andy Ezrin, guitarist Ben Butler, violinist Serena McKinney and singers Sy Smith and George Komsky.
"Everyone goes out and does a Christmas tour," Botti says on the phone from his New York hotel room. "I mean everyone from country to jazz…I may quote one song in the weirdest of places, but that's it. It's just been played by so many people in so many different ways I don't know what I could add to it by just doing a Christmas tour."
The 52-year-old Botti, a four-time Grammy winner, is a triple-threat: trumpeter, entertainer, band-leader. (You could add composer and interpreter, too, to make him a quintuple threat.) Botti has a superstar sideman resume that goes from Sinatra to Sting, but over the past decade, he's become a star in his own right—the best-selling trumpeter in the world. But just being really good doesn't translate into the kind of mainstream appeal he has.
Botti, as always, will bring his 1939 Martin Committee large bore handcraft trumpet to play. He'll wander into the aisles to perform right in folks' faces and make eye contact. He welcomes people to take photos. He tells funny stories—jokes on himself. And he'll make you cry with the inflections on his trumpet.
Fred Taylor, the Boston jazz impresario and longtime Scullers booker, first brought Botti into his small club in 2007. "He has a gorgeous, rich melodious sound," says Taylor. "It has so much emotion in it, big and round with a little reverb. He is an ace trumpet player and when he drops the popular end of this, he can get down and swing like a great trumpeter, like Miles [Davis] did."
Botti has scored four No. 1 albums on the jazz charts, and in 2009 released "Chris Botti in Boston" CD/DVD recorded at Symphony Hall with the Boston Pops and guests such as Sting, Steven Tyler, Josh Groban and Yo-Yo Ma.
Botti rang us from the New York hotel he's called home since moving from Los Angeles in July:
Your concerts very much have an arc to them, several really. What can you tell me about how you construct a set, what you want to achieve?
I look back at my career, when I played places like Scullers, I made a conscious effort and it's helped me a lot as my career's gotten bigger and bigger and bigger. That means you're playing larger places and making more money. I didn't turn around and hire a light show or background dancers.
I spent my money on more musicians at a super-high level. To be able to add two different singers and a concert violinist has given me the ability to frame my trumpet in different settings. So one time, it's a jazz song and the next it's a pop song and then a classical-crossover song. It gives the show that arc. You need those other components to flex that musical muscle to make it happen.
What are the touchstones you want to get to in concert?
I always love it when I look out in the audience and people are in tears, and hopefully it's not from out of tune notes or spicy food. When you can bring people together with that sort of emotion, it's really nice, and then to turn right around and hit 'em with more hardcore jazz or some sort of uplifting pop music, that's really the thing.
People who haven't seen me before generally all say the same thing. They're expecting a reduplication of our albums and the albums are all kind of one mode or mood—to keep the listener in hopefully that blissful state—but the concerts need to have a visceral, technical things, the need be humorous, to rock out when you need to and to have a classical component. It's the chops that make them go wow, and the beautiful stuff that makes them go more inward and reflective, so to have both in the show is really important.
Your role as raconteur and entertainer, did you come out of the box fully formed or did that have to develop?
No, the bad jokes were in place early on. When I dropped out of college and got this two-week gig with Sinatra—I was in his band—it struck me about how he walked on stage and sort of looked at and talked to the audience—not talking out to the lights in the back.
I have the handicap, in popular culture, of playing an instrument and not being like a pop singer. So you've got to be able to relate to the audience and not just be that jazz dude who's looking at his feet. It helps me to include them in the inside things going on—what makes this drummer so great, what makes this violinist so great. Rather than "Oh this is a song I grew up with as a kid …" Boring! There's got to be something else to tell on the stage, some sort of inside process, where people go, "That's really cool, we had no idea about that." I think it goes a long way toward making them come back again.
Of course, you played with, among many others, Sting and Paul Simon and learned from them.
My experience being in Paul's band for a year and a half and standing with Michael Brecker. …I'm a 28-year-old kid, going "Wow, my head's being twisted around!" And knowing how much Paul valued great musicianship—getting these famous Brazilian musicians—when I got to be a band leader, it made me want to do the same. So whether the audience knows it or not, they value that. It's a lost thing.
And Sting…
It's easy to say, "You were in Sting's group and you got a lot of exposure," but people really aren't aware of behind-the-scenes stuff. Within the band, he pushed me to the front of the stage, figuratively and literally, and then when he subsequently fired me from his band, he hired me to be his opening act [in Boston at Symphony Hall]…he knew what was best for me.
You know how easy it is to get someone to join your special when you say Sting's on board? Those things don't happen unless you have that rock you can cling onto and he's been there for me. He's someone I've learned from, his routine, how he runs his band, his organization. Here's a guy who rolls around without any security, a really cool thing. I learned a ton from that stuff and it helped me in my little jazz world. Beyond that, we're such good friends and that's been fantastic as well.
I'm sure your stage manner plays a large part in elevating your status. Even people who are not hardcore jazz fans realize there's a high entertainment value here.
It's really important to me, the overall feeling the audience has when they leave. You can win an award, you can be successful, but your only real currency, that you have as a performer, is what the exit poll is from that audience, saying "Wow, that was a cool show."
You were talking earlier about bringing people to tears. You just did rather famously with Reggie Wayne when you played "The Star-Spangled Banner" on Monday Night Football Giants on Nov. 3, the Colts vs. Giants.
Of all the things I've done in my career outside of being associated with Sting or being on "Oprah" that was the most strange and wonderful thing. Had the camera not captured his reaction at that moment, everyone would have said "Nice anthem," but Reggie Wayne is such a [future] Hall of Famer. …When I got this national anthem opportunity, I was on tour in Mexico and I called [pianist-collaborator] David Foster, "Can you do me a favor? Can I swing by and can you do me a little backing track with some beautiful chords and make it sad?" And the real win-win to the whole thing was the NFL agreed to an anthem that was 2:10 or 2:05 long, which is unusual. David and I made a conscious effort to have spaces; it's like [Keith Jarrett's] "The Melody at Night, With You." That allows the audience to come to you rather than you just force-feed it down their musical ear. It was David's and my decision to have this languid kind of haunting of "The Star-Spangled Banner" rather than a big over-the-top, military-drums-flying-all over-the-place. Just more kind of sad. I think that's what made it so different in the grand context of things and then, lo and behold, I just got lucky. Bam! The player cries and the thing blows up.
With the sad, muted tone were you making a statement?
That's the way I play on everything. It doesn't matter whether it's the "Theme from 'Cinema Paradiso'" or "My Funny Valentine."
Like on the "Impressions" record, when David and I recorded "Summertime," it's basically kind of that. It's what I do. A lot of people liked it and some trumpet players said, "How dare you play inflections on the thing?" and I'm like, "That is what I've been doing my whole career."
You are, as they say, "between albums." How important is playing concerts versus recording, both artistically and financially? The world has shifted in terms of sales, downloads and stream. Most musicians are making their money on the road...
All!
How important, then, is making albums, new music?
Boy, that's the $64,000 question and then some. I am so lucky to have a record company that believes in me and you're watching the industry kind of cascade off a cliff—there's no way around it. I don't really know where it's going to land or how this is going to shake out. Now, I'm fortunate enough to be "established" so I can play a concert and people show up. I'm unbelievably grateful for that and aware of that good fortune. I also know at the same time if I make a record, I need to have some burning creative desire to do it. I do see the art of record making dwindling because everyone is just doing it in your house and putting it up on YouTube. And then with Spotify you're taking the ability to monetize it out. Record companies are struggling. I'm sitting on the sidelines, thankful for my career and wondering what's going to happen like everyone else.
Artistically, creatively, do you have that burning desire to do it?
I think first and foremost I have a burning desire to do another "Live in Boston" [type] DVD With the Boston Pops, at Symphony 2009 with Yo-Yo Ma, "Cinema Paradiso" and that's where our efforts are going to point to next year.
You're dealing with two things—the enormous expense and then how does the record company make their money. When I released "Live in Boston" in 2009 it might as well been 100 years ago. Now, nobody owns CDs. I don't own DVDs, I don't know who does that. If we're unable to get the funding and do this, in 2016 I would probably go make a jazz album.
Chris Botti will be at the Wilbur Theatre, Wednesday, Dec. 10 and Thursday, Dec. 11, 7:30 p.m.