You've Heard Of The 'Slow Food' Movement? Now Meet 'Slow Medicine'
This article is more than 7 years old.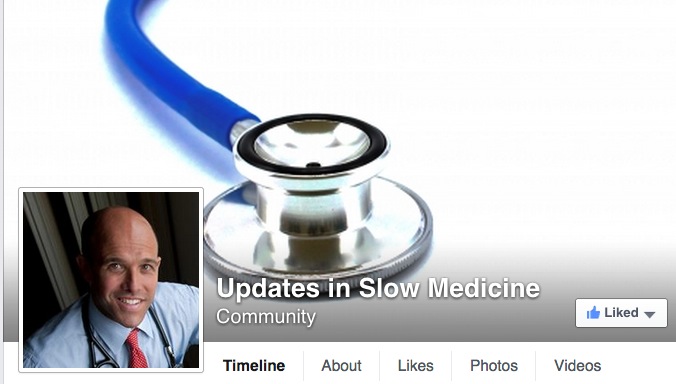 Slow Medicine (ˈslō me-də-sən). The practice of medicine in which one is careful in interviewing (and examining) patients, careful to balance benefit and harms of diagnostic and therapeutic interventions, slow to intervene when symptoms are undifferentiated, committed to observation as an important diagnostic and therapeutic strategy and skeptical of newly introduced diagnostic tests and therapies. Although Slow Medicine might incidentally reduce costs of medical care, cost does not drive decision making but rather the drive is an effort to provide the best and safest medical care possible.
"Slow Medicine" may be about to catch on fast.
It began as thousands of emails over the years between Cambridge Health Alliance primary care doctor Pieter Cohen and Dr. Michael Hochman of Altamed Health in Los Angeles, debating and interpreting the latest medical literature. First just back-and-forths with each other, then shared more broadly with colleagues.
The focus might be their take on colon cancer screening, or spinal manipulation for sciatica, or how to treat mild high blood pressure. Their writings were opinionated but always data-driven, and clear on how that data could or should be translated into real-world medical action.
It was good stuff, by doctors and for doctors but much of it also suitable for the lay public. (CommonHealth quoted from a "Slow Medicine" message in this post on lung cancer screening for smokers.) The list of willing "Slow Medicine" email-recipients swelled; it added a Facebook page; and now, as of this weekend, it has gone national: On NPR's Shots blog, in a post by Dr. John Henning Schumann, host of Public Radio Tulsa's "Medical Matters," titled "If Slow Is Good For Food, Why Not Medicine?"
It begins:
Maybe you've heard about the slow food movement. Maybe you're a devotee.
The idea is that cooking, nutrition and eating should be intentional, mindful and substantive. Avoid fast food and highly processed grub. For the slow food set, the process is as important as the product.
Now I'm seeing a medical version of slow food. The concept is bubbling up in response to industrialized, hypertechnological and often unnecessary medical care that drives up costs and leaves both doctors and patients frazzled.
And about Drs. Cohen and Hochman's brand of Slow Medicine:
In searching for ways to teach the essence of slow medicine to new doctors, I was fortunate to come across what is perhaps its newest flavor: a running correspondence from two physicians driven to find hard evidence for the best approaches to medical practice. Their emails have sparked a nationwide conversation among doctors about costs, the limits of scientific proof and — yes — the art of medicine.
The emails between doctors, Pieter Cohen, the mentor, and Michael Hochman, his protege, became fodder for weekly roundups sent to their department's trainees at the Cambridge Health Alliance in Massachusetts. The doctors analyze important journal articles, comment on new findings in the context of established medical knowledge and share wisdom.
Cohen, a natural skeptic, always asks how doctors should decide whether or not to incorporate something new into their practices.
I find myself agreeing with their email recommendations frequently. Yet they seek thoughtful discussion, not ironclad uniformity. In fact, Cohen and Hochman often take issue with national guidelines when they see opinions trample science. Moreover, as generalists, their ideas counter the biases of both subspecialists and industry — two groups that typically tend to favor more medical intervention.
Schumann writes that he's "savoring this growing movement, adopting its wise examples in both my teaching and my practice."
Readers, have you experienced Slow Medicine? Or its opposite, perhaps?