Sincerely, Norman: Collection Of Mailer's Letters Shines New Light Into This Famous Life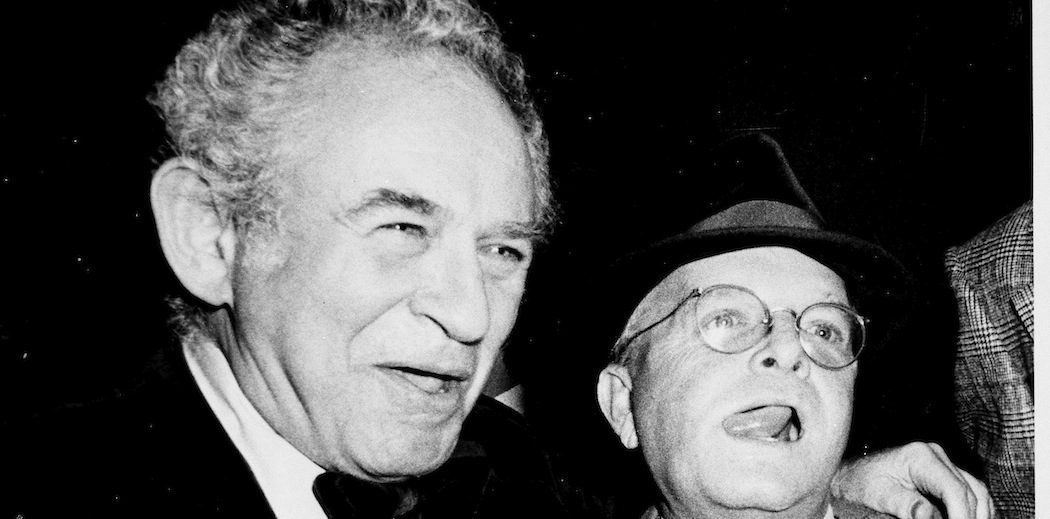 This article is more than 6 years old.
Norman Mailer lived large. So it's no surprise his correspondents included just about everyone who was anyone in 20th century America, and why "Selected Letters of Norman Mailer" is such a scintillating read.
"He let it all hang out. There's not much reticence in his letters," said J. Michael Lennon, Mailer's longtime archivist, authorized biographer and editor of the just-published collection of the famed writer's correspondence.
Over the course of his lifetime, Mailer wrote to more than 4,500 people. Many were the brightest lights among America's literati, including: Arthur Miller, Lillian Ross, Truman Capote, Joyce Carol Oates, Philip Roth, George Plimpton, John Updike and James Baldwin. However, the letters to fans, critics, editors, friends, family and ordinary people are equally revealing and entertaining.
The collection is marked throughout by Mailer's "extraordinary candor," Lennon said.
Lennon, who lives in Westport, is a native of Massachusetts and a graduate of Stonehill College. A successful academic, his ties to Mailer date to January 1971 and a famous episode of "The Dick Cavett Show," when the author famously mixed it up with Gore Vidal. Lennon wrote to Mailer to take his side against Vidal, and Mailer wrote back. Over the years, additional letters were followed by face-to-face meetings, as well as visits with Mailer in Provincetown, and eventually family vacations together. Lennon would go on to edit collections of essays on and conversations with Mailer, and in 1986, the author asked Lennon to be one of his literary executors. It was a role that would grow over the subsequent decades.
The ironic thing about Mailer, the often-dazzling correspondent, is that he claimed to hate the regular chore of writing and answering letters. He had what he called an "aversion to the epistolary art," and compared it, at times, to shoveling two months of snow. Until 1958, the author typed his own correspondence, but later dictated them into a tape recorder for an assistant to type. She'd return with a sheaf of papers for him to quickly proof, add additional notes and sign. Carbons and cassettes were kept and stowed in the archive.
Around 1994, Lennon, always with the able assistance of his wife, Donna, began work on that archive. Six years later, the couple published "Norman Mailer: Works and Days," a comprehensive, annotated listing of Mailer's writings and those about him, which earned a Choice magazine award for "outstanding scholarly title." Around this time, Lennon embarked on the initial stage of compiling a collection of Mailer's letters. This meant reading all 50,000 of them – an estimated 25 million words.
"If you wrote a serious letter to him you got an answer," Lennon said.
After Mailer died in 2007, it was decided that Lennon should set the letters project aside and first write the biography. With publication last year of "Norman Mailer: A Double Life" -- one of Amazon's top books of 2013 and a New York Times Book Review editor's choice — he and his wife eagerly turned back to the letters.
"I realized there was nothing like them in literature," Lennon said.
Reading the letters, what comes through is vintage Mailer. "You can see his changes in style, preoccupations and his personal life," Lennon said, adding that between the lines one can sense that "twinkle in the eye" Mailer was famous for.
Included in the new collection, in addition to the letters to his peers, are dispatches to world leaders, musicians, prisoners, people he was feuding with, and unpublished but hopeful writers. Brando, Lewinsky, Bill and Hillary, John and Yoko and Jackie O are all included in the new book. Also featured in "Selected Letters" are erotically-tinged notes to his last wife, Norris Church Mailer.
As for the tamer content, Mailer fills the pages with thoughts on other writers, his concerns about world events, the limits and possibilities of writing in its various forms, his struggles and triumphs, various fancies and theories, as well as one idée fixe or another, be it the ego, masculinity or the more existential questions he often pondered:
We're all divided between the moralist in ourselves and the novelist. The moralist is full of platitudes and mother's milk, always telling others how to live. The novelist, who always has an eye like a pair of tweezers, never fails to pick up a detail. The novelist is amoral, witty, private, and there to be followed in each of us.
In the introduction to "Selected Letters," Lennon sums up their content thus: They "provide a vivid depiction of the stages of Mailer's career as a writer, his complicated personal relations, and innumerable meditations, musings and asides on the touchstones of his life: ambition, identity and a raging thirst for experience." In this, they illuminate both the public and private Mailers, and the places where they overlap, he added.
Distilling tens of thousands of missives into a single volume containing just 714 (in nearly 900 pages) proved quite a task. The Lennons began by prioritizing the letters based on a set of criteria: how fine the prose is, if the letters to an individual constitute a chain of communication that might be of interest, how famous the recipient of the letter is and if any personal revelations are included. "Selected Letters" contains correspondence to nearly 350 different people, dating from 1939 to 2007.
To think that the publication closes a remarkable chapter in American culture is sad, said Lennon.
"This is the last great slab of Mailer prose anyone is ever going to see," he said.
He can be heartened, however, in knowing that his old friend manages to go out with a bang.
More from John Winters is at johnjwinters.com.