John Pizzarelli: A Double Threat In The Jazz World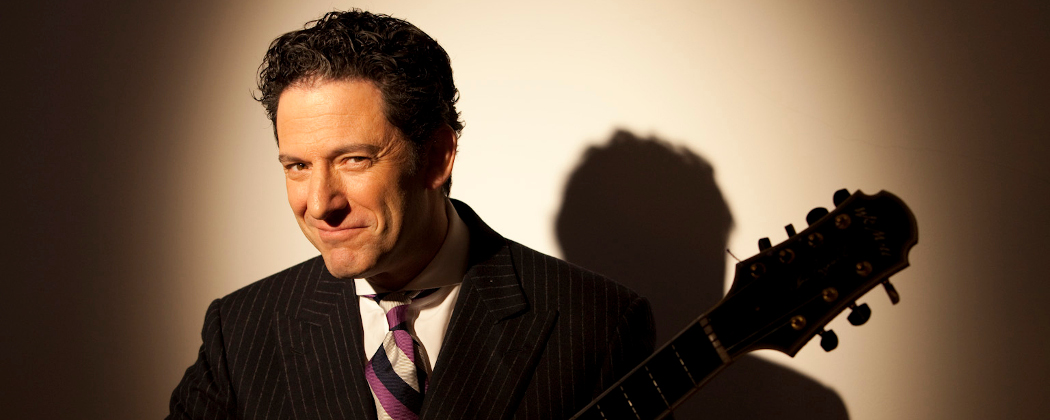 This article is more than 6 years old.
There are dozens of folk-singing guitarists, loads of rock-singing guitarists, but a jazz-singing guitarist is a rare find. Enter John Pizzarelli, a guitarist who can play complicated jazz accompaniments and croon swing tunes simultaneously.
Pizzarelli will have some help with the accompaniment part when he performs with his quartet at the Bull Run in Shirley on Dec. 14. He'll be bringing his brother, Martin Pizzarelli, on bass, Konrad Paszkudzki on piano, and Kevin Kanner on drums. The evening of music will likely include plenty of jazz standards and Pizzarelli's arrangements of pop songs crossed with jazz as in "I Feel Fine/Sidewinder" from his most recent album, "Double Exposure."
John and Martin follow in the footsteps of their father, legendary jazz guitarist Bucky Pizzarelli. John had a tenor banjo handed to him when he was six and found his way to the guitar a few years later. When he was asked about his musical education in an interview with JazzTimes, Pizzarelli said, "College of Bucky Pizzarelli." Gigging with his dad is where he got his "real education" learning tunes and mastering the guitar.
Beyond working with his dad (whom he still performs with from time to time), Pizzarelli joined greats like Rosemary Clooney and the Beatles, and toured with Frank Sinatra as his opening act. He also added his own touch to the Pizzarelli act: singing.
Pizzarelli proves the title of the Gershwins' song "I Got Rhythm" to be true in a solo rendition he recorded live for the Fretboard Journal in 2012. He jumps into the song with a light, easygoing vocal and comping with impressive rhythmic variations that dance around the melody. His singing style is conversational and his guitar accompaniment seems to give musical replies, answer questions and finish sentences. Pizzarelli switches gears for the solo. He seemingly keeps time in his head as he doubles nimble, but melodic lines on guitar with scat singing. Pizzarelli brings humor and personality to the song – he mimics a Dixieland bass line at one point and dips into a half-time bluesy style. As you watch him look up from his complex guitar fingerings to smile at the camera, it becomes clear that Pizzarelli has been doing this for a while.
Pizzarelli settles into the groove just as nicely with his quartet as he does solo. In a live performance of "Ruby Baby", a song Pizzarelli sings on "Double Exposure," the audience sings along with him as he strums the hits and then takes them into a propulsive swing feel.
I can only expect the same from his performance at the Bull Run on Sunday.
Claire Dickson Contributor, The ARTery
Claire Dickson is a jazz vocalist and writer studying at Harvard College.