Nick Lowe Thought Christmas Albums Were Tacky—Then He Recorded His Own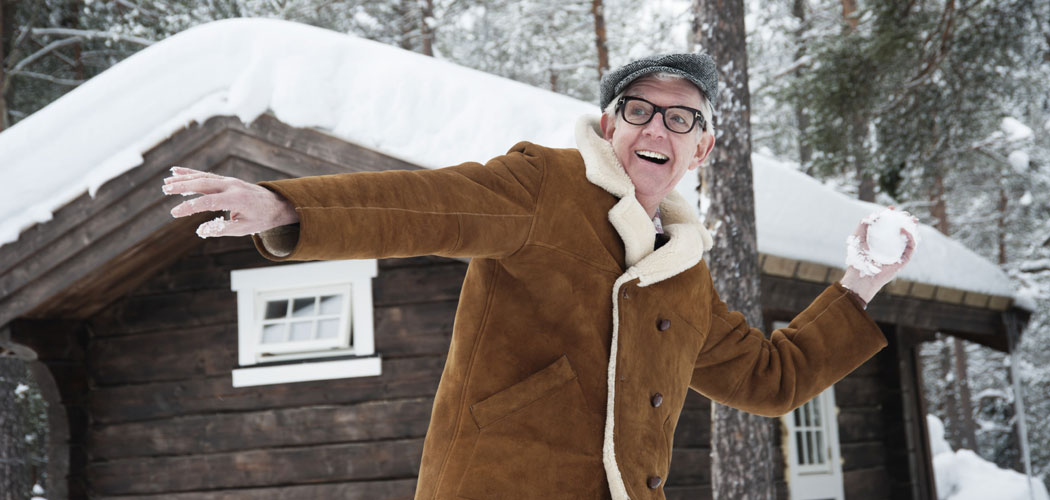 This article is more than 6 years old.
As any self-respecting singer-songwriter might, Nick Lowe nurtured a long-held belief that doing a Christmas album was, perhaps, unbecoming.
"It was always seen as rather tacky and sort of vulgar," says Lowe, from Minneapolis last week, the day before his 12-date U.S. tour started. "Although having said that, I've thoroughly enjoyed Christmas records. It's just that it was the stuff for me to listen to, not to actually make."
Lowe puts his tongue in a familiar position, in cheek. "When it was suggested to me that I might like to do a Christmas album," he continues, "my initial reaction was one of horror—that my record company could have thought that an artist of my stature could possibly wish to have their hands soiled by this terrible, commercial nonsense. But that feeling lasted for about a minute and 10 seconds—as long as an early B-side."
(Indeed, one of Lowe's best songs from his early career was the B-side of the 1976 single "So It Goes," "Heart of the City," which actually clocked in at 2:02.)
"Suddenly, I changed my mind completely," Lowe says. "I thought 'What is the matter with you? This could be a really great opportunity to do something really fun and good; I could try and do a Christmas record that people might want to listen to more than once.'"
Lowe's Christmas-themed album, "Quality Street," came out last year, but this tour, billed as Nick Lowe's Quality Revue, is the first U.S. tour supporting it. Lowe stops at the Paradise in Boston on Tuesday, Dec. 16, and the Narrows Center for the Arts in Fall River on Wednesday, Dec. 17. The all-instrumental band Los Straightjackets will bring their roots-rock, surf and Tex-Mex to the party, playing a set on their own and also serving as Lowe's backing band.
"What I was looking for," Lowe says, "was really good songs that we could adapt. That's a little more than a tall order, but we found a few."
Lowe covered Wizzard's "I Wish It Could Be Christmas Everyday," a top Christmas tune in the U.K. for years—and he solicited suggestions from friends. He did Roger Miller's "Old Toy Trains," the traditional "Children Go Where I Send Thee" and "Silent Night," among others. Lowe's pal Ron Sexsmith contributed "Hooves on the Roof," and Lowe wrote or co-wrote three more, including the wry "Christmas at the Airport."
"I wasn't intending to [write]" Lowe says, "but the first one came and I couldn't sort of help it. I found myself sitting in an airport about two days after they asked me to do this and I was nursing a slight hangover. As sometimes happens, you can feel sort of creative in those circumstances and I was waiting for my flight and I had most of it written by the time I got back to Heathrow."
Songs from "Quality Street" will comprise a chunk of the set, but Lowe will play some of his chestnuts, too. It will certainly feature the once-obscure, now ubiquitous "(What's So Funny 'Bout) Peace, Love and Understanding."
"I love to play it," Lowe says. "It's a song you can play any way you want to pretty much—any kind of treatment. I play it differently from night to night. At the moment, it's sort of a mid-tempo, R&B/Arthur Alexander style [song], but it might go back into mid-period Bob Dylan style as I was doing it a month or two ago. With the Straitjackets it will have something else."
The song was originally released without fanfare in 1974 on an album by Lowe's old pub-rock band, Brinsley Schwarz. "It was just an album track," Lowe says, noting that Elvis Costello's version greatly raised its profile five years later.
Lowe and Costello were longtime friends, with Lowe producing Costello's first four albums. The song was the final track on Costello's 1979 album, "Armed Forces." There has always been some murkiness about the song's thrust. It was written before the punk era, as the hippie waned, but Costello's full-bore rendition came roaring out of the gates on the heels of punk. Was the singer upbraiding the punks for their cynicism, their professed hatred for the hippies? What did the songwriter intend?
"I think it was initially intended ironically," says Lowe. "Times were changing and the original idea was sort of ironic, with an over-the-top title. But at the same time I always think it was the first original idea I ever had. Up to then my songs were—to my ears anyway—very obvious [as to] where I got the ideas from. I was rewriting the people who I admired, which is how most people start."
After a time, Lowe says, he developed a style. "But," he adds, with typical self-deprecation, "when I thought of '(What's So Funny 'Bout) Peace, Love and Understanding,' I was astonished I'd come up with an original idea. I've never heard anyone say it before and I thought it was really great. It is, let's face it, a bit of a mouthful. So, even if it was ironic, something in me told me to keep it a bit opaque and not overwrite it and fill it up with look-at-me, aren't-I-clever puns and stupid stuff which I was prone to do."
Over the years, the song has done well by Lowe's bank account. A version by Curtis Stigers was included on 1992's "The Bodyguard" soundtrack, one of the best-selling soundtracks in history. "It was a big payday for everyone involved in that movie," Lowe says.
Lowe's early solo work was noted for its pop sensibility, his wordplay and wit, his knack for juxtaposing mordant lyrics with jaunty melodies. He made a big splash in the new wave world with his 1978 solo debut LP, "Pure Pop for Now People" (called "Jesus of Cool" in the U.K.). Though influential as both songwriter and producer (Costello, The Damned, Pretenders, among many more), Lowe had but one U.S. Top 20 song, "Cruel to be Kind."
Over the past few decades, Lowe has evolved into a different sort of artist—more country and roots-based and more on-the-surface sincere. Lowe says the reason for the evolution was twofold: 1) He'd matured as a songwriter and 2) he realized he would not to be forever young.
"I found myself looking at the fact that I was getting older," says Lowe, who's 65, "and I never thought I'd be doing it [playing music] into advancing old age and I don't think any other of my contemporaries did either. Nowadays, you can't move for old men shuffling up on stage doing what they did when they were in their 20s. But it was quite a shock when I realized I was going to be one of them.
"So, I consciously tried to figure out a way of avoiding having to keep on doing what I did as a kid for my audience, having to re-play my youth for the entertainment of the people who were getting older as well. I wouldn't be able to move away from it. We all know people who have had to do that and it's not a very pleasant sight to see.
"I thought, 'I want to figure out a way of doing something where I can take advantage of the fact that I'm getting older, use it so it will be a bit of a part of my act.' It wasn't a great stretch. I like the same music now as I did when I was a kid. I never liked 'rock' music as such. I always liked rock 'n' roll music. Without going into a tiresome discourse about the difference between [them], I definitely know it when I hear it. Rock 'n' roll is pretty easy to play at an advanced age. And I love the ballads, the country music."
The pop tunes that still make the cut in concert, Lowe says, "are any of those songs I can play convincingly on an acoustic guitar—if the lyric isn't too sort of callow and kidsy. If it's too kidsy, I can't really pull it off."
Thus, even though fans shout for it, you won't be hearing "Marie Provost," Lowe's song based on the story of an actress who died alone and whose corpse was, according to some reports, eaten by her pet dog. Key lyric: "She was a winner/That became the doggie's dinner/She didn't mean that much to me/Whoa-oh, poor Marie."
"People ask for that one a lot and it's 'Oh, God ….," Lowe says, admitting, "It's a good record and good at the time. But it's a rather cheery tin-pan melody telling that horrible story."