The Ear-Splitting Poetry Of Speedy Ortiz's Off-Kilter Indie Rock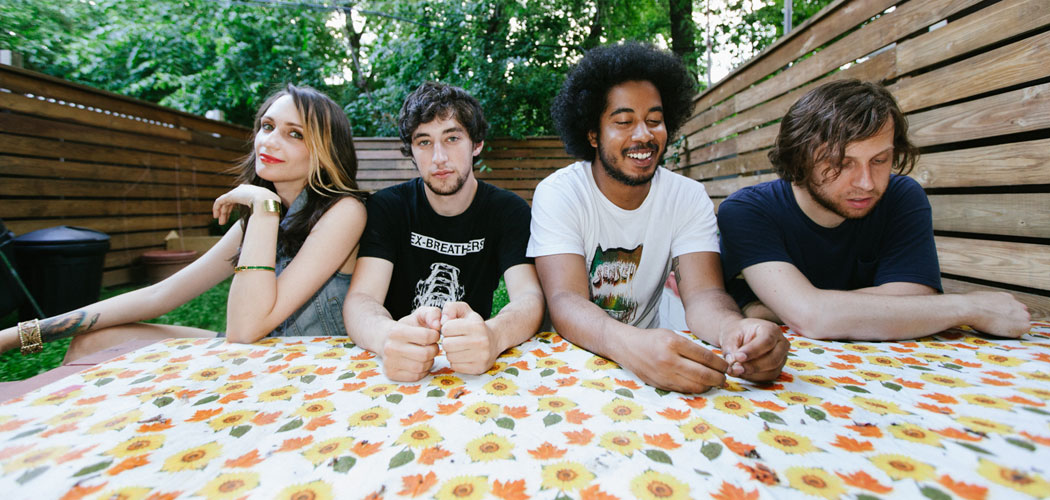 This article is more than 6 years old.
There is not a lot of fanfare when Speedy Ortiz finally take the stage around midnight on the first Friday of their December residency at Great Scott in Boston's Allston neighborhood. But the crowd, scruffy and flannel-clad and clutching cans of PBR, is rapt.
The band is loose and loud, scorching its way through zigzagging guitar riffs and twisty counterpoint with relaxed fury. Lead vocalist Sadie Dupuis, who sings in a strangely expressive deadpan, cuts through the thick distortion with calm incisiveness. When she gets to the refrain of the song "Everything's Bigger"—"We head up to Vermont"—it is with half-spoken wryness, as though she doesn't quite believe what she is singing.
"It was a joke about bands that name places in their songs. Which is something I always hated," she explains earlier that evening, while the rest of the band—drummer Mike Falcone, bassist Darl Ferm and guitarist Devin McKnight—are setting up for sound check. And indeed, upon closer inspection, the lyrics to "Everything's Bigger" betray a bit of an eye-roll: "You said a name of a state/ When horror's underway/ So you might escape back to a place/ Where horror stays away."
The Great Scott residency caps a busy year for Speedy Ortiz, who followed up their 2013 debut "Major Arcana" with the EP "Real Hair," performed at the Pitchfork Music Festival, and cut their new album at the Rare Book Room in Brooklyn. (The release date has not yet been announced.) "We've played all these big venues in New York, which is ridiculous to me, and we played the Paradise [in Boston]," says Ferm.
The residency, which concludes on Dec. 19, is a rare chance for the band to invite their favorite (mostly) local artists to share a bill: "a party," as Ferm describes it. Dec. 19 will feature Lemuria, Krill, Two Inch Astronaut and an as-yet-to-be-determined fourth band. Though Speedy Ortiz is closely identified with Northampton, its members are scattered throughout the Massachusetts, Connecticut and New York, and in many ways, Great Scott in Boston is home.
Much of Speedy Ortiz's appeal lies in Dupuis' poetic and intricate songwriting. The guitarist and singer, who recently earned an MFA in poetry from the University of Massachusetts Amherst, writes with both vivid impressionism and blunt acuity, sometimes in a single elegant swerve: "Me I'm just like my wife/ She's a blade and I'm a dull knife," she sings in "Everything's Bigger," a surreal meditation on split selves and relationship anxieties. Dupuis' songs often deal with depression and messed-up romance, but she is hardly heavy-handed or even obvious. She writes in tight curlicues, spooling her way through artfully wrought metaphors in a free-associative odyssey that nevertheless leaves an indelible trail. She might even reach for a math reference now and then, a throwback to her brief stint at Massachusetts Institute of Technology before she transferred to Barnard College to major in English.
"I'll definitely favor sound play or association play more than super straightforward, direct meaning," Dupuis explains. "Also because I never really identified with songs that are anthemic in an accessible way. You know what I mean? I never get into songs where the chorus is like a really short sentence repeated eight times. So whenever I'm writing something, I feel like there are a lot of ideas to get across. And I'm not going to do them in a totally simple way."
The same might be said for Speedy Ortiz's sound. Dupuis, who spearheads the band's arrangements, favors minor keys and wonky dissonances, taste she attributes to having sung in a professional children's choir growing up.
"A lot of the music was kind of avant-garde 20th century Russian choral music," she says. "And it would be really intense dissonant stuff. The director would have us be, like, holding these chords for a long time just to drill into our heads how to be dissonant and in tune. … So even when I started playing guitar, I had already had a lot of training doing that kind of vocal music. Which I think informed how I started playing guitar in the first place. I think I really approach songs with lots of parts built up. … Maybe sometimes they're working together and then they veer off from each other, much in the way that choral music is arranged."
Falcone, Ferm and McKnight share that sensibility, pointing to a common love of artists like Polvo and Unwound, bands that made careers of brash, discordant music in a '90s post-punk landscape.
"It's a way to get us to stay interested in the songs, too, though," says Falcone. "We don't want to write stuff that's, you know, four chords over and over again, because we'll probably get tired of them faster. There's more room for weird stuff and variation and experimenting. You know, we can play the songs for years straight and not get bored."
It is not immediately obvious, but there is playfulness at the heart of the music, perhaps as a result of that restlessness. The members of Speedy Ortiz seem to revel in small, unexpected moments and the pendulum swing from divergence to convergence. At the same time, they display an undeniable ear for pop-minded hooks, however unpredictable the musical scaffolding. Dupuis is as equipped to talk Top 40 as she is obscure Russian choral music, expressing appreciation for both Taylor Swift and Azealia Banks: "They're both pretty strong women who are songwriters—and kind of weird songwriters, even though they're housing themselves in these big pop projects."
Early in the band's first set at Great Scott, they bust out an off-kilter number in an odd time signature, and follow it up with a fast, fist-pounding anthem. A small pocket of the crowd begins to mosh, bobbing violently in time to the music. But it doesn't last. For Speedy Ortiz, the point is to keep you on your toes, eyes peeled for something startling and strange. Something you can turn over and over in different lights, and always hope to learn better.