'There's Still A Lot Of People Struggling'—MacArthur 'Genius' Mark Bradford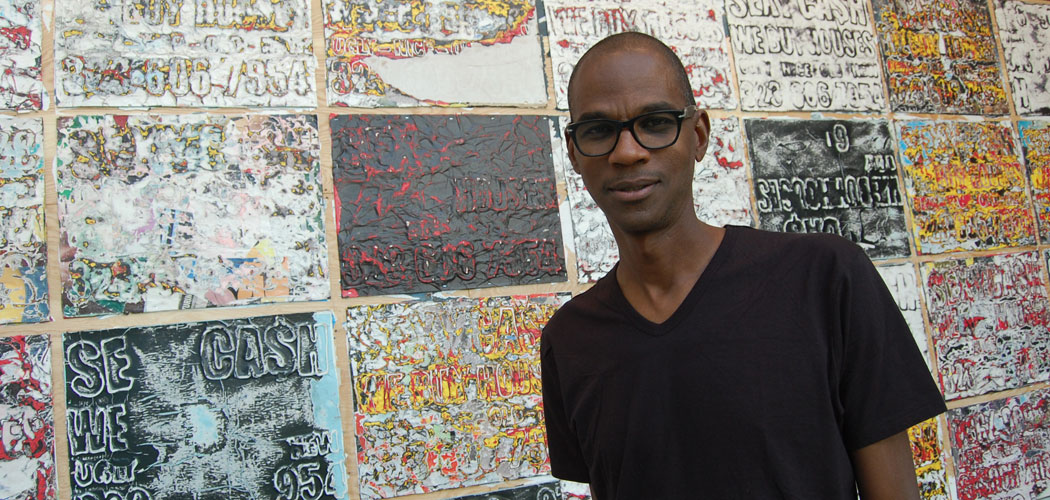 This article is more than 6 years old.
Mark Bradford has become of the most celebrated artists today with his vast, sensual collages that evoke both the glories of mid-20th-century abstraction and the problems of racism and poverty today. The MacArthur "Genius" Grant-winning Los Angeles artist aims to connect dots between exploitative contemporary real estate practices and the history of European colonial land grabs in his exhibition "Sea Monsters" at Brandeis University's Rose Art Museum in Waltham through Dec. 21. In September, I spoke with the 52-year-old artist about his wave-like paintings, deflated buoys and a monumental wall of "Sexy Cash" advertising signs.
Mark Bradford: "My art, I never could completely separate it from the social. I could never just have a hermetic studio life. It's just part of me. I've always been so curious of everything that's happening—social anthropology, social history."
"I knew I was going to have a [2015] show in Gemeentemuseum, which is in the Hague. I lived in Holland for a long time in the '80s, so I was super familiar with the history of Dutch trade and the Dutch were also one of the first mapmakers. So I've always had an interest in maps, mapmakers and trade routes in the 16th and 17th centuries. So when I went back there, I got very excited by that. I thought, oh, I'm going to do something that has to do with maps. Then I came back to my [Los Angeles] studio and I just happened to be walking around, like I do, and I just saw this campaign, it must have gone up while I was away, 'Sexy Cash.'"
"I'm amazed at the ways in which marketing—whether it's high advertising, like Apple, or super, super low informal cyclone fencing—I'm just amazed at how they constantly come up with ways to get your money or to take your house. So this one, I just never heard that before. It's so schizophrenic. How do you put in the same sentence 'sexy' and 'cash'? Well, 'Sexy Cash," okay, I can understand that. But having that relate to buying your house? I don't see how those go together."
"I kind of dismantled it. Well, 'Sexy Cash.' They make the cash sexy, right? So I guess, like, for a stripper, the guy who's making it rain, that cash is sexy because she needs that money to live her life. But then I started thinking about the beads and the Indians. I started thinking about the Dutch and how they went all over the world and traded and exploited and traded things that had no value to them for things like land. Hello, the Louisiana Purchase—it didn't come from the Dutch, but. Then I started thinking about explorers. In these 16th and 17th century maps, that were basically these guys were bringing sexy cash and buying houses, buying land. That's when I really started seeing that exploitation on a global level, on a micro and on a macro level, is just still going on. Somehow I connected 16th and 17th century trade routes and 'Sexy Cash.'"
"Another layer for me that I got really interested in is that we always have this thing about making the other dangerous. So I started reading these books. I read this book on sea monsters. The 16th and 17th century maps, they didn't understand the ocean, so it was a deep, dark, mysterious place. In these books of these sea monsters, they were half dolphins and half walruses. They had names for them. They had categories. I just became so fascinated by this. I just thought: this is so cool. What they didn't understand, they made terrifying. Although they needed these routes to exploit, they also started putting in, like, 'Well, be careful of these waters because they're full of sea monsters.' But a lot of it was actually just a marketing strategy by the mapmakers to discourage other explorers from taking those routes."
"So my mind just kind of collapsed 'Sexy Cash' and sea monsters and otherness and South Central [Los Angeles] as being full of sea monsters. And Ferguson, I guess, now is full of sea monsters. Anything that we don't understand. And that's where it came from—sea monsters."
"So the buoys, I basically drew maps on them. Those are nautical charts on the buoys. Some are inflated and half dead and some of them hang. Almost all of the maps come from the Atlantic because that was the main body of water for the Dutch, the French and the Portuguese."
"These [signs] were all from very close to my studio. I didn't have to go probably more than 2 miles in a radius to get these, it was very easy. You can call the number. It talks in this breathless, 'Do you want sexy cash?' It's kind of like porn meets real estate."
"My studio is in the fringe of South Central, but it gets coined South Central. South Central, again, is in a romantic narrative as a dangerous place full of sea monsters. But really South Central is just a neighborhood like any other neighborhood that hasn't been allowed in the mainstream or the media to move on since 'Boyz n the Hood,' circa 1988. Then, of course, the rappers help immortalize it even further. There's no bullets flying. So the myth hasn't moved on, but the day to day life has moved on."
"These [signs] are all on telephone poles or on cyclone fencing near buses. So these are people who have a relationship to the pavement, which means they're either walking or taking the bus. So these people are on the lower economic strata. They probably bought houses when we had all that hyper hyperinflation and you could buy houses quick. Around the Enron. Now they're underwater, they don't know what to do, and they're looking for a way out. I'm sure you've got people walking and on the bus who got a loan through stated income, can't afford it, trying to hold onto it."
"I'm always interested in people that are living on the fringe, living without a net. Because I grew up that way. Me and my mom, we lived real close to the edge. One person doesn't pay at [my mom's] hair salon, you stumble and break your ankle, you can have a really bad six months. We lived a lot without a net. And a lot of people do. Society only protects you if you sign up for the right things—insurance, health. People don't want to give healthcare to everyone. It's a crime. When I was a kid, if I broke a tooth, I had to go to County and you had to wait all day at the dental place. Getting sick was just not an option. I think that because I grew up with those types of people, I always like to remind middle-class and up there's still a lot of people struggling."
Greg Cook is co-founder of WBUR's ARTery. Be his friend on Twitter @AestheticResear and on the Facebook.