Hurricanes Top Bruins In Shootout 2-1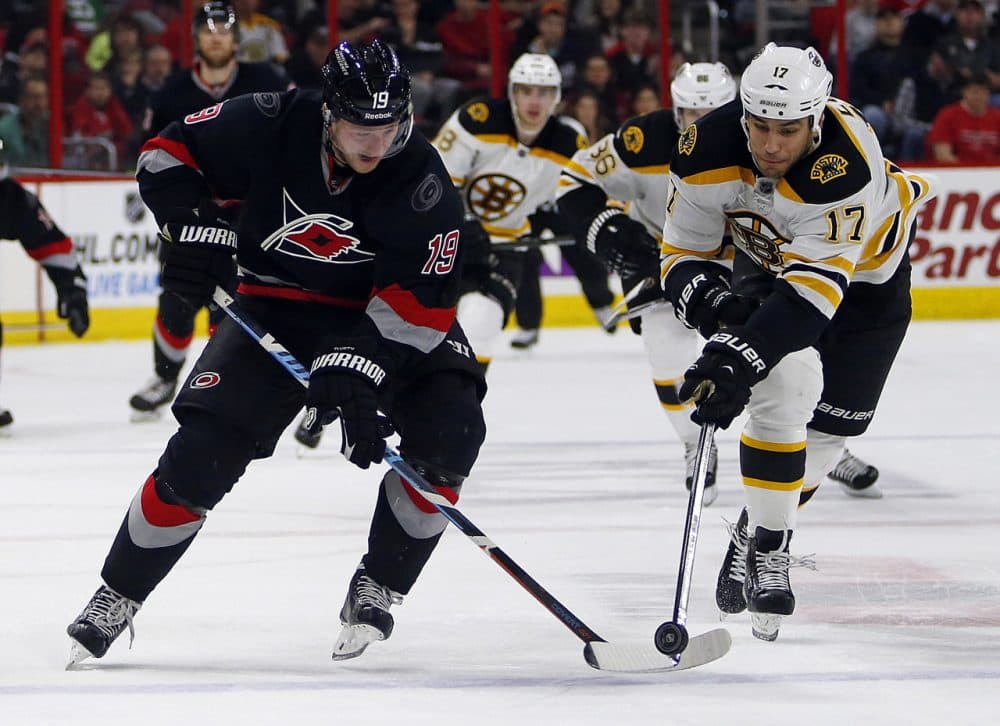 This article is more than 6 years old.
Eric Staal scored the only goal in the shootout to lift the Carolina Hurricanes to a 2-1 victory over the Boston Bruins on Sunday.
Anton Khudobin got the start in goal for Carolina in place of Cam Ward, who had played the previous four games. Khudobin, a former Bruin, made 19 saves and stopped Reilly Smith, Patrice Bergeron and Torey Krug in the shootout.
Tuukka Rask made 35 saves for Boston, but couldn't stop Staal.
Carolina outshot Boston 14-4 in the first period and took the lead into intermission with a late goal. Patrick Dwyer stuck a rebound past Rask with 33.2 seconds left for his third of the season on assists by Brad Malone and Jay McClement.
Bergeron tied it for Boston, one-timing a pass from Brad Marchand past Khudobin with 5:25 left in the second period. Dougie Hamilton also had an assist on Bergeron's goal, his eighth of the season.
In the final minute of the second period, Boston's Smith had an open net after a nifty pass from David Krejci, but Smith hit the post to keep the score tied at the second intermission.
The Bruins were held without a shot for nearly the first 17 minutes, but their first shot nearly was a goal. Smith was alone in front of the net but robbed by Khudobin. Midway through the second period, Khudobin handcuffed Smith on another attempt from close range.
The Hurricanes killed off one penalty that spanned the first and second periods, giving them 20 consecutive penalty kills.
Khudobin has won consecutive starts. He was 0-8-2 before winning 2-1 on Dec. 23 at New Jersey.
Notes: Boston entered having won six of the previous seven against Carolina, including four in a row. The Bruins fell to 1-5-1 in second end of back-to-back games. Boston lost 3-2 at home to Ottawa on Saturday. ... Jeff Skinner was back in the lineup for Carolina after missing Friday's game with flu-like symptoms. ... Forwards Zach Boychuk and Alexander Semin and defenseman Michal Jordan were scratches for the Hurricanes. ... Forward Jordan Caron and defenseman Matt Bartkowski were scratched by Boston.