The 30 Charges And Verdicts Against Dzhokhar Tsarnaev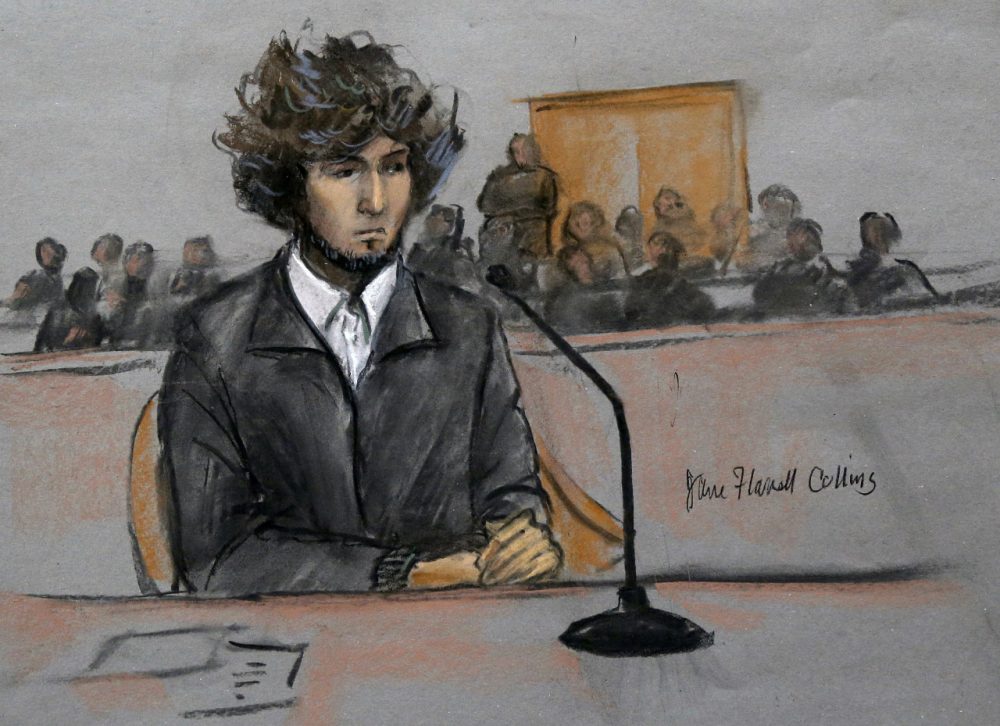 This article is more than 4 years old.
Dzhokhar Tsarnaev has been sentenced to death for the 2013 Boston Marathon bombings. In April, he was found guilty on all 30 charges in the trial. Seventeen of those charges carry the possibility of the death penalty (those are the charges the jury considered in their sentencing deliberations).
Here's a full list of the charges and verdicts against the 21-year-old bomber:
Note: Several of the following counts included sub questions, which asked the jury to indicate yes or no on different aspects of the crime. For example, whether the crime resulted in a specific person's death. The jury voted yes for each sub question. See the full details of the charges here. And here is the jury verdict form the jurors had to go through in the sentencing phase of the trial.
COUNT 1 — GUILTY
Conspiracy to use a weapon of mass destruction, resulting in death
*Death penalty charge
COUNT 2 — GUILTY
Use of a weapon of mass destruction (Pressure Cooker Bomb #1), resulting in death; and aiding and abetting
*Death penalty charge
COUNT 3 — GUILTY
Possession and use of a firearm (Pressure Cooker Bomb #1) during and in relation to a crime of violence, resulting in death; and aiding and abetting
*Death penalty charge
COUNT 4 — GUILTY (Sentenced to death)
Use of a weapon of mass destruction (Pressure Cooker Bomb #2), resulting in death; and aiding and abetting
*Death penalty charge
COUNT 5 — GUILTY (Sentenced to death)
Possession and use of a firearm (Pressure Cooker Bomb #2) during and in relation to a crime of violence, resulting in death; and aiding and abetting
*Death penalty charge
COUNT 6 — GUILTY
Conspiracy to bomb a place of public use, resulting in death
*Death penalty charge
COUNT 7 — GUILTY
Bombing of a place of public use (Pressure Cooker Bomb #1), resulting in death; aiding and abetting
*Death penalty charge
COUNT 8 — GUILTY
Possession and use of a firearm (Pressure Cooker Bomb #1) during and in relation to a crime of violence, resulting in death; aiding and abetting
*Death penalty charge
COUNT 9 — GUILTY (Sentenced to death)
Bombing of a place of public use (Pressure Cooker Bomb #2), resulting in death; aiding and abetting
*Death penalty charge
COUNT 10 — GUILTY (Sentenced to death)
Possession and use of a firearm (Pressure Cooker Bomb #2) during and in relation to a crime of violence, resulting in death; aiding and abetting
*Death penalty charge
COUNT 11 — GUILTY
Conspiracy to maliciously destroy property, resulting in death
COUNT 12 — GUILTY
Malicious destruction of property by means of an explosive (Pressure Cooker Bomb #1), resulting in death; aiding and abetting
*Death penalty charge
COUNT 13 — GUILTY
Possession and use of a firearm (Pressure Cooker Bomb #1) during and in relation to a crime of violence, resulting in death; aiding and abetting
*Death penalty charge
COUNT 14 — GUILTY (Sentenced to death)
Malicious destruction of property by means of an explosive (Pressure Cooker Bomb #2), resulting in death; aiding and abetting
*Death penalty charge
COUNT 15 — GUILTY (Sentenced to death)
Possession and use of a firearm (Pressure Cooker Bomb #2) during and in relation to a crime of violence, resulting in death; aiding and abetting
*Death penalty charge
COUNT 16 — GUILTY
Possession and use of a firearm (Ruger P95 9mm semiautomatic handgun) during and in relation to a crime of violence, resulting in death; aiding and abetting
*Death penalty charge
COUNT 17 — GUILTY
Possession and use of a firearm (Ruger P95 9mm semiautomatic handgun) during and in relation to a crime of violence, resulting in death; aiding and abetting
*Death penalty charge
COUNT 18 — GUILTY
Possession and use of a firearm (Ruger P95 9mm semiautomatic handgun) during and in relation to a crime of violence, resulting in death; aiding and abetting
*Death penalty charge
COUNT 19 — GUILTY
Carjacking, resulting in serious bodily injury; aiding and abetting
COUNT 20 — GUILTY
Possession and use of a firearm (Ruger P95 9mm semiautomatic handgun) during and in relation to a crime of violence; aiding and abetting
COUNT 21 — GUILTY
Interference with commerce by threats and violence; aiding and abetting
COUNT 22 — GUILTY
Possession and use of a firearm (Ruger P95 9mm semiautomatic handgun) during and in relation to a crime of violence; aiding and abetting
COUNT 23 — GUILTY
Use of a weapon of mass destruction (Pressure Cooker Bomb #3 on or about April 19, 2013, in the vicinity of Laurel Street and Dexter Avenue in Watertown); aiding and abetting
COUNT 24 — GUILTY
Possession and use of a firearm (a Ruger P95 9mm semiautomatic handgun and Pressure Cooker Bomb #3) during and in relation to a crime of violence; aiding and abetting
COUNT 25 — GUILTY
Use of a weapon of mass destruction (Pipe Bomb #1 on or about April 19, 2013, in the vicinity of Laurel Street and Dexter Avenue in Watertown); aiding and abetting
COUNT 26 — GUILTY
Possession and use of a firearm (a Ruger P95 9mm semiautomatic handgun and Pipe Bomb #1) during and in relation to a crime of violence; aiding and abetting
COUNT 27 — GUILTY
Use of a weapon of mass destruction (Pipe Bomb #2 on or about April 19, 2013, in the vicinity of Laurel Street and Dexter Avenue in Watertown); aiding and abetting
COUNT 28 — GUILTY
Possession and use of a firearm (a Ruger P95 9mm semiautomatic handgun and Pipe Bomb #2) during and in relation to a crime of violence; aiding and abetting
COUNT 29 — GUILTY
Use of a weapon of mass destruction (Pipe Bomb #3 on or about April 19, 2013, in the vicinity of Laurel Street and Dexter Avenue in Watertown); aiding and abetting
COUNT 30 — GUILTY
Possession and use of a firearm (a Ruger P95 9mm semiautomatic handgun and Pipe Bomb #3) during and in relation to a crime of violence; aiding and abetting