A Man Of Many Faces — MFA Showcases Alec Guinness
Once a Jedi, now a legend: Sir Alec Guinness was a giant of the British stage and screen. An actor that could easily change gears from fluffy comedies to somber epic works, Guinness' soft-spoken manner opened up seemingly limitless character possibilities. In one movie, he would play a good-for-nothing Cockney crook, and in the next, he would embody a naïve inventor with an all-earnest zeal for scientific discovery. He would lead POWs across rivers or train a young Jedi to use the Force.
The acting talents of Guinness were many, and from Jan. 7 to Jan. 15, highlights of Guinness's career can be seen at the Museum of Fine Arts.
Born in London, Guinness rose through the ranks as a young man still in drama school. A brief stint in the navy didn't sidetrack him long from the spotlight, as Guinness soon caught the eye of director David Lean for his first credited role in "Great Expectations." Their second Dickensian collaboration, "Oliver Twist," and Lean's most famous epic, "Lawrence of Arabia," are among the films showing in the MFA's retrospective. But perhaps it is in Lean's "The Bridge on the River Kwai," where Guinness, playing Lieutenant Colonel Nicholson, showcases his acting range to greatest effect.
In Nicholson, we see remnants of the old British Empire and its dutiful obedience to the law. Nicholson is one of hundreds of prisoners of war under the cruel command of Colonel Saito (played by silent star Sessue Hayakawa). Under pressure to complete a tactical bridge for his troops, Saito butts heads with Nicholson to force the British men to work faster in inhumane conditions. How Nicholson responds, though American Commander Shears (William Holden) sees it as treasonous, fits in with the old British guard and their dedication to keep a stiff upper lip. Director Lean carries Nicholson's misplaced sense of duty to its logical tragic conclusion, questioning the way the British military conducted its campaigns. Guinness' detailed performance springs from his previous naval experience and his compassion for his misguided character.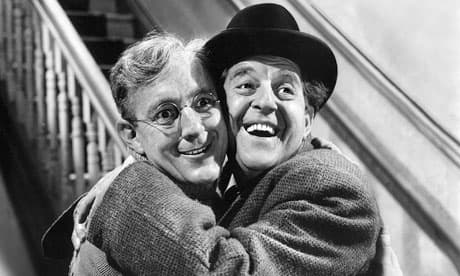 Apart from Victorian literary characters and noble men of war, Guinness is best known for his Ealing Comedies, named after the studio that produced them. The MFA is screening many of these beloved titles: "The Ladykillers," "Kind Hearts and Coronets" (where Guinness plays more than eight characters) and "The Lavender Hill Mob." Yet it is in the quirky "The Man in the White Suite" which audiences see social commentary within the folds of his touching performance. Guinness plays Sidney Stratton, an idealistic young inventor who develops a fabric that never dirties or tears. This would be fine and dandy if it didn't interfere with the industries that profit from wear and tear. Stratton comes across as a meek fellow until he has to fight for his invention, which could potentially free up time and money for the working masses. Guinness' bright-eyed approach to this character immediately has the audience siding with him, despite his character's eccentricities and naïveté.
Alec Guinness was a man of many faces. He could sit straight and regal or wobble crooked. The audience never feels like Guinness is overacting even when he's playing for grand effect. His role of Prince Feisal in "Lawrence of Arabia" is the cool reflection to Peter O'Toole's tempestuous T.E. Lawrence, and his portrayal of Nicholson in "River Kwai" illustrates the rigid structure lacking in Holden's Commander Shears. His acting is a gentle range of characteristics, one best appreciated when viewing the many characters he brought to life.
Monica Castillo is a freelance film critic and writer based in Boston. You can usually find her outside any of the area's movie theaters excitedly talking about the film she just saw.