Boston Shelter Expected To Open With 100 Beds
03:22
Play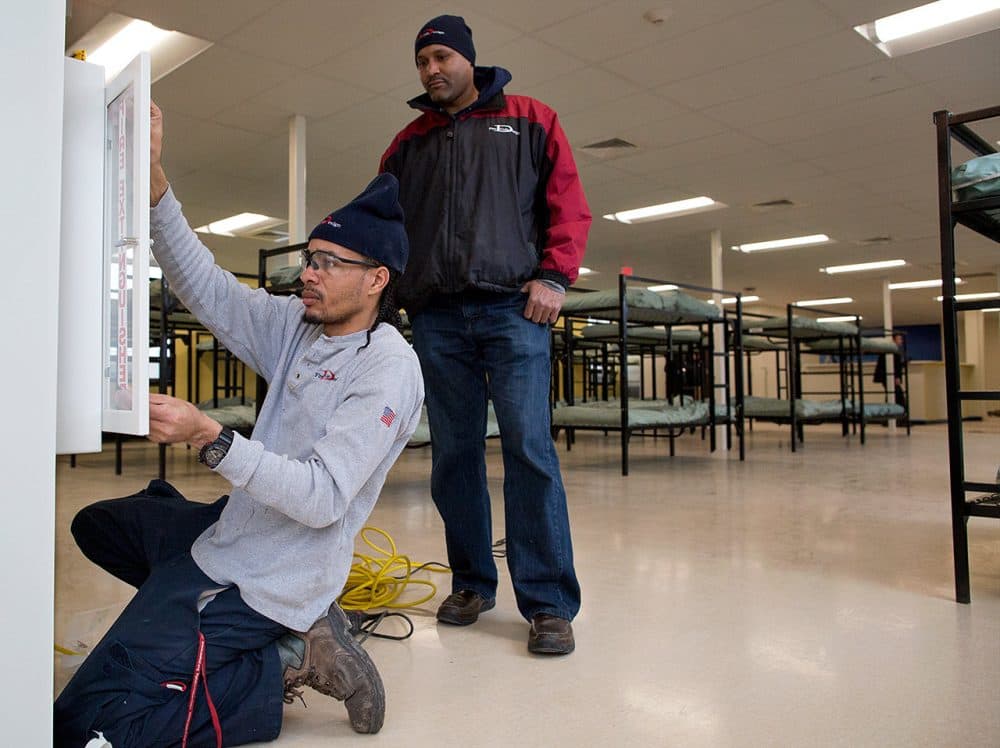 This article is more than 6 years old.
As Boston officials rush to create shelter space for some of the 700 homeless people who were displaced when the only bridge to Long Island was closed, 100 new beds are scheduled to become available Tuesday.
Painters, pipefitters, welders, carpenters and many more union workers have been hard at it for about two weeks now, transforming the disused city transportation building at 112 Southampton St. into what Mayor Marty Walsh promised would be a "state-of-the-art" homeless shelter.
Carpenter Rick Mason, who on Monday was installing safety railings on a loading dock at the 45,000-square-foot building, has been working to help get the facility ready for its first occupants by Tuesday night.
"Long hours, 12-hour days on average," Mason said. "But for a good cause to get it all done, and to me it's worth it."
Upstairs, 100 freshly painted metal bunk beds and bedding await, along with a new shower and bathroom, as well as offices, workshops and a dining area. This first phase of renovations is budgeted at about $2 million, but it could take millions more to reach the eventual goal of 490 beds.
Added shelter capacity for at least some of those displaced when the Long Island bridge was condemned in October, cutting off access to several city-run shelters and recovery programs, can't come soon enough.
"We're thrilled and relieved that we have another 100 beds starting," said Pooja Bhalla, clinical director for the nonprofit Health Care for the Homeless Program.
At the group's clinic a few blocks away from the new shelter, Tom, who did not want his last name used because of his opiate addiction, says the Long Island facility's substance abuse services helped to steady him. Now, Tom says, getting by is harder.
"My eating habits have changed. I've been sick 'cause of the hot and the cold," he said. "It's got a lot of people out on the streets right now when they shouldn't be."
Since the bridge closure, Tom and many others have bounced between the streets and temporary shelter in a South End gym or other provisional facilities — including 45 cots for women that are set up in an atrium of the Health Care for the Homeless clinic each night.
Bhalla said as helpful as the additional space on Southampton Street will be, the facility only addresses part of the need.
"When something like this happens, everything gets triggered, especially the folks who are struggling with addiction, many of them moved off very quickly without any access to treatment," Bhalla said.
None of the beds being made available Tuesday are specifically for addicts. A new post-detox facility with 45 beds does open in Mattapan later this month.
Still, in the wake of the bridge closure, the city will remain short hundreds of beds for the homeless, making all involved anxious to see spring come, when the complete build-out of the Southampton Street shelter is expected to be finished.
This segment aired on January 13, 2015.