SpeakEasy's 'A Future Perfect' Asks Smart Questions Of These Friends
This article is more than 8 years old.
The quartet around which Ken Urban builds his new play, "A Future Perfect," are anything but ideal. They say the wrong things, lash out at one another for the wrong reasons, and have spasms of pettiness. Life disappoints them, and they disappoint each other. Friends since their college days at Cornell, they find that time has a way of picking apart individuals as well as relationships.
Case in point: Claire (Marianna Bassham), a professional woman whose first reaction upon hearing that a close friend, Elena (Chelsea Diehl), is pregnant, is to unleash a two-pronged full-frontal attack. Claire is put out that Elena and her husband Alex (Nael Nacer) didn't come out with the news; she had to deduce it. She's also worried that having a baby is going to derail Elena's career, which she's been mentoring.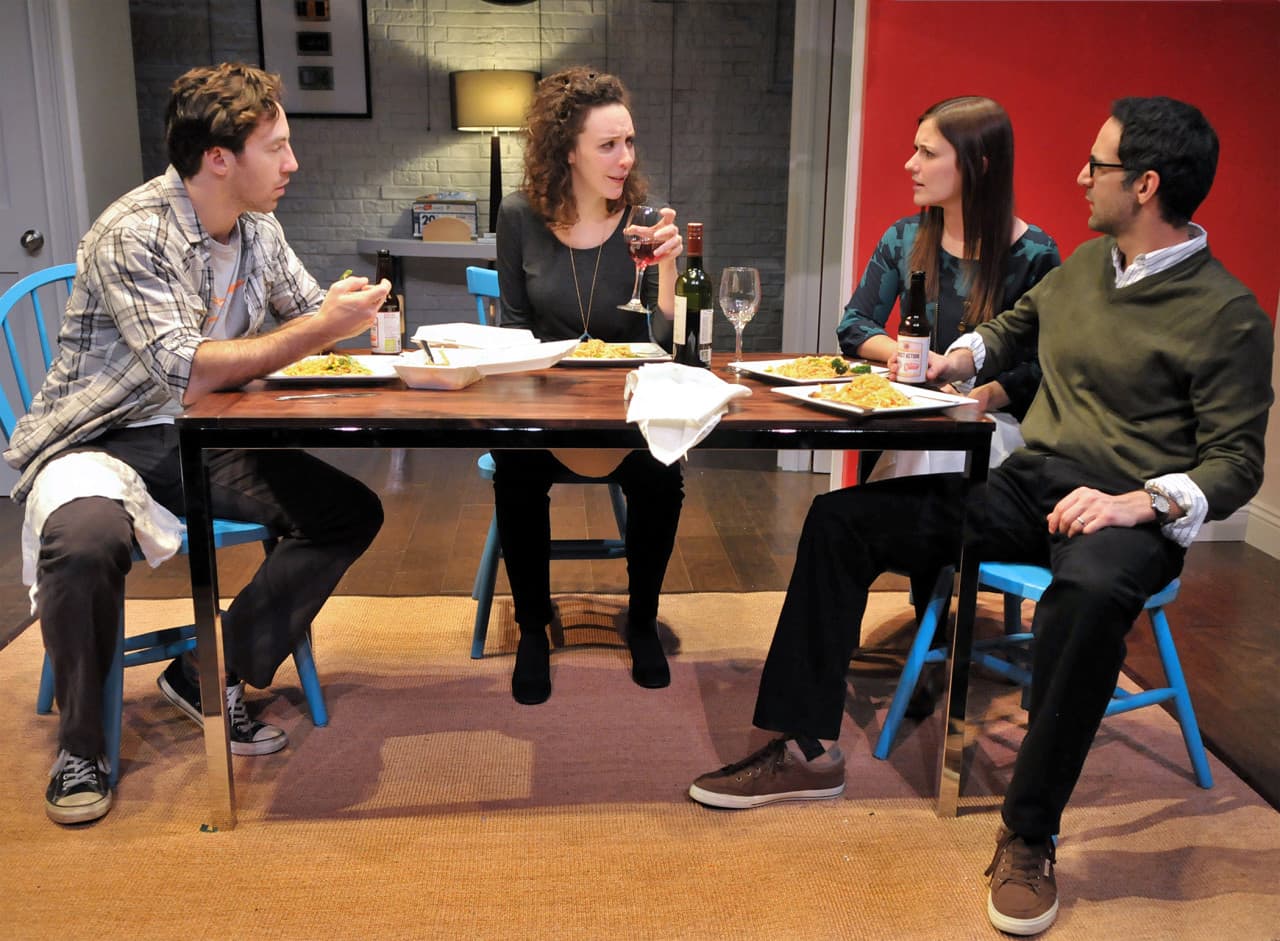 If Claire seems a little too hands-on when it comes to everyone else's lives, it stems in part from her role as primary breadwinner in her own household. Claire's husband Max (Brian Hastert) earns a crumb or two as a writer and puppeteer for a show on PBS, but that's all he's able to contribute financially. When Max floats the idea to Claire that the two of them might like a baby of their own, she shoots the notion down both for financial and philosophical reasons — if, that is, you can call "We want an adult life" a philosophy.
The world premiere by SpeakEasy Stage Company (through Feb. 7 at the Boston Center for the Arts) is set against the backdrop of autumn 2011, when the Occupy movement is in full force and corporate America is squeezing its workers. Claire has just scored a promotion by dint of working extra hours — lots of them — and the first thing she does when she earns her new position is fire the colleague whose attempts at work-life balance meant that he "left on time" and "said no" to extra tasks.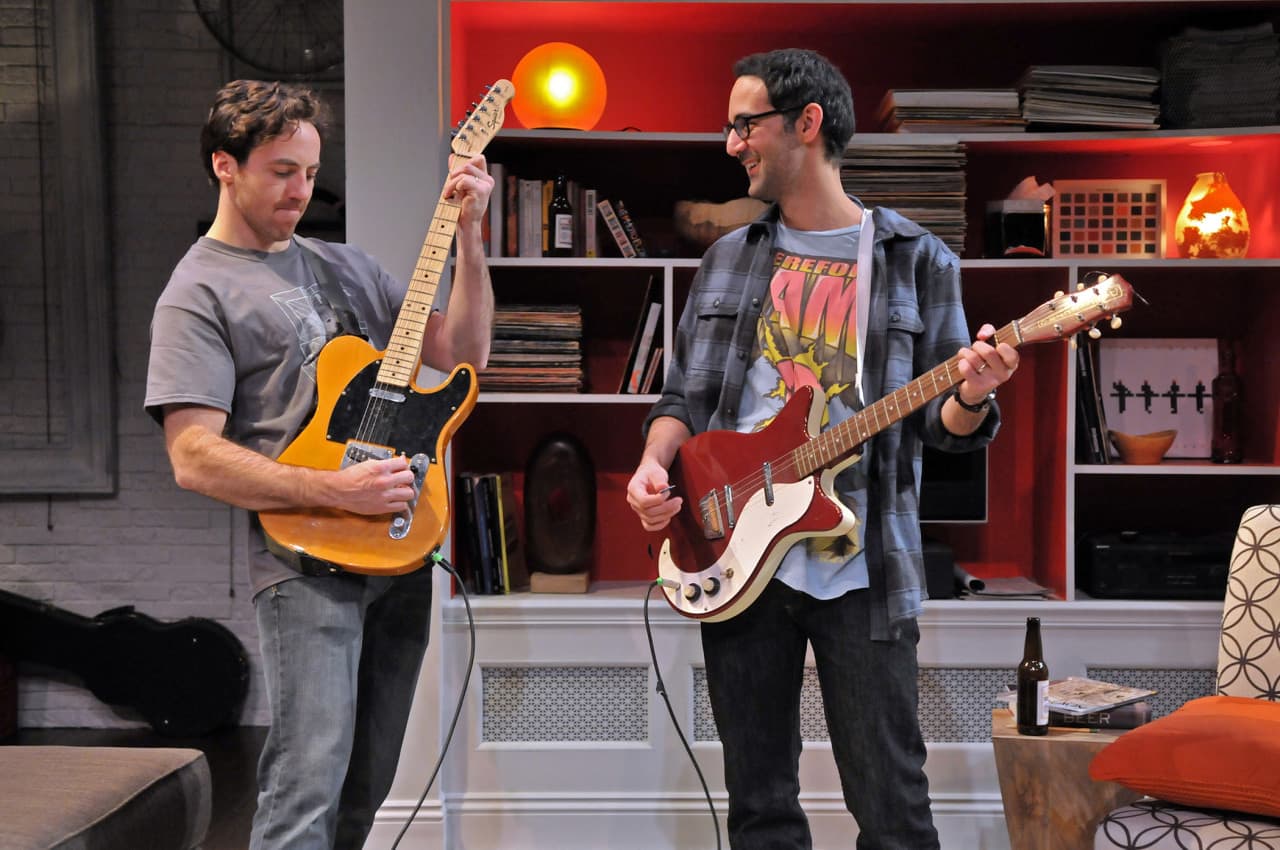 The story also unfolds within the walls of a small, tidy Brooklyn apartment where Claire and Max host dinners of takeout and red wine, still dressed in their professional casual attire, and wrestle with the complications of friendship and marriage. Impending fatherhood annihilates Alex's ability to spend time with Max; Elena's barely perceptible status as an outsider to the tight circle the other three have enjoyed since their college days (Elena alone attended a non-Ivy League school) chafes, mildly but constantly, and as soon as her life circumstances start to shift, latent jealousies flare and schisms emerge. Meantime, new anxieties come into play — Alex, in a burst of unguarded frankness, reckons that the prospect of parenthood is "terrifying." Urban specializes in such telling, potent slips of the tongue; in his hands, a mere wrong word is like a wrecking ball.
But that wrecking ball doesn't crash in anyplace that's not primed with an explosive emotional charge, and that's where the cast prove themselves especially able. Nacer is in peak form as the jittery Alex, and Diehl matches him for intensity as the latecomer who's simmering with resentment and insecurity. We see less of them than of Max and Claire, but Hastert and Bassham nail their scenes as the latter couple whether sniping, arguing, making up, or fumbling their way hilariously toward energetic, adrenalized sex after a moment of crisis. When the guys get together to talk music and play guitars, their affect is one of comfortable friendship; when the ladies convene, there's a sharpness to their interplay that fairly crackles. All this is built on the same gender role stereotyping that the play consciously challenges, but Urban offers us no easy bromides — rather, he ruefully delineates the kinds of interrelated economic, social, and political stresses that make modern life so fraught with opportunity and challenge.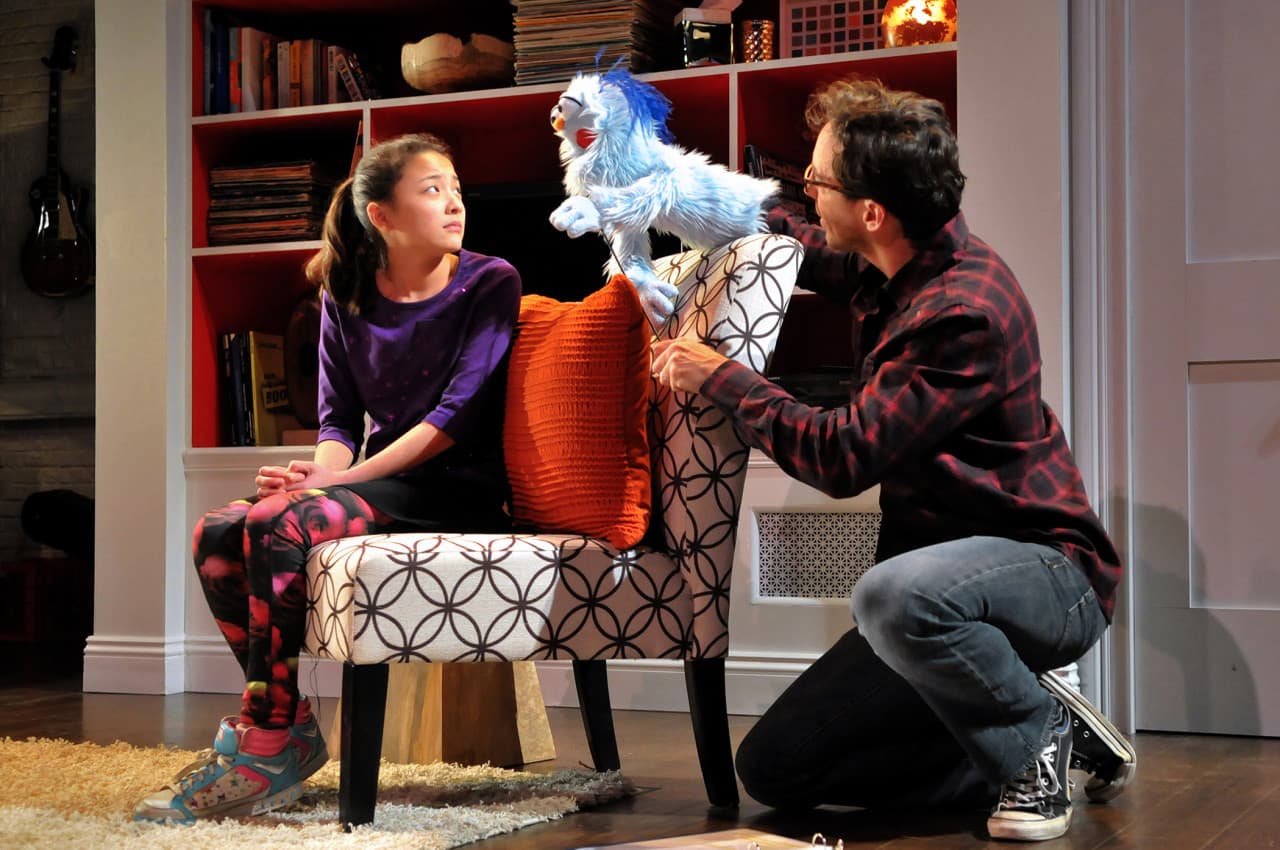 SpeakEasy gives the play a rich and resonant world premiere, with scenic design by the reliably excellent Cristina Todesco, costumes by Elisabetta Polito, and effective sound and light design by Nathan Leigh and Jen Rock, respectively, who don't overwhelm the play with their technical contributions, but make them count while remaining almost unnoticed – just as they should be. Director M. Bevin O'Gara plies the script's layers of conflict and characterization, bringing out the best in an impressive cast. Bassham and Nacer have long been standouts on the Boston theater scene, but Diehl, Hastert, and Uatchet Jin Juch – who has a small but memorable role as an 11-year-old actress who works with Max — prove themselves actors to watch with their SpeakEasy debuts.
Kilian Melloy has reviewed film and theater for a number of publications, including EDGE Boston and the Cambridge Chronicle. He is a member of the Boston Theater Critics Association and the Boston Online Film Critics Association.