Free Speech Takes The Stage: 'Red Hot Patriot' And 'Muckrakers'
This article is more than 8 years old.
What providential timing, that as the world debates freedom of expression, two plays focusing on satire, censorship and free speech run in the Boston area throughout January. "Muckrakers," at the New Repertory Theatre in Watertown, is a WikiLeaks-tinged disquisition weighing the right to information and privacy. And at the Lyric Stage Company of Boston, "Red Hot Patriot: the Kick-Ass Wit of Molly Ivins" chronicles the life and work of a colorful journalist who satirized the good old boys of politics.
Ladies first. Ha! Molly Ivins would heap scorn on such a phrase. To say that she was larger than life is a handy cliché for a six-foot-tall redhead, an outspoken political commentator in an era and a place where demure, retreating females were the far more welcome norm.
"Red Hot Patriot," by sisters Margaret and Allison Engle, could have been titled "Blue Patriot in a Red State." A one-woman show starring the captivating Karen MacDonald, it documents a bygone era of journalism, when news came on paper and journalism was a profession widely viewed in a positive light.
In a way, "Red Hot Patriot" is a vibrant, pulsating museum piece. Young-'uns (as Ivins might say) can peep into a world where reporters fought their way through towers of messy paper to tap on keyboards sticky with barbeque sauce. Newsrooms were smoky and noisy, with clattering typewriters and AP teletype machines. Sources were people to be courted in long evenings at a bar, not plucked from online chat rooms. (But I'm getting ahead of myself: the chat rooms happen in "Muckrakers.")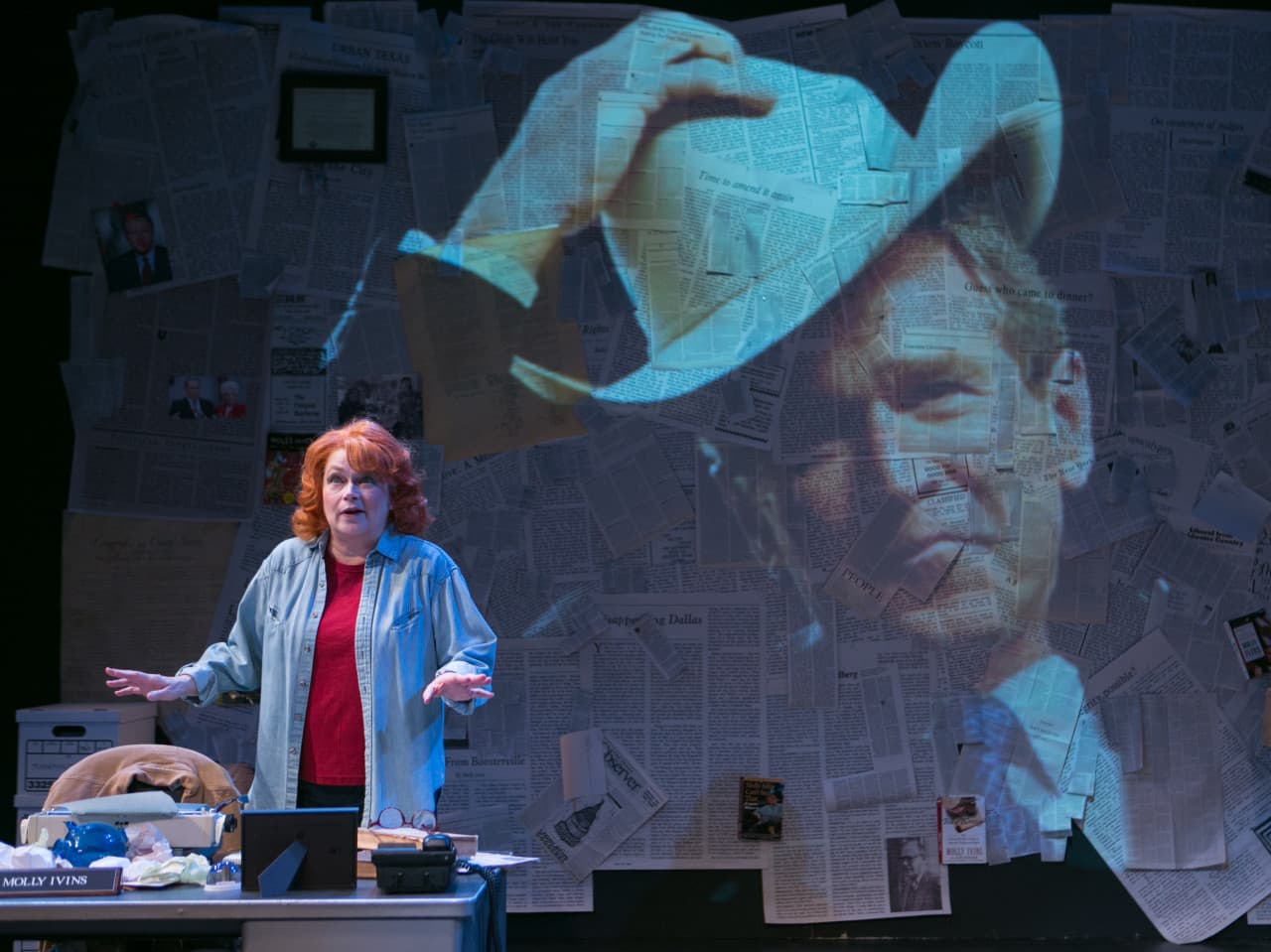 Molly Ivins was caustic, hilarious and courageous, a trilingual Ivy League-educated intellectual in cowboy boots. MacDonald's jeans and workshirt costume is as evocative as is her softly curling Texas drawl.
The set, by Katharine Burkhart, is echt-newsroom. Basic messy gray metal desk and file cabinet, piles of newspapers and backdrop wall of clips, which serves as a screen for projected images of people and places in Ivins' universe.
Ivins' lifestyle didn't leave much time for a personal life, but she was beloved by many (though reviled by those she skewered) in the several worlds she inhabited. There's Texas, of course, both the privileged Texas where she grew up, and the peoples' Texas, where she campaigned for social change and economic equality. And there were the high-minded intellectual circles of the Northeast; she went to Smith College and graduate journalism school at Columbia, and learned the fine art of speaking truth to power. Ivins said her unhappiest days were spent at the New York Times ("a great newspaper… it is also No Fun"), where she felt censored and toned down, with sharp edges of her essays smoothed in rewrite. "Naturally, I was miserable, at five times my previous salary," she wrote.
Charlie Hebdo is a publication where Molly Ivins would have thrived. "The best six years of my life," Ivins said, were spent co-editing the Texas Observer, writing piss-and-vinegar accounts of the state legislature. Ivins died at 62 in 2007, but were she still around, she'd be saying "Je suis Charlie" in an accent perfected when she studied in Paris. And she might add, "beloveds," because that's what she called her readers.
But something that Ivins wrote makes me wonder whether she'd have wholeheartedly approved of the way Charlie Hebdo repeatedly satirized the beliefs of the Muslim minority. Speaking truth to power may be acceptable, but in France this minority isn't in power. Here's what Ivins wrote: "Satire is traditionally the weapon of the powerless against the powerful. I only aim at the powerful. When satire is aimed at the powerless, it is not only cruel — it's vulgar."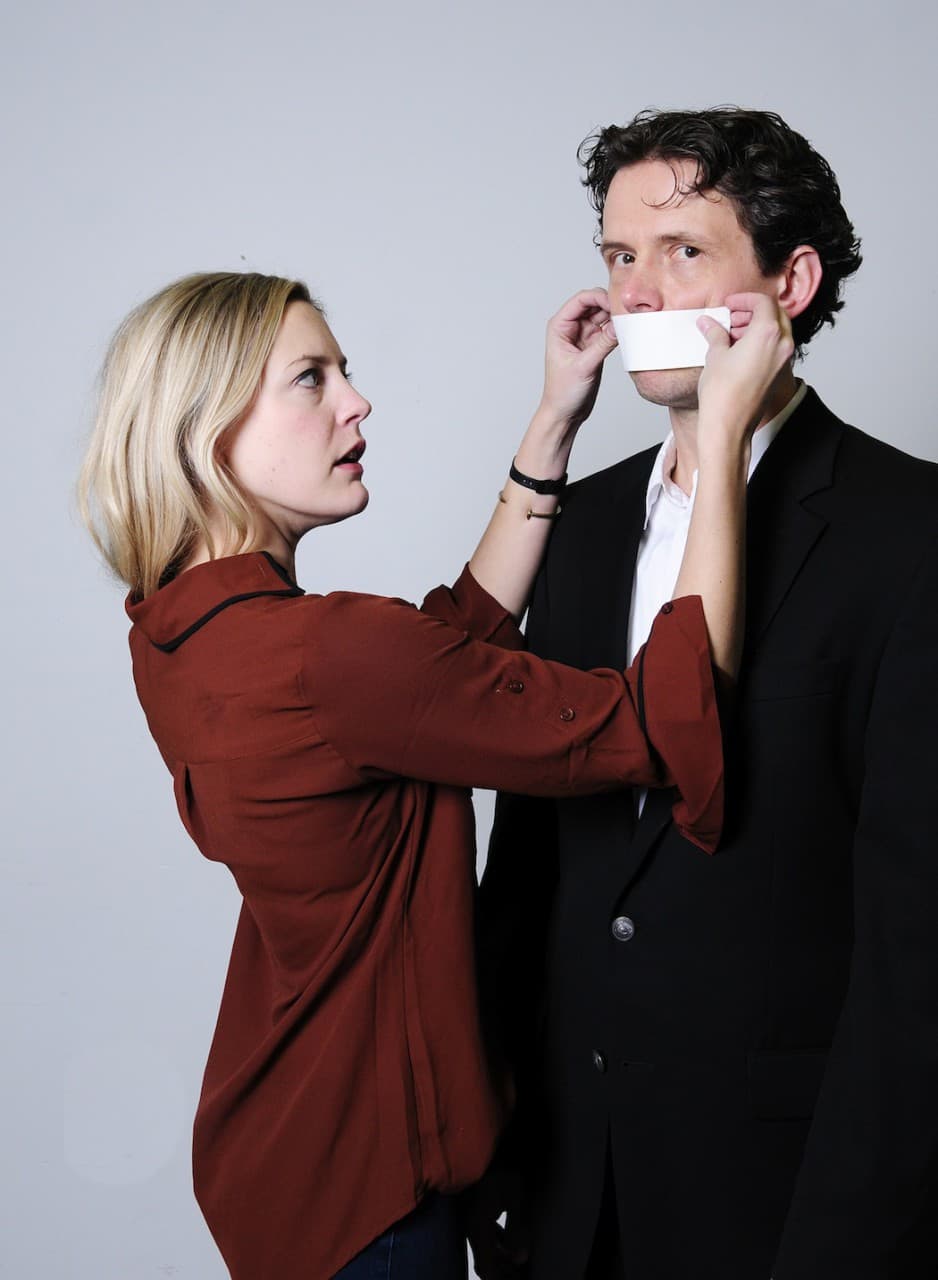 Freedom of speech is a theme of "Muckrakers," by Zayd Dohrn. Lewis Wheeler plays the title character, the muckraker Stephen, an Edward Snowden-like character who has published classified information provided by a military insider. While Stephen tours world capitals lecturing about governmental transparency and privacy issues, the source he met in an online chat room is locked in a military brig, potentially facing a firing squad for leaking the classified information.
The play's only other character, convincingly played by Esme Allen, is Mira, an idealistic, but dangerously callow young online anarchist set on freeing the world by publishing or streaming everything conceivable, personal, private or public.
The play begins with Mira and Stephen's noisy arrival at her sparse apartment (set by Alexander Grover), bubbling with excitement following a successful public speech Stephen's just given, in part sponsored by Mira's website. They tease, drink and yak about politics, freedom of information, privacy issues and sex. Do we assume it boasts some authenticity as an accurate depiction of post-political-speech activity? The playwright is the son of revolutionaries Bernardine Dohrn and Bill Ayers, who were leaders of the Weather Underground.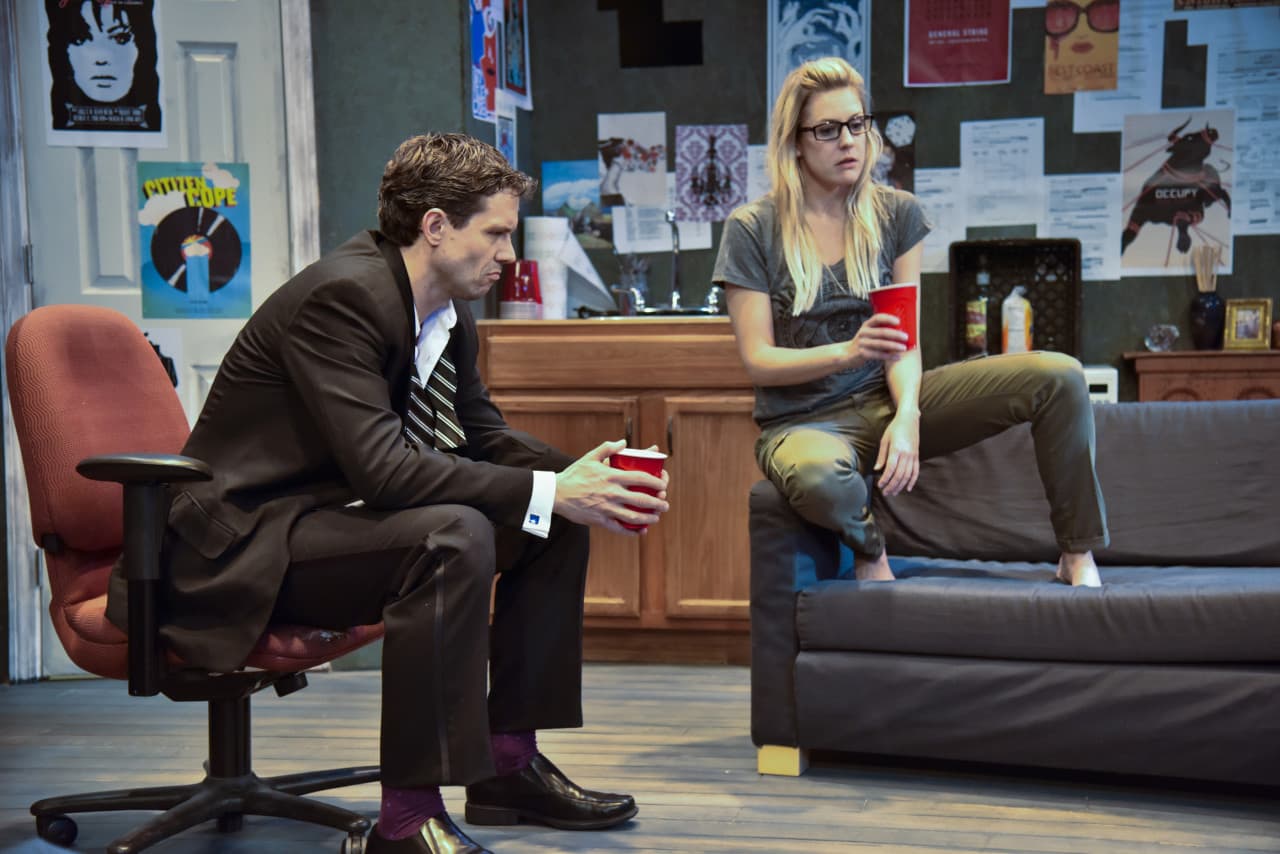 Free speech and full disclosure could result in my telling you about the x-rated activities and twisting jolts in the plot, but my own spoiler alert prevents me from publishing everything I know. The very gifted Wheeler hasn't quite morphed into this character, and the chemistry between the two hasn't caught fire. But if you're a patient listener, and eager for discourse on subjects very much in the headlines today, go see it for yourself.
Sharon Basco is a journalist, critic and public radio producer.