The Ferocious Return Of The Groundbreaking Riot Grrrl Band Sleater-Kinney
"We haven't drastically changed as people," says Janet Weiss, the drummer in the groundbreaking riot grrrl trio Sleater-Kinney. "As I get older, I become less idealistic and more based in reality. What has been important to us still is important to us—the idea of equality, the idea of people feeling disenfranchised or outside, these ideas of empowerment. I think these are all the same sort of big issues we've been making records about since the beginning. If anything, it's more so."
By now, fans of the Olympia, Washington, band, will have heard that Sleater-Kinney has regrouped for its first album in 10 years and a subsequent tour (the Boston date, at the House of Blues, Feb. 22, is sold out). What a listen to the ferocious new release, "No Cities to Love," (for sale Jan. 20 and streaming for a limited time at npr.org), reveals is that the trio has returned undiminished by either age or time off. In terms of punk power and lyrical relevance, the new album—spearheaded by the grinding heat of the single "Bury Our Friends"—has all the power and drive that fans remember, hearkening back to 1997's "Dig Me Out," only with better production.
Formed by guitarists/vocalists Corin Tucker and Carrie Brownstein in 1994—Weiss (pictured at far left in the photo above by Brigette Sire) joined two years later—Sleater-Kinney won acclaim and a rabid fan base by mixing lacerating punk with lyrics that confronted both the personal and political with equal fervor, from the raw desire of "Turn It On" to the post-9/11 scalding of "Far Away" ("the president hides/while working men rush in. To give their lives"). (Critic Greil Marcus named Sleater-Kinney "America's best band" in 2001.) Fuelled by Tucker and Brownstein's wiry, often atonal guitars, Tucker's distinctive quavering yowl, and Weiss's demonic pounding, the band released seven albums in 11 years and toured constantly through 2006. That schedule, says Weiss, took "a physical toll."
"We were pretty worn out," says the drummer. "Carrie went to the emergency room like seven times. Corin was away from her kid and pretty bummed about it. It felt like, we can't do this band halfway. We can't do it broken down and tired. We have control of this band. We can say, 'Let's stop,' and so we did."
During the hiatus, the members—all now in their 40s—kept busy: Tucker releasing a solo album, Weiss performing and recording in the band Wild Flag with Brownstein (who also created and stars in the TV show "Portlandia"), among other projects. But although Weiss says she was surprised when Tucker called her ("I thought everyone was so busy"), a reunion was always a possibility.
"You start to feel like after a certain amount of years, it's like, well, if we're going to do it, do it now," says Weiss. The album was a natural outgrowth. "We quickly decided that just doing a tour, playing the old songs, was not going to be rewarding enough. We had to make a new record," she says. "It seemed incredibly daunting, but it seemed right."
A legacy like Sleater-Kinney's can be a burden, one that Weiss acknowledges played into the recording. "On this record we did a lot of editing. We felt the weight of coming back and knowing this record has to be one of our best."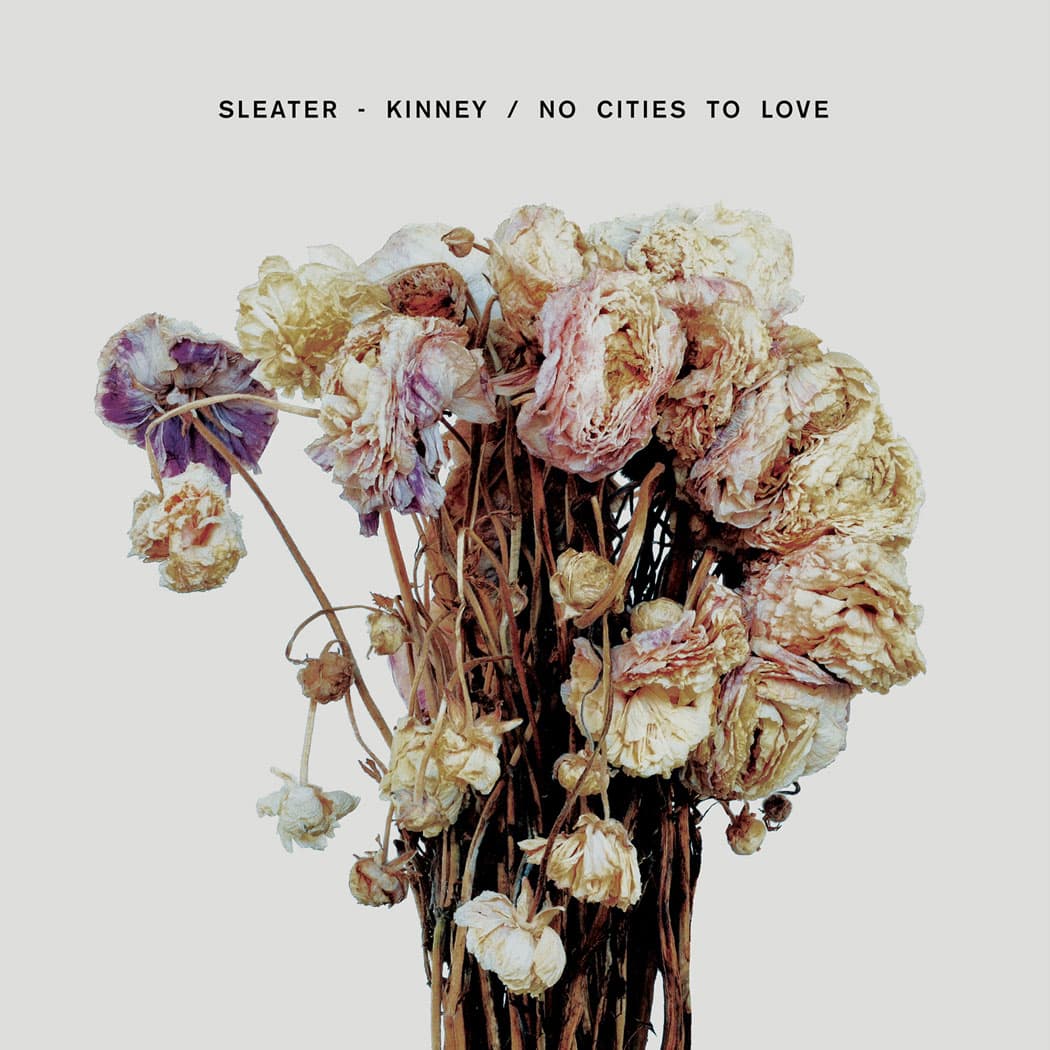 There was another challenge facing the trio as well. This was a band that had toured extensively, working new material out on stage. In contrast, "No Cities To Love" was written and recorded entirely in the studio, before the band had even announced its reunion.
That process, says Weiss, contributed to the sound. "These songs were written mostly in a space with no air at all," she says, "a pretty small basement that had been very meticulously soundproofed. It was kind of claustrophobic, but I feel like there's a desperation to push beyond that that I can hear" in the recording. "To hear it actually come alive was very inspiring."
The result is a sui generis mix of caterwaul and punk power, from the arms akimbo spikiness of "Price Tag" to the cascading guitars of "Surface Envy." Even the relatively quiet among these 10 numbers—like the title track, with its tricky riff, or the sweet harmonies of "A New Wave"—have a familiar thorniness to them. As do the lyrics. Brownstein, speaking to NPR, has said, "We had no desire to revisit sounds and sights and paths we have treaded before," but fans will recognize concerns with globalization ("Price Tag") and participatory democracy ("Surface Envy") in the poetically political lyrics.
Although the band's earlier albums tackled lust and love as well as progressive causes—sometimes combined, as in "You're No Rock N' Roll Fun"—Sleater-Kinney was always political by definition. In the DIY feminism of the riot grrrl movement, simply being female and playing this kind of music made a statement, bonding bands and the fans who often went on to make their own kind of noise. It's a responsibility that has only grown with time.
"Music for me when I was young was transformative. It was really important in my life, so I definitely relate to that, the idea that you need music," says Weiss. "But beyond that, I'm hoping that we show people how to take small steps to feel more empowered in your life.
"Everybody wants to make a difference, you know," she says. "I pound on things to make a difference, but it's partially to show possibility and freedom. Music can be a reflection of how your life can be."
Twenty years out, the band members, Weiss acknowledges, have become bona fide role models. But that can't be motivation for Sleater-Kinney going forward, she says. As the band faces an open future, with more albums and more tours a possibility, the three as artists have to do it for themselves.
"Writing," she says, "we're in a small room. We're really just trying to express ourselves. We're trying to lead the conversation. We're not trying to make something that could be something for someone. We're trying to say, this is what we made, and people can follow it or absorb it. It's up to the listener, really, to react."
This article was originally published on January 19, 2015.