WBUR Poll: Gov. Baker Begins Tenure With Strong Approval Rating In Boston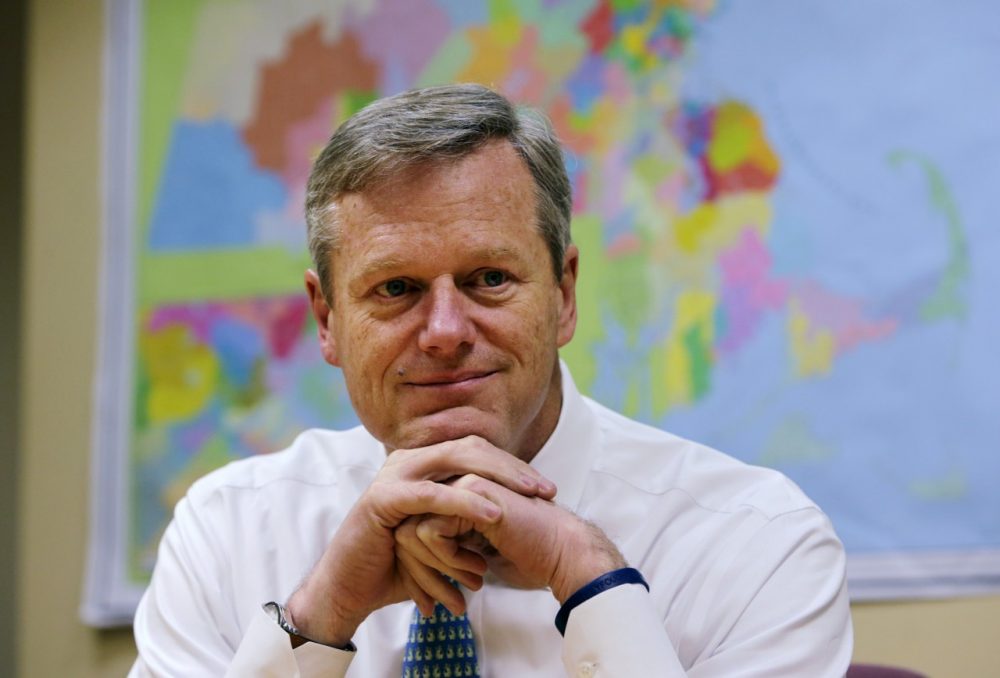 This article is more than 7 years old.
At the outset of his tenure, a WBUR poll shows Bostonians seem to be thinking more favorably of Gov. Charlie Baker than they did during the political campaign season.
The new governor has a 58 percent approval rating among Boston voters. (That number is the same both within city limits and the greater Boston area, defined as the communities within Route 128.) Just 10 percent of Boston voters have an unfavorable opinion of Baker.
"That's a really good number for somewhere where you lost by 30-plus points in an election that was only a few months ago," said Steve Koczela, president of The MassINC Polling Group, which conducted this survey (topline results, crosstabs) for WBUR.
Though he eked out a win statewide, the Republican Baker lost the city of Boston by 36 points in the November general election against Democrat Martha Coakley.
"He didn't even come close to winning the city of Boston, so that level of goodwill [now] in the city of Boston is very good news for Charlie Baker," said Koczela, who presumes Baker's approval ratings elsewhere are even higher, since Boston was never his strength.
In the run-up to the election, a late October WBUR poll showed 35 percent of Bostonians had an unfavorable opinion of Baker.
"The size of the difference before the election and after the election is quite notable," Koczela said. And the pollster suggests it indicates more than a honeymoon bump.
He points to data from two Suffolk University polls taken in 2006 and 2007 that show former Gov. Deval Patrick didn't experience the same post-election goodwill. Patrick's approval rating actually decreased 7 percentage points after he was elected in 2006 — though the surveys were statewide and the latter poll was not taken until the April after his election.
"Deval Patrick had a sort of a rough introduction to the electorate, some issues that took place early on in his administration," Koczela said. "Baker so far hasn't really made a lot of waves ... no real negative headlines, no real scandals have happened, and nothing on the other side — no major policy pronouncements — which in a way makes it more remarkable that his numbers have gotten even that much more positive than before he took office."
Koczela said the WBUR data did not explore why more Bostonians seem to have a positive opinion of Baker now.
But it's worth noting the new governor made Boston a priority during his campaign, and he then returned to the city's Dorchester neighborhood for his first post-inauguration event.
The poll data on Baker was part of a larger survey. Its main results, released Tuesday, found 50 percent of Bostonians backing the city's bid for the 2024 Olympics, but a larger percentage seeking a referendum on the issue. It also found high approval of Mayor Marty Walsh.
Methodology: The WBUR poll surveyed 507 registered voters between Jan. 13 and Jan. 15 by live telephone interviews via both landline and cellphone. The poll has a base sample of 407 residents in the entire area, including Boston, with an additional 100 voters living in the city of Boston. So between the base sample and the oversample, a total of 215 Boston voters were interviewed. The Boston area is defined as communities inside Route 128 or straddling that corridor. The margin of error for the full sample is 4.9 percent and the margin of error for the Boston statistics are 6.7 percent.