Forecast: Major Storm Set To Begin Monday Afternoon
This article is more than 8 years old.
A major, perhaps historic winter storm begins this afternoon and continues overnight and through much of Tuesday before winding down Tuesday evening. Snow will become heavy with accumulation rates of 1 to 3 inches per hour late tonight and early Tuesday morning.
The blizzard warning means whiteout conditions are likely for several hours later tonight and Tuesday morning and early afternoon. The storm will make travel impossible and all vehicles should stay off the road. Even plowing equipment may have trouble keeping up with this storm.
Coastal flood warnings are posted with two high tides of concern. The first is the early morning cycle around 3 a.m. tomorrow and the next one is the tide around 4 p.m. tomorrow afternoon. The tides will likely bring moderate to perhaps major coastal flooding to the area.
Winds will be strong and gusty. At times late tonight the winds will reach 50 mph along the coast and even inland locations will see very strong and gusty winds. Power outages will become more numerous and you might want to have some pre-cooked meals ready for the next day or two.
Here's an approximate breakdown of how the snow accumulates during this storm.
7 p.m. Monday - 1 a.m. Tuesday: 3 to 6 inches
1 a.m. - 7 a.m. Tuesday: 8 to 14 inches
7 a.m. - 1 p.m. Tuesday: 5 to 9 inches
1 p.m. - 7 p.m. Tuesday: 2 to 5 inches
7 p.m. Tuesday - 7 a.m. Wednesday: 1 to 2 inches
Another storm could bring more snow to the area to the area on Friday, but this only looks like a few inches at this point and not a major storm.  Very cold weather moves into the area later this weekend and early next week.  There are signs that the cold could be some of the coldest air we have seen in decades.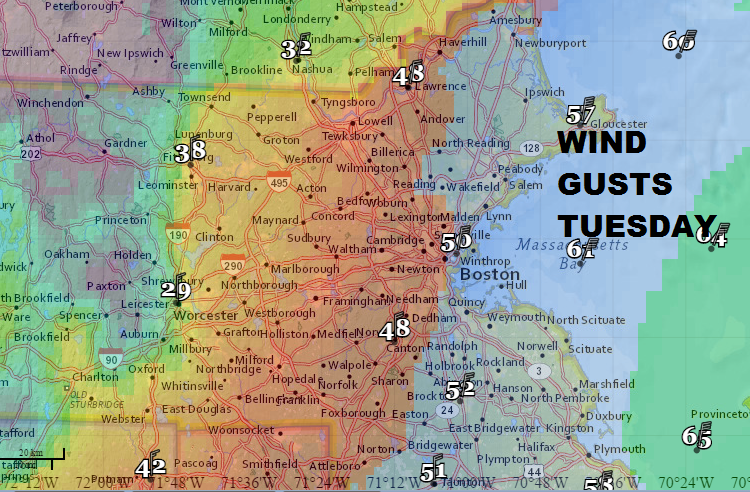 ---
Monday: Snow showers likely this afternoon. Highs near 30. A coating to an inch by dark.
Monday night: Areas of blowing and drifting snow. Windy with lows of 15 to 23.
Tuesday: Heavy snow in the morning, lessening in intensity during the afternoon. Very windy. Highs of 18 to 23 (28 to 34 on Cape Cod).
Tuesday night: Periods of snow with winds diminishing. Some accumulation.
Wednesday: A few morning snow showers. Otherwise cloudy and breezy. Highs in the upper teens to mid 20s.
Thursday: Mostly sunny with a high of 25 to 30.
Friday: A chance of more snow. Highs in the lower to mid 30s.
You can follow David's weather updates on Twitter at @growingwisdom.